New to the LA Auto Show's main floor is the OVRLAND OUTPOST, Presented by OVRMag.com. Highlighting the vibrant enthusiast community that is Outdoor Vehicle Recreation, this exhibit showcases over 30 curated vehicles modified for outdoor adventures of all kinds.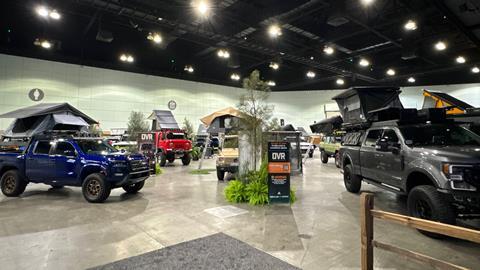 The 116th LA Auto Show plays host to an exciting and diverse array of overlanding vehicles organized in collaboration with LA Auto Show, OVR: Outdoor, Vehicle, Recreation, and OVRMAG.com. This event showcases an impressive collection of overlanding rigs, as well as an array of companies, influencers, and giveaways. Let's take a closer look at what to expect.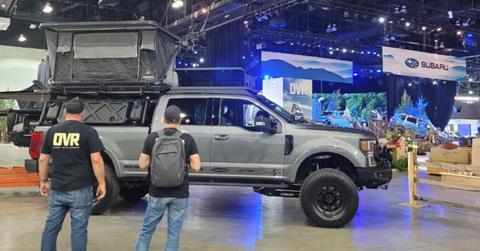 A curated collection of 30 overlanding vehicles will be on display at South Hall of the LA Auto Show from November 17th through November 26th. Auto enthusiasts and event attendees will be able to walk around, take photos and interact with some of these vehicles. Whether the vehicles are privately owned or by companies, one thing is clear, these vehicles were built to explore the national parks, local mountains, beaches, deserts, and rivers.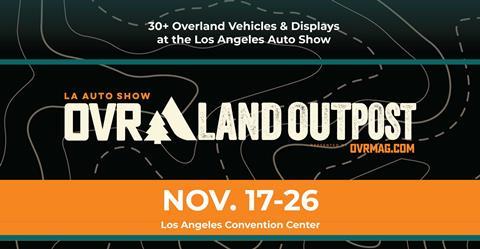 OVRLAND OUTPOST
OVR Mag invites you to stop by Los Angeles Convention Center's South Hall to redeem a free digital subscription to OVR magazine and enter our daily drawing to win the latest overlanding products. Whether you're a seasoned overlander or just getting started, the LA Auto Show and OVR Magazine's overlanding extravaganza will be an event not to be missed. Grab your tickets here!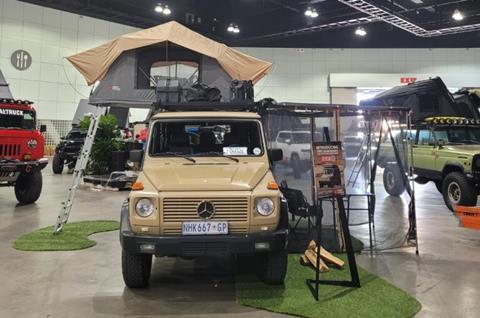 Exciting Giveaways
Attendees are in for a treat with a range of exciting giveaways, further enhancing the overall experience. Some of the giveaways included Sunflare Xplor solar panels, a SHIFTPOD Mini Tent, a MORRFlate compressor, Pitbull UTV Tires, Canyon Coolers, Peak REFUEL products, FMS RC trucks, Element RC trucks, 1-Year digital subscriptions to OVR Magazine, Front Runner Outfitters gear, Overland Vehicle Systems (OVS) equipment, and KC HiLiTeS products. These giveaways will add an extra layer of excitement to the event, making it truly unforgettable for many participants.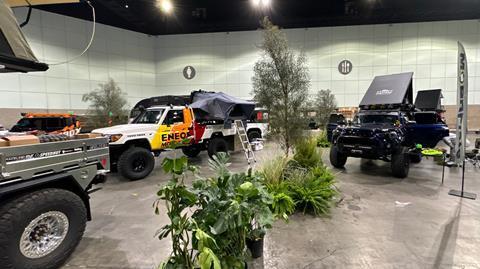 ABOUT LA AUTO SHOW
Founded in 1907, the Los Angeles Auto Show (LA Auto Show), is one of the most influential and best-attended auto shows globally and spans more than 1,000,000 square feet. Each fall, show creator ANSA Productions gathers the who's who of the auto industry to unveil the future of mobility in the car culture capital of the world. Delivering worldwide media exposure, industry networking, and experiential marketing, our Media and Industry Preview Day called AutoMobility LA draws more than tens of thousands of auto industry decision-makers and influencers, including nearly 5000 media and journalists from 50+ countries. It brings together the entire ecosystem driving the convergence of technology and the automobile. Following AutoMobility LA, the show opens its doors to the public for the LA Auto Show, where hundreds of thousands of qualified car shoppers, enthusiasts, and auto fans come together for ten exciting days in the nation's largest car-buying market.

ABOUT OVR
OVR: Outdoor Vehicle Recreation is about getting out there in our vehicles to responsibly explore and discover the world around us. Whether we're forging forward into the backwoods or taking a well-known route on a favorite road trip, it's all about getting out and enjoying the ride as well as the destination. If you enjoy living life on the trail and exploring the hidden corners of our natural world, OVR and OVRMAG.com is for you.