Adventure travel doesn't have to be limited to ski resorts -
The freedom you feel primitive or dispersed camping during spring, summer, fall doesn't have to end when you go upto the mountains for a ski and snowboard trip this winter. In fact, the feeling of freedom can be heighted if you choose to explore the backcounty for your ski and snowboarding craving this winter outdoors; but like all trips off the beaten path, good gear and safety is a must. These products from Front Runner Outfitters just might make your trip more enjoyable getting there and back.
Pro Ski and Snowboard Carrier
These carriers are versatile enough to more than just snowboards and skis, they are secure enough to carry longer gear such as fishing rods and other gear that can fit properly in the racks rubber alligator-grip style holders. Two soft and wide rubber grippers clamp your cargo tightly without harming or scratching the surfaces of your valuable gear in all weather conditions.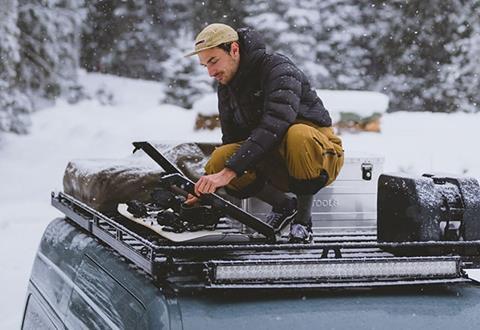 Slimline II Roof Rack
The holidays are a time for family and friends, merrymaking, and of course, loads of new adventures. But with all the new gear that comes along with it, keeping your vehicle loaded and organized can be a challenge. That's where the Slimline II roof rack comes in handy. This rack features an easy-to-use load system and includes both crossbars and hooks for carrying bikes, skis, or other gear. The modular construction allows for versatility and the lightweight allows for easy install, so you can haul your equipment anywhere without hassle.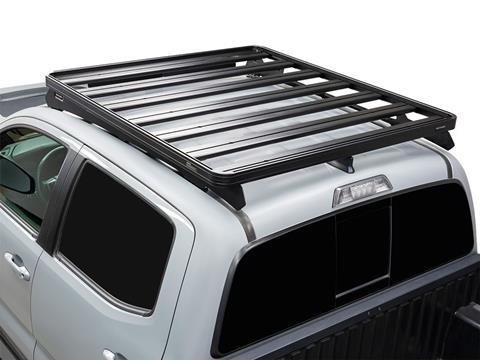 40" LED Light Bar
If you have the Slimline II Roof Rack, this light bar is a must-have for added visibility when a reliable source of light is needed for those late night road trips . It features multiple beam patterns for improved coverage, and high output for improved performance in dark conditions. The near and far-field illumination with 36 high-performance LED's helps you see objects out to 525m/1700ft.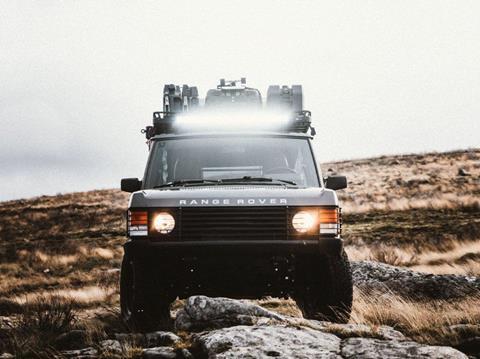 Wolf Pack Pro Storage Box
This durable and versatile box is perfect for storing your gear, food or anything else that needs to be protected from the elements. The newly designed extra-secure latches seals the lid securely and helps it to avoid wasted space for neatly stacking multiple boxes together.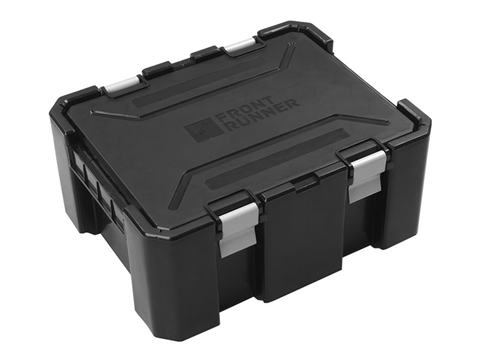 Expander Camping Chair
The Front Runner Expander Chair's telescopic design allows this comfortable chair to fold into an extremely compact unit which is easy to store and transport; but, strong enough to support 253lbs. The Expander chair features multiple storage solutions: cup holder, media pocket for your electronics, and a utility pocket for your analog entertainment. Additionally, the chair is easy to set up and take down, making it perfect for your backcountry ski or snowboard trips.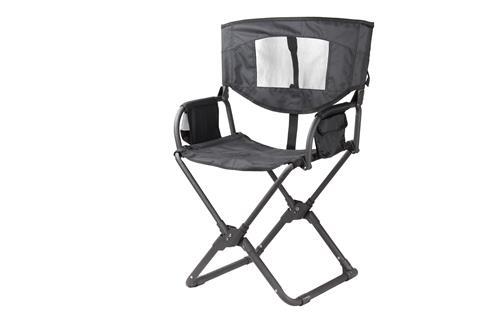 BBQ + Fire Pit
In 30 seconds, this BBQ/Fire Pit can be set up and ready to cook up whatever is going to satisfy your hunger or heat you up after that snowboard run. It is designed to pack flat at 1.5 inches / 38mm thick, making it perfect for camping or taking on the go. The BBQ/Fire Pit is made durable and resistant to rust due to is stainless steel construciton.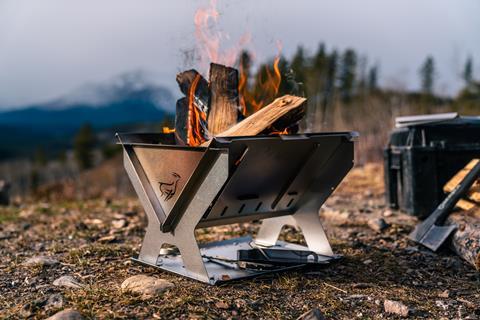 Recovery Device Side Brackets
When it comes to planning a backcountry ski or snowboard trip, planning, safety and recovery is key. That's why recovery device side brackets that securely mount MAXTRAX, TRED Pro, and other similar recovery devices are a must. These brackets come with 2 types of bolts to hold either 1 or 2 pairs of MAXTRAX/TRED Pro. In addition, these brackets are designed to be easily adjustable, so you can fine-tune the fit for your recovery device.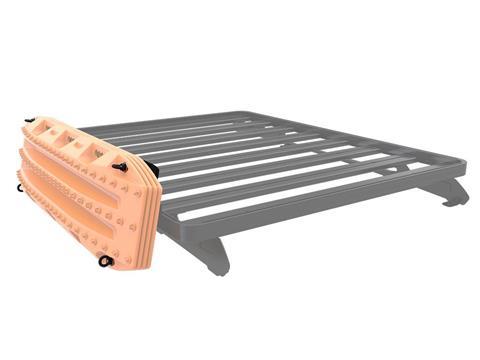 Shovel Mount
Besides the recovery device side brackets, a shovel mount will come in handy just in case you need to keep your shovel close while you're off-roading, and it's also a great way to clean up after your adventures. Make sure to choose a sturdy mount that will hold up to heavy use, and be sure to choose a mount that uses quick release clamps or ratcheting straps. Quick release latches allow the spade/shovel or other gear to be easily removed.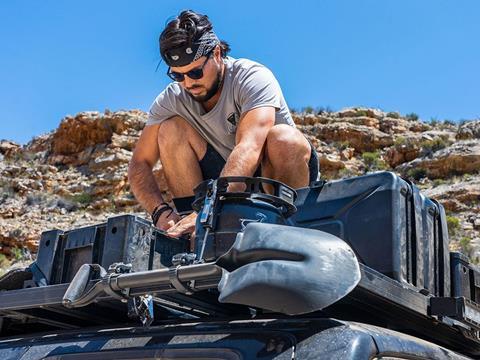 Typhoon Bag
Space is always in short supply when traveling with family. This bag is perfect for off-road enthusiasts who need storage space and protection from the elements. The Typhoon bag is waterproof and stormproof, making it perfect for inclement weather conditions. In addition, the bag comes with a variety of pockets and compartments, making it easy to organize everything you need for your winter trip.
Conclusion
From ski and snowboard carriers to LED light bars and recovery devices, we can freely have fun and make memories knowing we have the proper gear to get us back home.
So gear up and hit the trails!