OVR got the insider scoop: We're driving an INEOS Grenadier in the 2024 Alcan 5000 Rally!
My husband, Andy, and I are partnering with INEOS Automotive, a new auto manufacturer, to pilot their Grenadier Trialmaster 4x4 for the upcoming winter 2024 Alcan 5000 Rally (held February 21-March 1, 2024).
We're once again tackling ten days and over 5,000 miles of blisteringly cold temps, navigating our way through potentially treacherous conditions, abundantly large wildlife, and sleep deprivation. We'll have very little daylight, and we'll endure several hundred miles of snow- and ice-driving each day as we compete in one of North America's longest time-speed-distance competitions.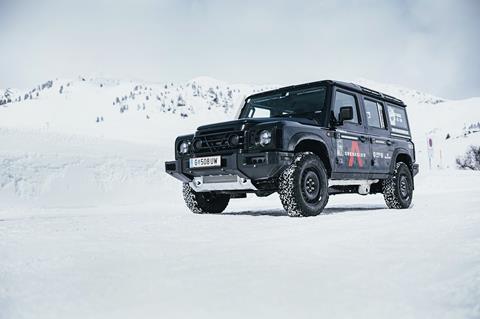 Who is INEOS Automotive?
INEOS Automotive is a burgeoning new automaker that manufactures the INEOS Grenadier, a new workhorse 4x4. INEOS Automotive is one of 36 businesses employing approximately 25,000 people from 31 countries and is owned by the INEOS Group, a global corporation in England led by INEOS Group's Founder, Chairman, and British billionaire, Sir Jim Ratcliffe.
Ratcliffe's goal was to create a workhorse 4x4 that'd be reliable, have solid off-road capability, be durable, and "have a proper design." Along with Ratcliffe, INEOS Automotive just announced its first 19 U.S. retail partners across the country, including several along the East and West coasts (with one being built 15 minutes away from where I live).
What transpired through its initial design and planning phase is a British-inspired and German-engineered off-roader that's made in Hambach, France, at a Mercedes-Benz Smart car factory. Though Europe, the U.K. and Australia are proving to be top buyers for the new 4x4 (sales are already starting to reach these regions), North America is anticipated to be a heavy hitter, too. Seven thousand initial orders were already placed by U.S. customers, with Grenadier arrivals anticipated to start beginning of Q4 2023 in the U.S.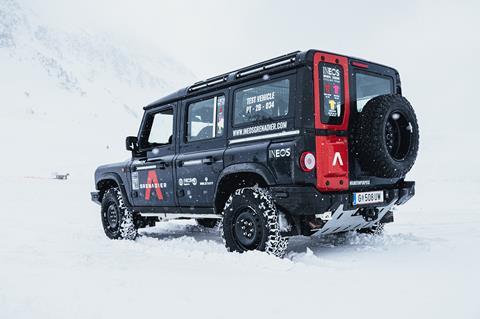 What is the INEOS Grenadier?
If you think the Grenadier is a Land Rover, you're mistaken. It's a newly developed ute designed to fulfill a marketplace gap after Jaguar Land Rover (now JLR) stopped production on its famed boxy Defender in 2016 and went after the luxury and technology segment.
I first saw the INEOS Grenadier in the flesh in Houston, Texas. I was invited to peek at their very first prototype the day after it landed in the United States in May 2021. Since then, I kept a close pulse on the automaker. I drove their prototypes off-road in France in early 2022 (both diesel and gasoline-equipped derivatives). I also piloted their production-ready models in Scotland nearly a year later in Scotland.
The INEOS Grenadier's evolution is evident. Though INEOS Automotive is a boutique manufacturer with a sales goal of just 30,000 units globally its first year, their Grenadier, and subsequent models, are utilitarian 4x4s that are mechanically focused wherever possible and technologically enabled only when necessary. I've seen the Grenadier's progression. I appreciate its mechanical ability, especially when driving it off-road. I'm excited for Andy to get behind the wheel of it—as the driver for the first time—for this grueling Arctic endurance competition.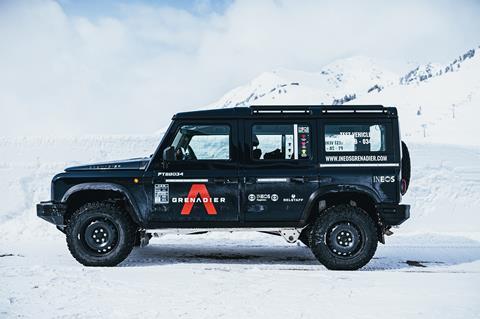 Why Partner With INEOS for the Winter Alcan 5000?
In 2020, Andy and I competed in our first Alcan 5000 Rally with our 1991 right-hand-drive turbo-diesel-powered Mitsubishi Pajero 4x4. It had great ground clearance and comfortable scheel-mann heated seats. It was reliable and sure-footedness on slick and uneven terrain. It had a WARN winch and multiple points for self-recovery or to help recover other stuck vehicles (which happened multiple times in 2020). It was perfectly set up to take on the competition in top form.
However, the Pajero was slow and small. We shoe-horned gear into it and used all our gears to the best of our abilities. But the 100hp (when new in 1991) 2.5-liter turbocharged intercooled diesel didn't have much power to make it up steep hills—especially when semi truckers were breathing down your neck, waiting to pass you on their roads.
Despite our snail-like challenges, we finished the rally strong and had zero mechanical failures. We championed our way across the winter Arctic finish line with a 30-year-old JDM diesel! But, during that grueling competition, we learned a lot, discovered our vehicular shortcomings, and figured out would make an ideal Arctic Alcan rally rig: a 4x4 like an INEOS Grenadier.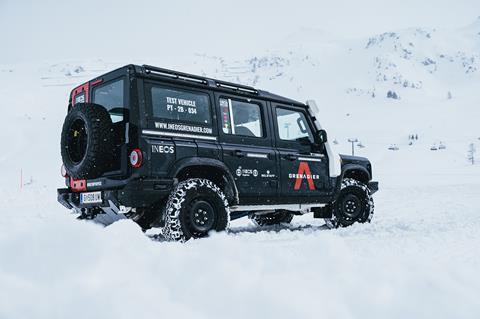 INEOS Grenadier's Features
The INEOS Grenadier has many of the good qualities our Pajero had, but it's larger, newer, and more powerful. The INEOS Grenadier has been severe-weather tested in over one-million miles of extreme terrain. It's seen its fair share of Scandinavian's Arctic winter conditions, now we're taking it to the next level during competition above the Arctic Circle in North America.
We'll equip our Alcan Grenadier with aftermarket 265/70 R17 Michelin X-Ice Snow tires for exceptional winter gripping ability. With Michelin's EverWinterGrip rubber inclusion technology, we should have superior ice braking and greater snow traction, even without studs.
The Grenadier Trialmaster (which is the trim we'll pilot for the rally) is the most capable of the model lineup. All Grenadiers, including the Trialmaster we'll be campaigning, showcases a body-on-frame ladder chassis, 115-inch wheelbase, as well as front and rear recovery points. It also has a BMW 3.0-liter turbo-charged inline six-cylinder gasoline engine, 10.4" of ground clearance, and has factory available heated Recaro seats.
Additionally, the Grenadier features a 2.5:1 Tremec two-speed transfer case, custom-built solid axles with 4.10 gearing from Italian manufacturer, Carraro. This company makes heavy-duty tractor axles and industrial components for companies like John Deere. We're planning to run factory-optional accessories like a RED winch, rock sliders, rear roof-access ladder, and full-roof platform rack, too. Exterior- and interior-mounted cargo-hauling L-tracks will keep cargo boxes secured while the Grenadier's interior will house rally comms, my navigation supplies, and more.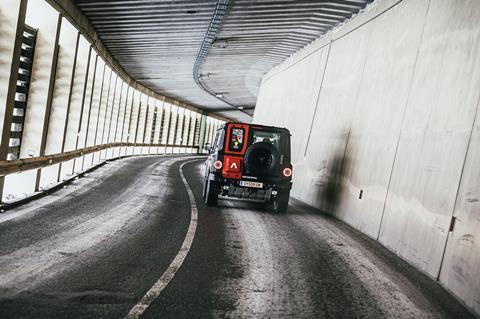 The Alcan 5000 Rally
The Alcan 5000 Rally is celebrating its 40th year in existence next year. It's a two-country long-distance precision competition that follows the same cadence as the Olympics: winter, then two years later, summer, and so on. When Andy and I first competed as privateers in 2020 with our Pajero, it was winter. Then, we competed in 2022 in summer in a Subaru Outback Wilderness. In 2024, it swings back to winter, the favorite among fringe lunatics that like the severe-duty challenges Mother Nature can pummel their way.
This rally pits dozens of teams against exact times, precise speeds, and accurate directions over thousands of miles in a 10-day period. It's a rally where staying on time and on course while adhering to specific rally speeds (always at or below posted public speeds) in an ideal fashion will garner teams trophies. Unlike off-roading events like the Ultra4 races, the Alcan 5000 Rally takes place solely on public roads. This means that traffic lights, road construction, and other road impediments can snarl rally traffic—and competition—throughout the 10-day event. It's all part of the adventure … and the endurance.
Since the rally's inception in 1984, Jerry Hines, the Alcan 5000 Rally's owner/creator and a well-established rallymaster and TSD contender, has said his rally series has well over 260,000 rally miles under its belt and is running strong. He says stock vehicles have the tendency to run better, particularly in winter. Based on his winter Arctic experience, the last modified parts can be the first parts to fail.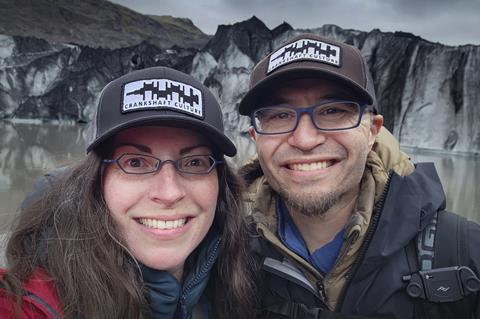 Our Alcan Future
With Jerry's lessons noted, we plan to leave our INEOS Grenadier in stock condition, sans the rally's requirement to run 3PMS rated (3 Peak Mountain Snowflake) tires. While not all 3PMS tires are true winter tires, we opted to go with Michelin X-Ice tires, which are not only 3PMS rated, but are also dedicated winter tire for maximum snow, ice, and cold-weather traction.
Stay tuned for INEOS Grenadier Trialmaster driving impressions, rally challenges, and more as Andy and I tackle our third Alcan 5000 Rally—the most difficult and longest competition of its kind in North America.
(Note: photos of the Grenadier are a prototype when they were testing in Scandinavia)