The Mattock, a simple and efficient tool, has a rich history with roots dating back to the Bronze Age in Asia Minor and in Ancient Greece, and the British Isles during the Middle Stone Age.
Inspired by the entrenching tool used by the British Army during World War I, the Chogan Mattock was designed to be both lightweight and durable. The E-Tool became a staple of the British and other military forces, with soldiers relying on its portability, utility and strength.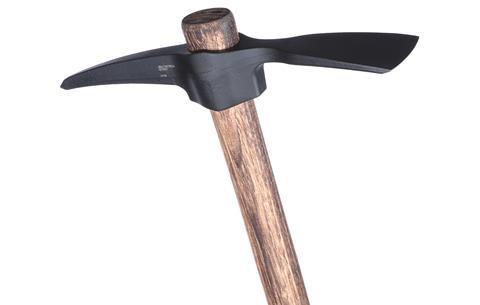 Ryan Johnson of RMJ Tactical took historical inspiration and designed the modern Chogan Mattock for CRKT. He used forged 1055 carbon steel for durability and edge retention. To make sure it had enhanced protection and corrosion resistance, he had black coating sprayed to the head. For the 19-inch handle, a fire treated Tennessee hickory wood was chosen to add strength from the dense wood and dark textures from the fire treating.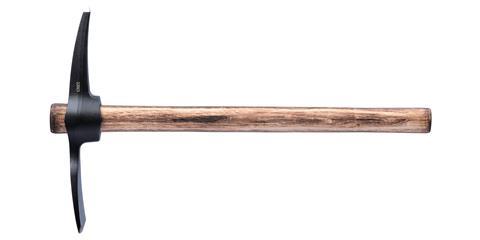 To make this modern tool useable for the outdoor enthusiast, the two-sided Axe head (mattock & spike) was designed to be small, lightweight, and efficient. Johnson made sure the head was removable from the handle for compact storage and the 2.31 lbs to make this a perfect tool for the backpacker or the vehicle-based outdoor enthusiast. To keep the head and handle together, it comes in a nice woven nylon carrying sheath.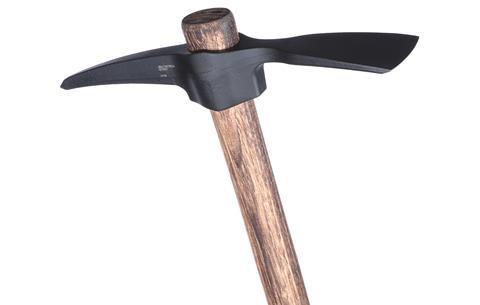 If you want to extend the usability of the tool, the hickory handle fits the Chogan T-Hawk: a camp axe perfect for splitting wood and hammering tent stakes. Another tool designed by Ryan Johnson.
PRODUCT SPECS
STYLE:

Axe

BLADE STEEL:

1055 Carbon Steel

OPEN LENGTH WEB:

19.00" (482.60 mm)

BLADE LENGTH WEB:

2.14" (54.25 mm)

INDIVIDUAL ITEM WEIGHT WEB:

2.31 lb (1.05 kg)

BLADE HARDNESS:

Mattock & Spike - 50-55

Body - 10-15

BLADE FINISH:

Spray Paint

BLADE EDGE:

Adze w/Spike

GRIND:

Flat

HANDLE MATERIAL:

Tennessee Hickory