Although there's already plenty to do when we're overlanding, off-roading or car camping, we still try to squeeze in a few more activities for those rare downtimes at basecamp. Sometimes it's jumping on a mountain bike to explore the fireroads in the area and other times it's getting in more driving time with our down-scaled radio-controlled crawlers and overlanders.
If you've read OVR before, you surely have discovered our Scaler section—which you are reading right now. Scaler is dedicated to showcasing ultra-realistic trail and scale RC trucks. Most of the vehicles that we've featured in Scaler have been highly customized to look and drive like the real rigs they emulate.
Even though we are enthralled with such scale accuracy, we realize that not everyone has the time, talent, patience or motivation to construct scale solid axles, sew 1/10-scale seat covers, or mount tire carriers using 1mm nuts and screws.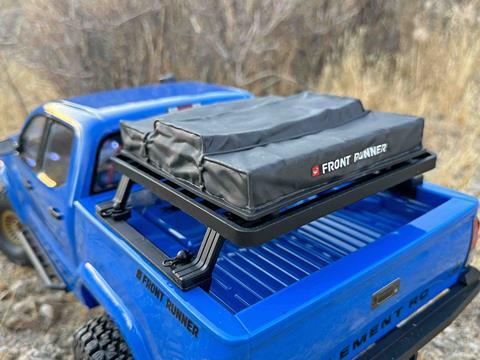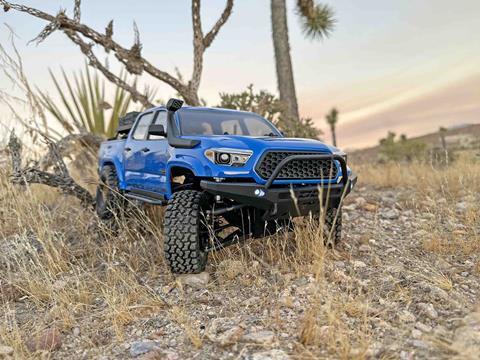 For those who want to get into scale crawling but also want to bypass the detail work, may we present ready to run (RTR) options that are pre-assembled and ready to drive right out of the box? Just charge up the batteries and you're off driving scaled-down or full-sized trails, it's your choice.
The Enduro Knightrunner 4x4 RTR from Element RC is just one of these RTR scale trucks that not only looks realistic but has trail driving capability that can give your real ride a run for its money. If you ever played with RCs back in the day, you may recognize Element RC's parent company, Associated Electrics, makers of the famous RC-10 racing buggy of the 1980s. If you know about the RC-10, you'll recognize that you're in good hands with the Element RC Enduro Knightrunner RTR trail truck.
The Knightrunner is ready for any off-road adventure as we found out first-hand when we recently took this scale pickup truck to Joshua Tree National Park for some trail runs.
The Knightrunner's off-road performance may be impressive, but so is its attention to scale realism. The body, designed by James Knight, features an injection-molded grille, mirrors, door handles, wipers and other intricate details that bring the truck to life. With an extra decal sheet included, you have the freedom to customize the Knightrunner 4x4 to your heart's desire.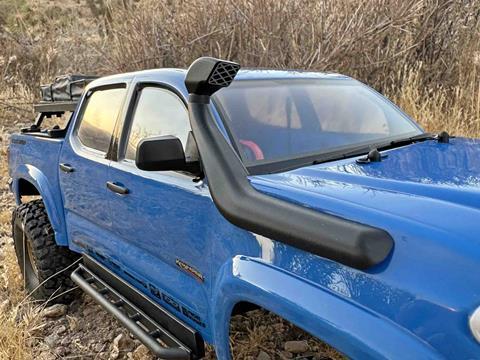 Element RC has collaborated with industry-leading aftermarket manufacturers like DeMello Offroad, Front Runner Outfitters, Magnaflow, sPOD and General Tire to ensure every aspect of the Knightrunner embodies scale accuracy. We especially liked the scale Front Runner rooftop tent that sits atop a Front Runner bed rack. It really does look like the real thing.
At the heart of this truck is Associated Electrics' revolutionary Stealth X transmission. This transmission has the ability to adjust the front and rear drive ratios independently across three different levels. The included aluminum swing rack and steering plates provide precise, solid steering, while the durable injection-molded upper and lower suspension arms optimize suspension articulation.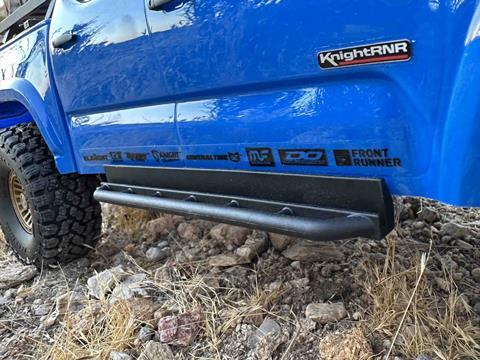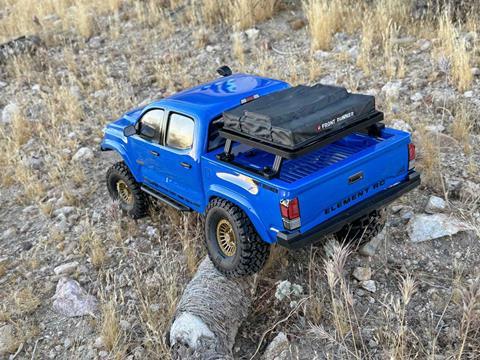 Threaded aluminum oil-filled shocks keep the truck stable on the trail even in rough terrain. The Independent Front Suspension conversion kit, pre-assembled with the same quality and features, equips the Knightrunner with IFS for enhanced agility and scale looks. Knightrunner's Reedy SC480X electronic speed controller (ESC) and 16-turn 5-slot brushed motor deliver ultra-smooth power to the wheels. The 3-channel XP130 2.4GHz radio and high-torque digital metal gear servo ensure precise control during your off-road adventures.
To put this RTR truck to the test, we took it on a trail adventure at Joshua Tree National Park. The park's diverse terrain provided the perfect testing ground for this scaled-down rig. We equipped it with a fully-charged LiPo battery pack and were off to find some trails.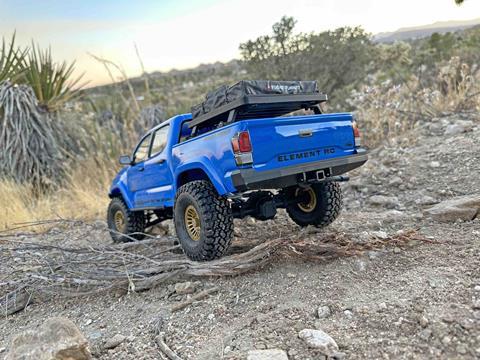 From sandy washes to rocky trails, the Knightrunner conquered every challenge with ease. Its independent front suspension provided excellent articulation, keeping all four wheels firmly planted on the ground even on steep inclines.
The officially licensed General Grabber A/T X tires and Urbine 1.55" beadlock wheels offered exceptional grip and the Knightrunner tackled every terrain type with confidence. Whether climbing over rocks or navigating through tight gaps, the Knightrunner maintained its composure throughout the entire trail test.
Element RC's ready to run Enduro Knightrunner 4x4 RTR makes getting into scale crawling satisfyingly quick and easy. With its impressive scale realism, performance features and high-quality electronics, this truck is ready to take on any off-road adventure you throw its way.
If you're a full-size off-roader that's looking for a scaled-down companion, the Knightrunner is a great choice to start your RC journey with.
Vehicle Specs
| | |
| --- | --- |
| Model: | Knightrunner 4X4 Enduro Trail Truck |
| Scale: | 1/10 |
| P/N: | 40115 |
| Street Price: | $439.99 (RTR kit) |
| | $509.99 (RTR with LiPo battery & charger) |
| Website: | elementrc.com |