You certainly don't see many Willys vehicles wandering the streets anymore, except for the occasional blown, tubbed, gasser-themed 1940s coupes at hot rod shows. This brand's DNA, however, is in more places than you think.
To give you a brief tutorial, Willys-Overland began in the early 1900s. Many WWII-era Jeeps were produced by the company, which was ultimately bought by Kaiser in 1953, later absorbed by AMC in the 1970s, and then taken over by Chrysler in the 1980s. So those Cherokees, Wranglers, and CJs you now see on the streets can really trace much of their history back to what began as one of the OG off-road brands known as Willys.
What you certainly don't see with any great frequency is a Willys that's an amalgamation of old and new lineage. Case in point is the focus of this story. On the surface it's a 1948 Willys pickup, but it's all riding on a 2016 JKU chassis and drivetrain.
The swap from old body to new foundation was a relatively simple transition according to the guys at RoamR who took on this project. RoamR has a reputation for combining old and new, as evidenced by their 1973 Commando and 1974 Jeep J20 builds. Although they hadn't set out to find this particular year and make for a project, it kind of ended up in their lap.
According to the Craigslist post they came across, RoamR discovered this truck was sitting in a field in California's Owens Valley. The previous owner had bought it in stock condition with the intention of fixing it up, but realized he'd bitten off more than he could chew since the motor was locked up. The patina on the truck is original with markings displaying its previous life as a mining truck, and although it'd been sitting for many years, the rust was very minimal. Its uniqueness and condition were incentive enough to give it a new lease on life with some modern improvements. Aptly nicknamed "Nugget," it's proof that there's still gold in them there hills.
After doing a little research RoamR discovered the wheelbase for a four-door JK was only about an inch different than the truck, which made transplanting the body onto the 2016 JKU chassis a snap. It retains the 3.6L V-6 and auto trans it came with, which certainly has plenty of get up and go since it's now carrying a much lighter package.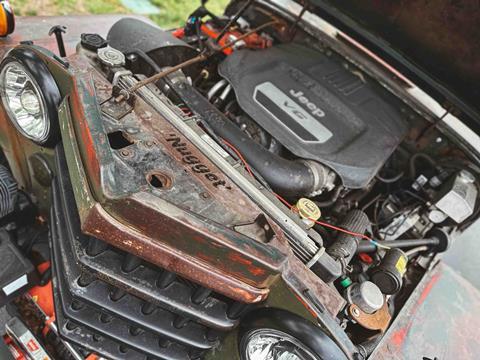 The suspension has been beefed up with an Icon Dynamics JK lift and shocks. TeraFlex Suspension Tera44 axles also reside front and rear. The fenders were widened for the Rugged Ridge Steelies wrapped in 37-inch Toyo tires by Allen Motorsports in San Juan Capistrano.
Mods to the body were minimal, and there was the patchwork to close up some small areas of rot that you'd expect from something this old. The floors and firewall were adjusted to make more room for the motor at the top and give it more space in the footwell. The doghouse console for the shifter was fabbed and since the stock cable routing for the shifter didn't work, they decided to flip it upside down. If you look closely, you'll see that the gear configuration is backwards, but hey, it works.
It sports an aftermarket tailgate from Kaiser Willys Auto Supply that was carefully matched up to the existing patina by Miller Collision in San Diego. After the original markings on the truck were salvaged with some sanding, it was shot in a POR-15 clearcoat to preserve its heritage.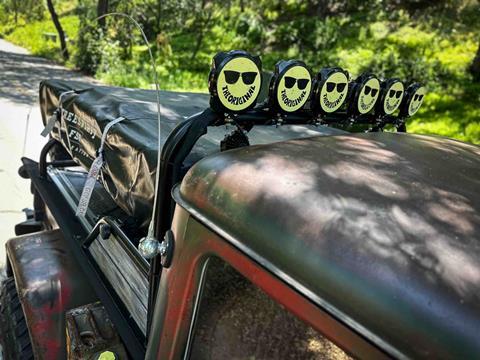 The front hood and grille are believed to be from a circa-1952 Willys that had been switched out for some reason by a previous owner prior to RoamR's acquisition.
Syndicate Fab did up the lightbar and bed rack that hold the KC HiLiTES PRO 6 and FLEX ERA 4 illumination. Headlights are J.W. Speaker LEDs. A Switch Pros power system, Odyssey batteries, and onboard air by VIAIR are also included. A Decked storage system resides in the bed and other accoutrements include Warn and Factor 55 winch components.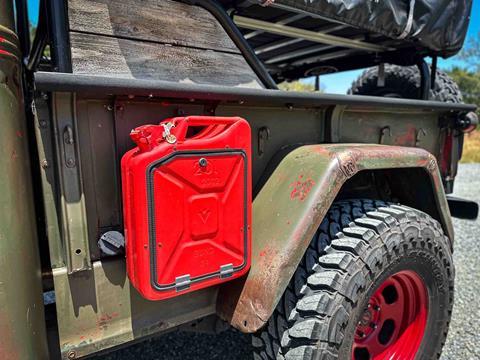 A Danish Fuel minibar gas can sits unobtrusively on the exterior, as does a Freespirit Recreation tent.
The interior is fairly true to stock with no heat or A/C. Gauges are Dakota Digital. The bench seat is a '90s Ford Ranger that's had the headrests removed and was found in RoamR's dumpster of all places. It, along with the door panels, were covered in Relicate Leather by Jim's Auto Upholstery of San Diego who also did the plaid fabric headliner.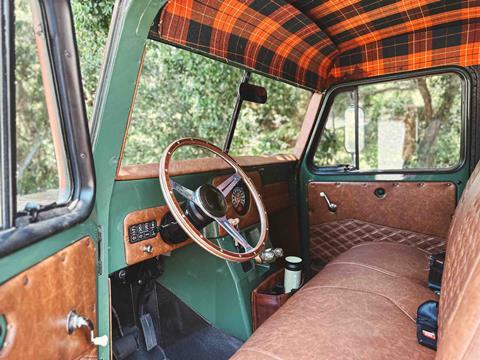 It's really hard to see how Nugget could've turned out better. It has the perfect blend of old and new that all emanate from the same bloodline. Unlike other bastardized builds that require heavy modifications, the transplanting of body to chassis was so simple that this truck really drives, stops, and gets where it needs to with comfort, power, and style. Kids think that it's the real-life Mater from the movie Cars and adults just can't help but strike up a conversation with RoamR when they see it out in the wilderness. We look forward to their next take on modern nostalgia.
| BASE VEHICLE: | 1948 Willys pickup "Nugget" |
| --- | --- |
| ENGINE: | 2016 Jeep 3.6L V-6 |
| DRIVETRAIN: | Stock 2016 automatic transmission |
| SUSPENSION: | Icon Dynamics JK lift and shocks; TeraFlex Suspension Tera44 axles |
| WHEELS & TIRES: | Rugged Ridge Steelies; Toyo Open Country MT 37x12.5x17 |
| STORAGE: | Decked system |
| LIGHTING: | KC HiLiTES PRO 6 and FLEX ERA 4; J.W. Speaker headlights |
| UPGRADES & ACCESSORIES: | Dakota Digital gauges; FSR tent; Switch Pros power system; VIAIR onboard air; Warn winch with Factor 55 closed winching system; Ford Ranger bench seat; lightbar/bed rack by Syndicate Fab |
| WEBSITE | roamr.life |