Just over a decade ago, I don't fully recall why exactly, I got it into my head that I wanted to buy a Jeep XJ Cherokee and build it for off-road excursions.
Considering that up until then, my automotive focus was mainly on slammed cars and not lifted trucks – and the fact I've never been on an off-road trail, this was an unusual urge indeed. Nonetheless, I began to hit up Craigslist listings for some XJ goodness.
After obsessing over the boxy SUV for over a week, I proceeded over to the web to do some research on used XJs and inadvertently landed on a YouTube video that instantly grabbed ahold of my attention. This grainy video, accompanied by a cheesy amped-up 90s electronica track, introduced me to an off-road competition called Camel Trophy. Taking place annually over a span of twenty years from 1980 to 2000, Camel Trophy was an off-road vehicle-based competition that was held globally over the world's most challenging terrain.
Camel Trophy
The video displayed a large group of yellow-toned Land Rovers taking on some of the most inhospitable surfaces that our planet has to offer. Camel Trophy featured multiple teams of two, driving their off-road rigs through places such as The Amazon, Siberia, Mongolia, Tierra del Fuego, and Borneo. The challenge was to make it to the goal while performing certain skills and tasks along the way. The competition tested the off-road driving skills, mechanical prowess, and endurance limits of both the drivers and the machines. Teamwork between your partner as well as your competition was of paramount importance and vehicle capability and toughness had a big part to play as well.
While taking in the excitement of Camel Trophy videos, a certain vehicle caught my attention. It was the venerable Land Rover Defender 110. Looking just as boxy as the XJ but even tougher, the Land Rover Defender has come to signify the resilience that it takes to adventure to and back from the most treacherous terrain on the planet. It didn't take long for me to look up used Defenders online and realize that they were way out of my price range.
The Discovery
What I did discover was Land Rover's Discovery II. It's smaller than the Defender but still retained the boxy look that I liked as well as inherent Land Rover and Camel Trophy DNA – and it was much more affordable too. In fact, its predecessor, Discovery I, was campaigned in Camel Trophy to great success. I decided that's the direction my off-road exploits would go and after a lengthy search, I picked one up and haven't looked back since.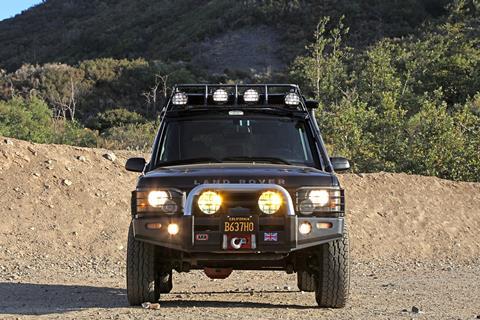 I was asked by the used car dealer if I intended to off-road it, to which I immediately replied, "Absolutely!" He told me that the truck previously served as a grocery getter that never left the city streets so the SUV would probably be glad to finally roll on some dusty trails. The Defender is still a dream of mine, but I've had my Discovery II, for over ten years now and it has taken me on plenty of off-road adventures of my own.
As mentioned earlier, the Disco (a nickname for the truck that is often used by Discovery enthusiasts), was my first off-road capable vehicle. Riding high in a lifted truck was a new experience for me and I knew I needed some seasoned advice on how to best take advantage of the Disco's capabilities. This led me to the world of Land Rover forums and Facebook groups. I ended up booking a beginner's trail run with the Southern California Rover Club. The group is a non-profit organization that brings Land Rover enthusiasts from all over the SoCal region together for activities and drives.
The First Taste
My first off-roading experience with the group was in the mountains of Big Bear, California and it was an eye-opening experience. Seeing and feeling what a stock Disco could do over the trails was both inspiring and addicting. After that first run, I wanted to do more. I traded contact info with several others that were on the run and we quickly became off-road buddies and planned more drives over the next few weeks. It's safe to say that I was hooked on wheeling and exploring the trails.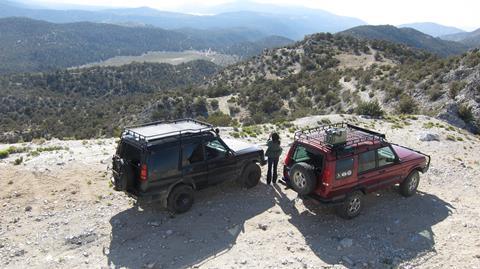 As I ran on increasingly more difficult terrain, I knew that it was time to get this ex-grocery getter into better off-road form. Remember, this all happened back in 2009 so the abundance of certain vehicle-specific parts were harder to come by and overland-themed accessories availability wasn't as nearly at the level as it is now. My 2004 model Discovery II SE was powered by a stock 4.6-liter V8 that was paired with a factory four-speed automatic transmission and a dual-range transfer case with a locking center differential. It's a pretty decent off-road capable package in its stock form, but as with most things, upgrades can make it better. The first mod was to equip it with a rebuilt RoverDude greaseable front driveshaft, an essential maintenance item for these older Discos.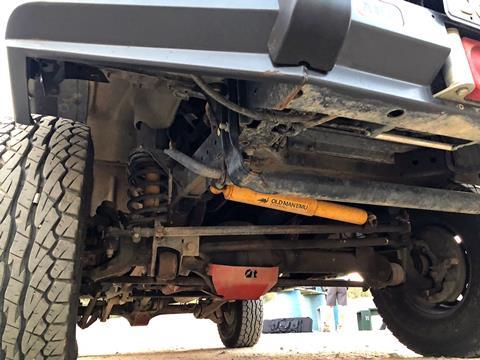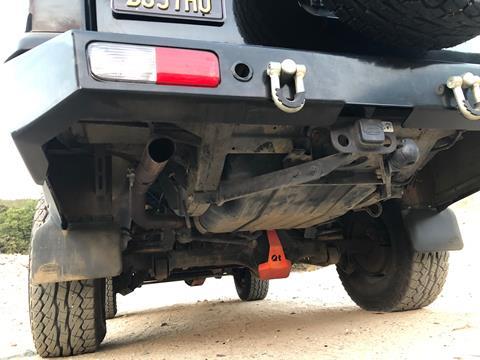 Time To Upgrade
I needed more ground clearance and to that end, I implemented a few suspension modifications that included a 2″ Old Man Emu suspension lift. The upgrade suite consisted of Nitrocharger sport shock absorbers, medium load springs and a couple of 10mm trim spacers in the rear to eliminate a slight rear tilting sag. Driving over rocky terrain may affect the truck's steering so an Old Man Emu steering damper was also installed to help smooth out the truck's tracking over rough trails.
I searched high and low for a period-correct Safety Devices Highlander roof rack, the same type that was used on Camel Trophy vehicles. They were long out of production so it wasn't easy finding one. I eventually located a used one and snatched it up. I like having a flat surface on a roof rack so I installed PolyMax flooring, which is used for chicken coops. This is a lightweight, weather-resistant plastic floor that can be easily modified to fit the contours of a roof rack.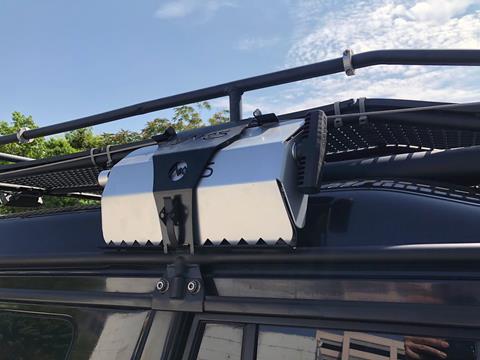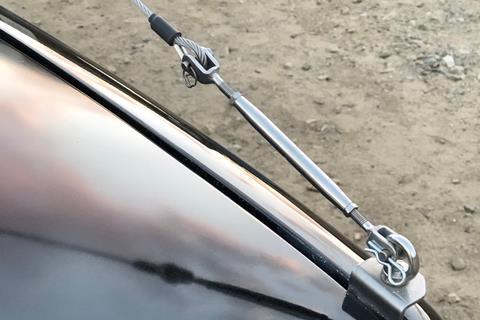 You may also notice wires running from the roof rack to the bumper in some of the images. These are limb risers from a brand called Bushcables. These wires are meant to help guide or deflect tree limbs away from the windshield and were used by Camel Trophy trucks to protect against windshield damage. I probably won't ever follow other trucks through the Amazonian jungle in this rig so in all likelihood, I didn't need them. I do think they add to the look of my Camel Trophy-inspired build so I installed them anyway.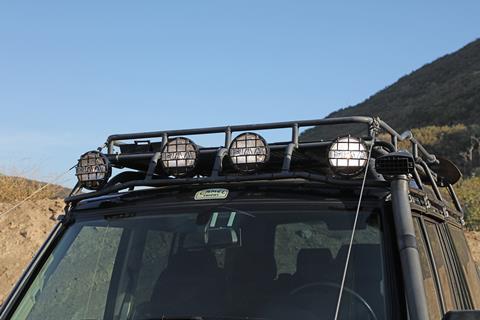 I also hunted for a South Down 4×4 snorkel, which was also used on Camel Trophy vehicles. Talk about rare parts, I don't believe they were ever offered here in the States so in order to get one, I had to call South Down 4x4 in the UK to order one. While on the phone, I learned that South Down 4x4 parts are also used on British military Land Rovers so that was a pretty neat detail to learn.
Armored Up
The Disco was further augmented with an ARB Sahara front bumper which housed a Warn M8000 winch with a Daystar winch isolator. Other performance upgrades included some armor to help protect from rock impacts. I installed a pair of rock sliders from Atlantic British, front and rear QT diff guards from Lucky8 Off-Road, as well as a TerraFirma heavy-duty rear bumper complete with Daystar D-ring isolators that I also picked up from Atlantic British.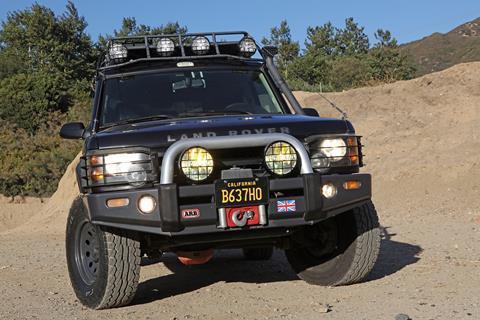 All that armor adds weight so the brakes needed to be upgraded. That's where a set of EBC USR series slotted brake rotors come in. These brake discs cool down quicker under hard braking and I paired them with a set of EBC YellowStuff brake pads. These pads have the benefit of longer life and better resistance to off-road conditions of dust and sand. Expeditionware Disco 2 steel braided front and rear brake hose kit round out the brake system upgrades.
Lighting The Way
An array of PIAA off-road lights were mounted on the truck including on the front bumper, on the leading edge of the roof rack, as well as on the rear of the roof rack. Why didn't I go with LED light bars and pods? Back in 2009, LED lights weren't the rage they are today and I also purposely chose round halogens to emulate the look of the Camel Trophy trucks that I admired. More lights and electronically powered accessories mean more draw on the rig's electrical system so an Optima Yellow Top battery was brought in to replace the stock battery. A dual battery system was planned to be a future upgrade.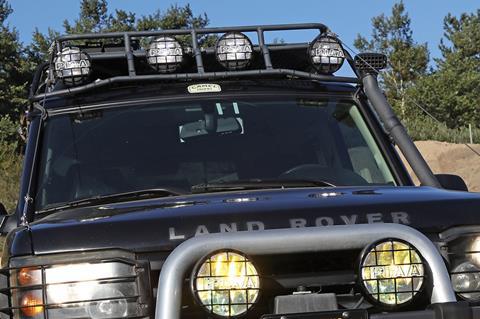 For added power and a beefier sound, a MagnaFlow stainless steel cat-back performance exhaust system was installed along with a K&N air filter. I like a simple look, so I opted for steel wheels from Atlantic British. The 16" steelies were custom coated in dark gunmetal powder-coat and feature original Land Rover center caps for a more complete look. The wheels are mounted with 265/75-R16 Falken WildPeak A/T tires and creates a nearly 32" overall diameter wheel and tire package.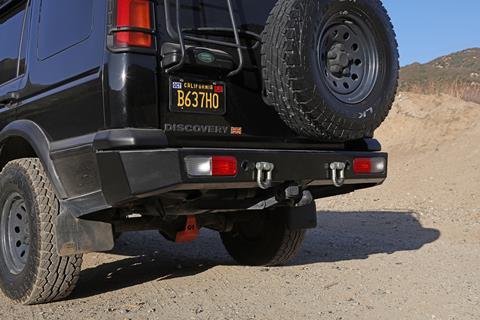 The Extras
Moving onto the Disco's interior, you'll find that a Tuffy tactical gear security drawer has been installed in the rear of the truck and is bolted to the truck's frame. Mounted on top of it when needed was an ARB fridge freezer. When not required, it was taken out in favor of extra cargo space. A Midland USA GRMS radio provides communications between vehicles while on the trail and a custom light switch array helps control the auxiliary PIAA lights.
At times, the Disco sports an ARB rooftop tent and awning, but one or both items are removed when not in use. Ironically, I do use the SUV to grab groceries at times, so hauling all that extra weight around isn't ideal. Covered parking is easier to find without the tent on top too. I usually have a cheap Home Depot shovel mounted to the roof rack with Quick Fist clamps, but a DMOS shovel and shovel mount has been added to the roof rack more recently.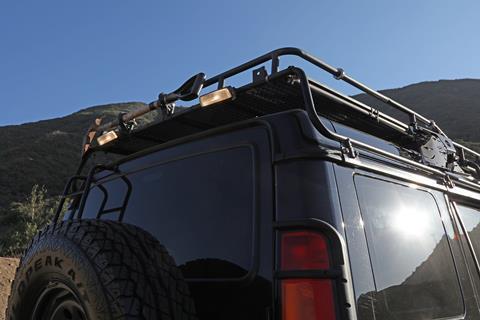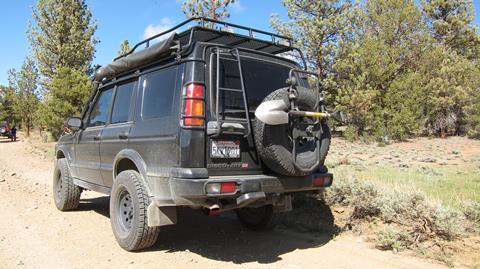 The Trips
The Disco, as it is configured, has done well for me on the trails. I'm not a double black diamond daredevil mind you, so it will never be the king at King of the Hammers, but that was never the point of my rig. It was modified to take me to destinations that required travel over mildly challenging trails as well as camping and other off the pavement vehicular adventures. In it, I've attended Overland Rally events, gone exploring on my own and with friends in the mountains and deserts of Southern California and have done plenty of camping trips over the years.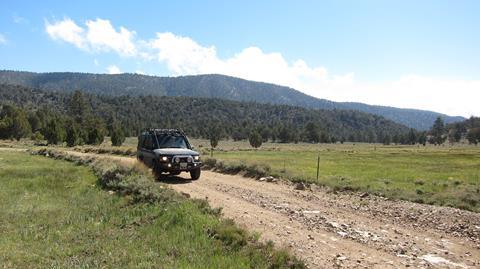 Final Thoughts
This Camel Trophy-inspired Disco was built many years ago, but it still crawls the trails with great enthusiasm. The build has pretty much stayed the same over the dozen or so years I've owned it, so I'd have to say that I'm really happy with it. It's not an all-out overland style build that you'd find on the trails these days but it's simple upgrades do their job quite well. Perhaps I'll make a leap to the Defender one day, but until then, this Disco hasn't missed a beat.