If you're in the market for the most competent 2023 KIA Telluride when off the beaten path, the SX X-Pro or SXP X-Pro will have your back.
With approximately 75% of its sales solidifying the U.S. SUV segment, Kia focuses heavily on serving the demographic with highly competitive and capable front-wheel-drive and all-wheel-drive models. Still in its first generation, the 2023 Kia Telluride has exponentially increased in sales since 2019, selling more than 93,000 units in 2021. It's now the automaker's flagship large SUV model.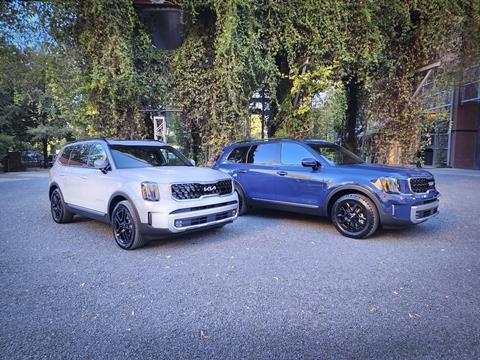 Not known as a traditional off-roader we're accustomed to, the Kia Telluride (especially its new off-pavement-ready X-Line and X-Pro models) earn a place in our book as a righteous adventuring companion—next to our spouse and pups, of course. Kia upped off-pavement capability by adding these two trim lines. The Telluride's mix of interior comfort and responsive V6 powerplant, along with its driver assist and technology enhancements, have us giddy with trail-bound excitement. The 2023 Telluride is more mature than its previous derivative. It also has a bit more off-road capability that's worth considering if you're looking a three-row all-wheel-drive softroader.
Price Ranges and Key Specs
The 2023 Kia Telluride SUV seats up to eight passengers, can tow up to 5,500 pounds, and comes in a dizzying array off trim levels. The updated SUV has a multitude of exterior enhancements as well as interior accoutrements.
Front-wheel-drive models start at an affordable $35,690 and top out nearly $10,000 more
All-wheel-drive comparatives set the stage at $37,690 and cruise over $50,000
The top-of-the-line SXP X-Pro coming in at $52,785.
Newly offered X-Line and X-Pro trim packages are available on midrange and top SXP levels, all with standard all-wheel drive. An impressive and brilliant 12.3-inch infotainment screen, navigation, five USB ports and three power outlets, as well as six-speaker audio system are standard on all trim levels, making the Telluride a great value.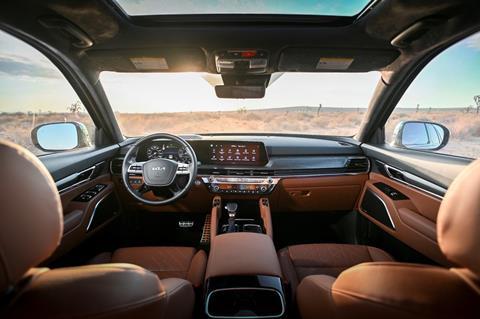 Oodles of safety features and tech goodies are also offered, including standard forward collision avoidance with pedestrian and cyclist detection, land departure warning, lane keeping assist, blind spot collision warning, safe exit assist, rear occupant alert, and more. Additionally, available highway driving assist 1.5 or 2.0, blind-spot view monitor, parking collision avoidance for reversing, and smart cruise control make the Kia Telluride a stand-out for safe excursions.
Overall Impressions
The large-living Telluride boasts a powerful 3.8-liter V6 that produces 291 horsepower and 262 pound-feet of torque, mated to an eight-speed automatic transmission. Although paddle shifters are lacking and the steering wheel leaves something to be desired, the 2023 Telluride has a fun-to-use manual mode that brings the vehicle up to speed. Take-off and passing abilities are admirable but not sporty, however, its overall comfort and upscale interior design made us yearn for long-distance travels with it.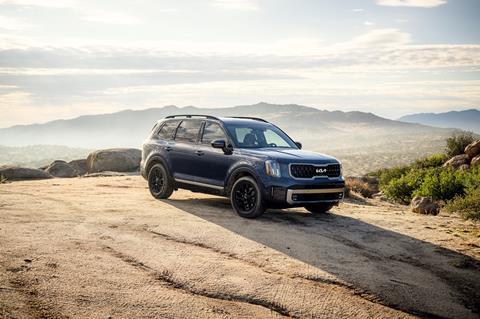 Pop-up round blind-spot lane-change camera screens provided helpful information on the driver's dash when turn signals were used. Side video cameras made short work of trail-side hazards, too. All 2023 Telluride SUVs get .4 inches of additional ground clearance: lower trim levels are eight inches flat. The X-Line and X-Pro trims bump up to 8.4 total inches, providing adequate clearances for softroading duties.
If you're in the market for the most competent Telluride when off the beaten path, the SX X-Pro or SXP X-Pro will have your back. Although the X-Lines are like the X-Pro trims, the X-Pros have slightly better approach and departure angles (17.9/23.2 versus 17.7/23.0), can tow 500 more pounds than the other iterations, and come from the factory with 245/60 R18 Continental all-terrain tires and 18-inch alloy wheels (instead of 20" rollers).
Now this won't be a direct competitor to a Toyota 4Runner, per se, but it's not meant to be. The Kia Telluride continues to impress us as a competent and sophisticated adventurer.