Magnuson and was able to install the first TVS1900 supercharger for the 2018 Tundra which puts out an estimated 500 horsepower.
2018 Toyota Tundra Crewmax Limited TRD PreLander
Playing in the dirt has always been one of Travis Hess' favorite hobbies. Growing up in California, he found himself entrenched in action sports culture and various forms of motorsports from motocross to even boat racing, but in the dirt is where he was most comfortable.
Through the years, he would spend the majority of his time racing on two wheels at local tracks with his uncle. Some of his fondest childhood memories would be with his entire family camping at Red Rock Canyon / Dove Springs. So it comes to no surprise that his vehicle of choice would be a truck capable of traveling to remote destinations. Hess comments, "Building vehicles has always been a passion of mine from street to the dirt, but it's in the dirt that I enjoyed the most."
After a stint serving in the military, Hess would dip his toes in the off-road world with a Dodge Ram and after some modifications and owning it for a couple of years, he felt it lacked the space and power that he needed. He then opted for a Chevy Tahoe, which also served a purpose, but wasn't quite right. He finally settled on a 2016 Toyota 4Runner.
This 4Runner would help him get acquainted with the off-road and overland community and gain the knowledge for what parts would be needed for his next outing. This project began with the usual suspension and wheel and tire upgrades, but he became hooked on the customizations and performance that he could have by adding a few upgrades here and there. The 4Runner became popular on social media and gave Hess the opportunity to travel and explore, but he just wasn't satisfied with the SUV. Initially, he had wanted an LC200, but after working out a deal with the dealership, who took ownership of the 4Runner, he walked away with a brand new 2018 Toyota Tundra Crewmax Limited TRD.
At the time, Hess wasn't ready to financially commit to a long-travel kit, so he opted to convert the Tundra starting with a mid-travel kit and wheels and tires. This was short-lived as Hess decided to build the ultimate hybrid between a PreRunner and an overland-style build. His goal was to showcase the capabilities of both platforms. He wanted the performance to drive at high-speed through the desert, but also comfortably camp in the vehicle for long stretches of time without complaints. His version of a "Prelander" would soon come to fruition.
Once he made the decision to upgrade to a long-travel kit everything else fell into place.
He began adding armor with a C4 Fabrication hybrid wide front bumper and rear bumper outfitted with a Warn Zeon 12-S Platinum winch and a Factor 55 fairlead and flat link.
Many of his outings take him through the desert pre-running, which often leaves him in the middle of nowhere. Lighting upgrades would be essential to his build. A full arsenal of Rigid Industries products was added. The hood is adorned with a pair of DXL lights, while the front bumper features three Q Series Pro lights, an SR-Pro 30-inch light bar, two DXL SAE DOT Amber lights, and two SR6 SAE DOT Amber lights.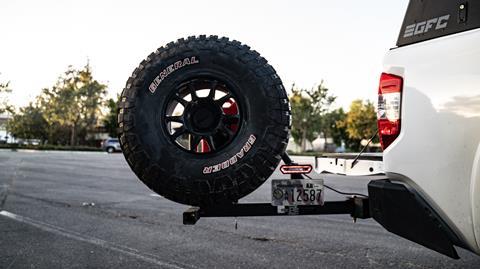 The rear bumper features a pair of SR-M Pro Diffused flush mount lights and a Chase Light is attached to his Rigd UltraSwing Tire Carrier. Six white and six amber rock lights help provide illumination under the carriage, while a collection of lights have been added to his GoFastCamper XL to help light his campsites including four Ignites, size A-Series in red, two Scene Lights, and a pair of SR-L amber lights in the rear window. With that many lights a quality controller was in need, and a Dual Switch Pros 9100 Series power system was installed with one in the cab to control the primary lighting and one in the bed of the truck for the camp lighting.
To keep up with the race trucks that he runs through the dunes with during events more power was needed and Hess called on his friends at Magnuson and was able to install the first TVS1900 supercharger for the 2018 Tundra which puts out an estimated 500 horsepower. He also elected to add a Magnaflow exhaust.
Eventually, Hess was able to achieve his goal of upgrading to long-travel suspension. In the front, a Camburg Racing kit complete with Camburg UCA, LCA, and limiting straps are complimented with Fox 2.5 coil overs with DSC and an 800lb spring, 3.0 tube bypass, and re-valved and tuned by KDM Shock Technologies. The rear suspension features a Camburg Racing Bedcage with Fox 3.0 x 16" triple tube bypass, Camburg bolt-on bump stop mount with Fox 2.0 x 2.5 bumps, and a custom Deaver leaf pack.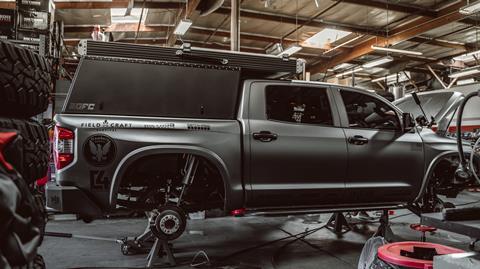 In the short period of time that Hess has owned the vehicle, it has undergone a few transformations. He opted to help protect the paint and give his truck a distinct look with a charcoal wrap, but recently he removed the wrap to showcase the original white factory color. He then decided to add fiberglass ADV fenders to go over the large wheel and tire combo and had Simons Auto Body paint the fenders to match the factory color.
For wheels and tires, Hess has opted for 17x8.5 MR702 Method Race Wheels in matte black wrapped by 37x12.50x17 General Grabber X3 tires. With the increased wheel and tire size and to alleviate stress to the axles regearing was needed and Hess elected for a Nitro Gear package and an Auburn LSD. For his off-road adventures where the need to air up and down his tires for traction his gear of choice is a Pro Eagle Beast jack and a Power Tank 10lb C02 portable air system.
When you drive almost 120 miles a day for work as Hess does, a reliable daily driver is essential. He also required comfort, convenience, and communication for his trips which is supplied by Rugged Race Radio 25W GMRS, 60W GMRS, and a WeBoost Drive 4GX with an OTR antenna. An ICS Fab dash mount and Scosche phone/tablet mount secure his GPS and phone within his eye line. Finally, a pair of PRP Enduro Elite seats add to the comfort, while providing support.
He also wanted the ability to camp for long stretches of time. He's able to do this with the addition of a Go Fast Campers XL platform camper. Being prepared and having the proper equipment when he needs it was a priority for him. He has power supplied by an Odyssey dual battery kit, a Dometic PLB 40, dual Renogy 100W Solar Panels, and Blue Sea.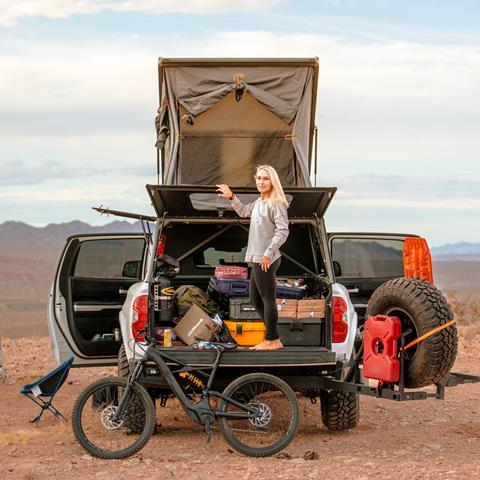 A Toyota Armrest safe keeps his belongings in place, while Pelican cases keep his additional gear portable and organized. Additional interior storage is provided by a Raingler Nets Roof Attic. For life on the road, a Dometic CFX 65w Fridge/Freezer was installed to help keep food and beverages cold.
With an extensive list of modifications already complete, Hess isn't quite finished with his truck. He has a few tricks up his sleeve and plans in the pipeline including a standalone ECU, Long Tube Headers, a re-tune, and upgraded supercharger pulleys.
"Whether it was for hitting trails at speed, hitting technical trails, camping over and extending time or simply a prepared vehicle to get me out of man-made and natural disasters. I bounce between so many different states and climates that always being prepared for whatever may come is always at the forefront of my mind. That's why I built this prelander," adds Hess.
With many locations already checked off his list, Hess looks forward to taking his truck to the Baja 1000 with Camburg Racing where he'll be right at home once again playing in the dirt.
Buildsheet
Vehicle Specs
Travs Hess' Toyota Tundra Crewmax Limited TRD
Base Vehicle:
2018 Toyota Tundra Crewmax Limited TRD
Engine:
5.7L Aluminum i-Force 3UR-FE
Magnuson Supercharger TVS1900
Drivetrain:
AB60F Transmission
10.5" Rear Diff
Nitro Gear 5.29
Auburn LSD
Suspension:
Front: Camburg Racing Long Travel Kit, Camburg UCA, Camburg LCA, Camburg Limiting Straps,
Fox 2.5 Coilover w/ DSC and 800lb Spring, Fox 3.0 3 Tube Bypass
Revalved and Tuned by KDM Shock Technologies
Rear: Camburg Racing Bedcage with Fox 3.0 x 16" Triple Tube Bypass revalved and tuned by KDM Shock Technologies, Camburg Bolt On Bump Stop Mount w/ Fox 2.0 x 2.5 Bumps, Custom Deaver Leaf Pack
Wheels & Tires:
Method Race Wheels MR702 Matte Black (17x8.5 0/4.75)
General Grabber X3 (37x12.50x17)
Armor & Racks:
C4 Fabrication Hybrid Wide Front Bumper, C4 Fabrication Rear Bumper
Rigd Supply UltraSwing Tire Carrier
Storage:
GoFastCampers XL
Pelican iM2700 (Yellow), Pelican R60 (Orange), Pelican V600 (Black)
Toyota Armrest Safe
Upgrades & Accessories:
Rigid Industries DXL (Ditch Lights),Rigid Industries Q Series Pro, Rigid Industries SR- Pro 30in., DXL SAE DOT Amber, SR6 SAE DOT Amber, Rigid Industries Rock Lights (White), Rigid industries Rock Lights (Amber), SR-M Pro Diffused Flush Mount, Rigid Industries Chase Light on Rigd UltraSwing, Rigid Industries Ignites, Rigid Industries A Series (Red), Rigid Industries Scene Lights, SR-L (Amber)
Warn Zeon 12-S Platinum
Factor 55llc Fairlead and FlatLink
ADV Front and Rear Fiberglass installed by SS Motorsports
Paint by Simons Autobody
PRP Enduro Elite Seats
Gregs GM3 Wiring
Dual Battery Kit wired to Renogy DC-DC MPPT Charger
ICS Fab Dash Mount
Scosche Phone/Tablet/Mic Mounts
Rugged Race Radio 25W GMRS, Rugged Race Radio 60W GMRS, WeBoost Drive 4GX with OTR antenna, Blue Sea
Magnaflow Catback Exhaust
Raingler Nets Roof Attic
Odyssey Dual Battery Kit
Dual Renogy 100W Solar Panels, Dual Switch Pro 9100 series
Dometic CFX 65w Fridge/Freezer, Dometic PLB 40
PowerTank 10lb Co2
ProEagle Beast Jack
Owner: Travis Hess
IG: @travishess_
Special Thanks From Travis Hess:
First off huge thanks to my wife Chelsea for putting up with all my good ideas and hobbies and to my friends in and out of the industry that has helped with this build or picking things up or dropping things off. In all seriousness, I owe a lot of thanks to my partners who helped make this dream build a reality. Camburg Racing, Rigid Industries, GoFastCampers, Method Race Wheels, General Tire, C4 Fabrication, Switch Pros, Rigd Supply, Maxtrax, Dometic, Renogy Solar, Magnuson Superchargers, Scosche, Magnaflow, Warn Industries, Pelican Cases, Kuhl, Factor 55LLC, Powertank, ProEagle, DMOS, Nitro Gear and Axle, Deaver Springs, LineX San Diego, SS Motorsports, RCA, Rugged Race Radios, Odyssey Battery, Greg GM3 Wiring, PRP Seats, Mountain Hatch USA.