The hotly anticipated Garmin Overlander has finally arrived. It's an all-in-one GPS unit that's at home no matter if it's directing users in big cities or small towns, or from tarmac to dirt tracks… or even gravel trails.
If you're like me, you live for the weekends or your next vacation. You're excited to plan anything, no matter if it's a two-day getaway or an epic multi-week adventure—if it's on- or off-road, you'll need good navigation.
The hotly anticipated Garmin Overlander has finally arrived. It's an all-in-one GPS unit that's at home no matter if it's directing users in big cities or small towns, or from tarmac to dirt tracks… or even gravel trails. It's a GPS unit for those to like to get out. Miniscule Mini Cooper? That's super cool. Off-roading Rover? Even better. All vehicles should apply.
THE GOOD
The Garmin Overlander has excellent city capabilities but also excels during off-pavement treks. Garmin listened to the traveling enthusiast crowd and decided to make a rugged GPS unit that combines both on- and off-road navigation, can pair with Garmin's Explore smart phone app, can sync routes or tracks from the device to a smart phone, and can also help find camp spots via pre-loaded websites like Ultimate Public Campground or iOverlander. What's not to love about this?
Garmin listened to the traveling enthusiast crowd.
In addition to city life, the Overlander GPS can easily switch to off-road navigation. The off-road topo mode showcases lots of stats: public land boundaries, elevation, tracking abilities, oodles of 4x4 tracks and trails, and even more. The Garmin Overlander also offers up a plethora of other goodies like a digital compass, barometric altimeter, and even pitch and roll gauges (super helpful when canted a bit too far to one side in the sand dunes!). This fully loaded product can also record your tracks, ensuring safe passage out if need be.
Although this heavy hitter doesn't include satellite communication opportunities, it can be paired with inReach devices like the Garmin inReach Mini. Once you have them both, a simple subscription needs to be purchased to make satellite comms a reality, and you're ready for two-way texting, weather forecasts, and SOS emergency communications.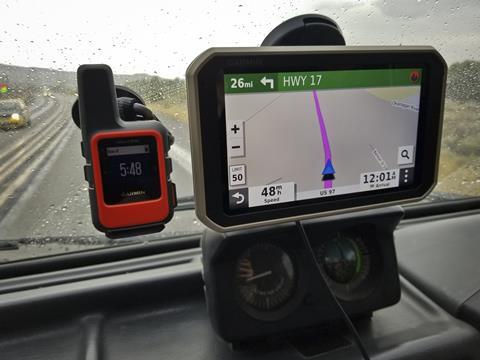 At first usage, the Overlander is simple to use and impressive. Its oversized screen is 6.0-inches wide x 3.5-inches high, with resolution coming in at 1024x600 pixels, offering up a high-gloss finish that's easy to see (unless the sun shines brightly on it). Pairing the Overlander to a smart phone is a cinch; it can quickly find its mate and stayed connected as intended. Once paired up, users can investigate Garmin's Explore app to do a variety of things: syncing waypoints, routes, and contacts, or even downloading maps. This can be done with relative ease.
WHAT COULD BE IMPROVED
Switching countries: When traveling to Canada, my husband Andy, and I spent a good amount of time trying to switch countries for the Overlander to recognize where we were traveling to Canada. Now, I'm sure it doesn't have any issues against our northern friends but it didn't easily find the address we were trying to find, no matter if we tried to find our way via finger taps or voice commands. After several minutes of exploring, we finally got it to work, but we couldn't tell you how we got there.
Voice recognition: Sometimes it's spot on; sometimes it's comical or even a bit frustrating. Simple words can be a challenge for it to understand when finding a place or address, whereas other times it understands quickly and will find it in mere seconds. Perhaps trying a few different inflections could help?
The mount: While the magnetic connection point from the RAM mount to the Garmin Overlander is rock solid and supersonically connects to each other, the actual suction cup fails to stay adhered to the windshield at times. We've driven down the road and the mount and Overlander lets go and falls onto the dash. I've found moistening the suction part of the mount with your breath before affixing to the windshield helps, however.
No "stay on" function: The screen doesn't stay on continually via batter power. Users can choose from 15 seconds to 30 minutes for it to illuminate, but once it's off, the power button on the Overlander's side needs to be pushed to wake it back up.
Take note: The power button is on the right-hand-side of the unit when looking at it head-on. It's very difficult to find it when it needs to wake back up again. Although the power button is gray compared to its cream-colored exterior, it's flush with the outer housing—making it hard to feel and push it when needed. Slightly protruding it from the unit would solve this issue.
Sum It Up
The Garmin Overlander is $699.99, with its inReach Mini sidekick at $350. I'd love to see Garmin's next version of the Overlander house inReach technology so it's a one-stop-shop of GPS and satellite communications. For now, users need to purchase an inReach unit separately to get that technology.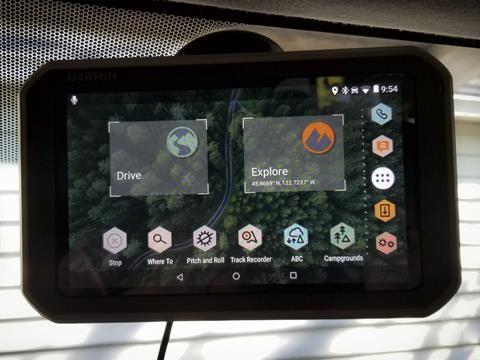 Most on-board integrated navi systems provide only on-tarmac guidance with little else to offer, whereas the Garmin Overlander supports that plus much, much more. No matter if on-road or off-pavement, the Overlander is an impressive adventure GPS unit. With pre-loaded maps, integrated camping areas, vehicle trackability, and pretty much any other stat you'd ever need, the Garmin Overlander (with its inReach Mini companion) should be looked at if you're a travel enthusiast. It has loads of features, with a multitude of opportunities. On-road or off-, the Overlander has made giant strides in the GPS adventure market.
Garmin Overlander
inReach