LEBANON, NH (May 31st, 2023) — PerryParts, an industry leader in innovative automotive components, is thrilled to announce the release of its new line of bump stops for the Chevrolet Silverado ZR2, Chevrolet Colorado ZR2, Jeep Wrangler JK, Jeep Wrangler JL, and Jeep Gladiator – supplementing their existing applications for Toyota/Lexus platforms.
"Our mission at PerryParts has always been to create premium products that help more people get out on the trail and get home safely," said founder Patrick Perry. "With these new vehicle platforms, we built upon our learnings by specifically matching vehicle weight and dynamics to our bump stop's structure and design."
Bump stops are a critical and often overlooked component to a vehicle's suspension system and these new releases reinforce PerryParts' commitment to providing high-quality, engineered solutions for the off-road enthusiast community.
The new bump stops are produced using PerryParts' proprietary 3D printing methods, on their own custom-built machines. This manufacturing method allows for a level of customization and precision unmatched in the industry, along with unique 6-Layer Multi-Stiffness Architecture.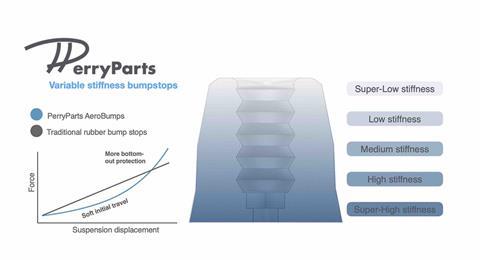 This process ensures each bump stop is completely optimized for the vehicle, specifically built for increased tire sizes and higher vehicle weights, and resulting in enhanced vehicle performance.
PerryParts' unique approach using 3D printing allows the creation of complex geometries that traditional manufacturing methods cannot replicate. These complex internal geometries interact with integrated compression dampening ports to create controlled paths for escaping air, which give PerryParts bump stops unique adaptive compression characteristics.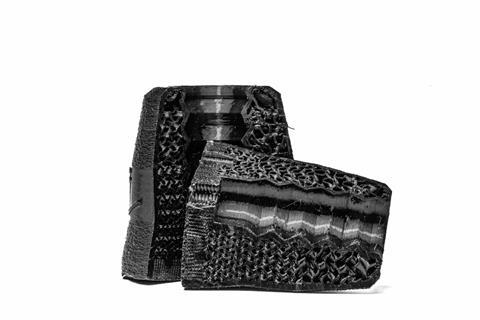 The progressive spring rate ensures a soft and comfortable ride early in travel, increasing to more supportive compression to provide strong bottom-out protection.
In addition to these new applications, PerryParts is also expanding their custom bump stop process. The company understands that there are unique applications where one-off solutions are required and their manufacturing methods are a perfect solution for highly customized vehicles.
This will be a service offered directly through their website, creating a method for their engineers to work one-on-one with builders to create a prototype and final product, without any surprise fee structures.
About PerryParts:
PerryParts is a trusted provider of precision manufactured bump stops for off-road vehicles. Using cutting-edge 3D printing technology, PerryParts creates parts that are tailored to the individual driver and their vehicle. The company's focus on innovation, quality, and customer satisfaction has made it a disruptor in the automotive aftermarket industry. For more information on PerryParts and their new line of bump stops, visit www.perryparts.com.