Tesla is not exactly a brand that you would associate with off-road recreation, but with Cybertruck on the horizon, this could all change, depending on how the aftermarket responds. That being said, not everyone is going to want a vehicle the size of Cybertruck and there are many adventurers in the crossover space who might want to go full electric, but don't have any capable all-wheel drive battery electric vehicle (BEV) choices yet. That is, until now.
Unplugged Performance, founded in 2013, is known as the leader in Tesla platform modifications and performance upgrades. The company recently invited us out to spend a day on the trail with their Model Y development vehicle, modified with more aggressive tires and the Dirt and Snow Pro Coilover Suspension Lift Kit, along with a few other bits.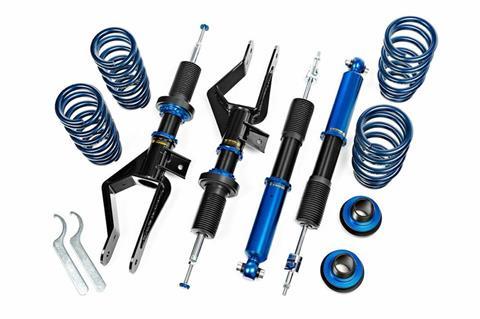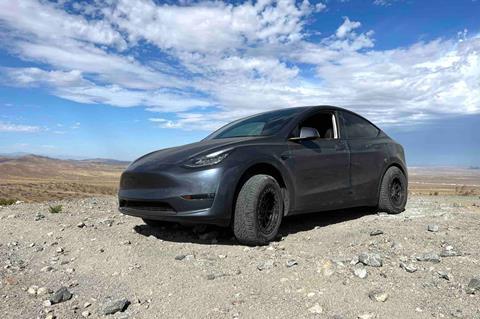 The Dirt and Snow Pro Coilover Suspension upgrade, which is assembled in America, was engineered from the ground up, specifically for the Model Y. The system increases ground clearance and wheel travel through the use of an adjustable coilover, not a ride-diminishing puck or spacer kit. With additional wheel travel coming from more shock stroke working in conjunction with expert tuning on the dampers, the Model Y retains exceptional on-road ride quality.
You might be asking, "why would anyone lift a Tesla?" Well, there are plenty of Tesla owners living in areas of the country with adverse weather, where additional ground clearance for snow drifts or flooding would be appreciated. Others might have steep driveways, or unimproved roads where increased wheel travel and shocks that can better handle potholes are necessary.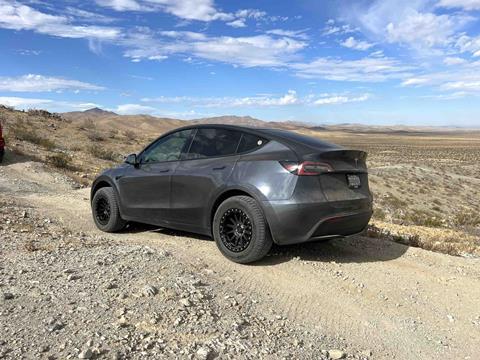 The Dirt and Snow Pro Coilover Suspension can be set to run at 0-2 inches over stock and the shocks are easily adjusted with a knob to dial in ride quality. Unplugged has made a concerted effort to deliver a product that is the best no-compromise solution on the market.
In addition to the Dirt and Snow Pro package, our tester was equipped with Unplugged Performance's prototype front and rear adjustable sway bar setup with quick disconnect end links (front) for improved articulation.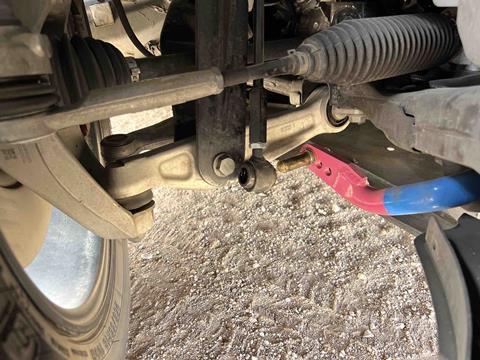 The 18-inch prototype beadlock wheels came wrapped in all-terrain 255/55R18 Yokohama G015 tires that work out to a 29-inch overall height (approximately one inch over stock).
Additional performance suspension products available, but not on our Model Y, include adjustable suspension links, adjustable billet upper arms, and adjustable-height rear spring arms.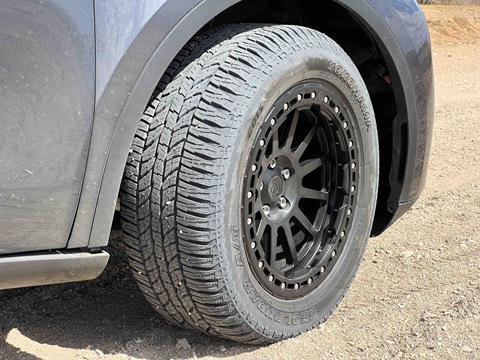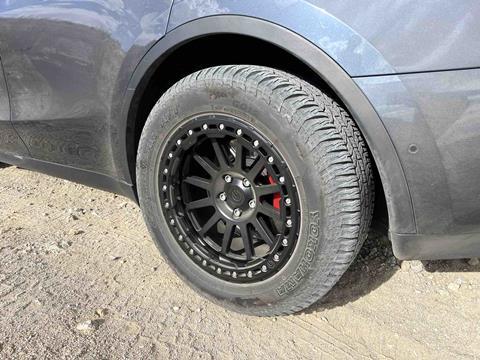 For our evaluation, we disconnected the front sway bar, giving the Model Y additional articulation, and set the rear sway bar set to soft for more compliance.
The bottom line is the new suspension can get you further down the beaten path, and gives you enough capability to get back on it if you've strayed and found yourself off the intended route.
Our route took us on desert trails just outside of Barstow, California where we anticipated exploring some of the extensive two-track trail system that is available. We quickly found ourselves on some significantly more technical trails than we planned on as we traveled in and out of washes and hillsides. With the off-road traction setting selected, and using the Slip Start mode as needed, the dual motor AWD Model Y acquitted itself quite well in the dirt.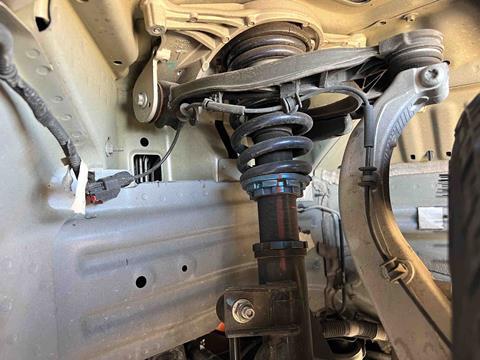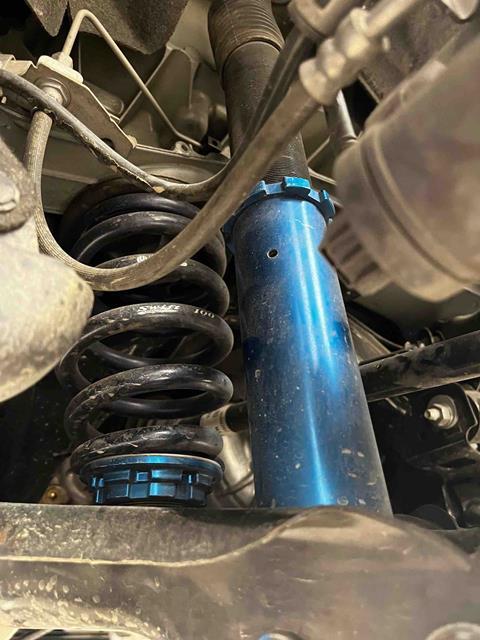 Thanks to our additional ground clearance, we never once got hung up or stuck, sometimes lifting a wheel in the air, as the traction control kept the electric SUV moving forward. While 2-inches doesn't sound like a lot of lift, it was a major contributor to our Tesla getting through some rough patches and keeping the battery pan from contacting terra firma.
After picking our way through technical terrain, we found a wide, long, and straight powerline road where we pushed the Model Y to highway speeds in the dirt, where the car remained stable and predictable as the Pro Snow and Dirt coilover soaked up uneven road undulations. We never felt the car get skittish, or bottom out on this fast and sandy desert road.
Next, we took the Tesla to a deep wash, where we pushed the car in an attempt to find the limit, but the Model Y's stiff chassis allowed the suspension to do its thing, while the car's impressive traction control system stayed on top of any wheel slip.
Lastly, we put some seat time in on the highway, where we noticed no degradation in ride quality or handling, or even any increased road noise, over the stock Model Y. If anything, we noticed that the steering was less precise due to the all-terrain tires, but it was nowhere the difference you might experience when moving from an all-terrain tire to a mud-terrain tire, for example, and it would probably only be discernible to the most dialed-in Tesla driver. With the all-terrain tires and higher ride height, range is impacted by 3-5 percent.
Both on and off road, we found the ride to be taut, but compliant, as the suspension was able to soak up bumps and drive up and over rocky trails with minimal impact to the chassis. We found that 20 mph down non-technical, dirt two-tracks was a comfortable pace in the modified Model Y, while 40-50 mph on graded desert roads was the sweet spot for the suspension, although it can be pushed, as we did, on smooth dirt roads.
The bottom line is the new suspension can get you further down the beaten path, and gives you enough capability to get back on it if you've strayed and found yourself off the intended route.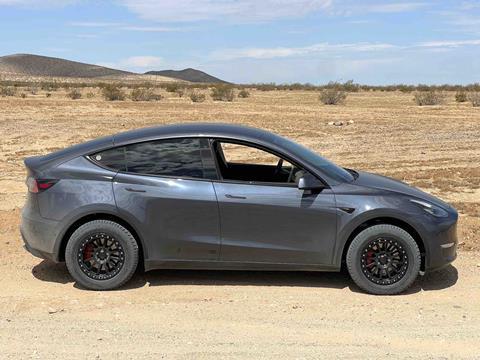 All-in-all, it was fun to experience this take on off-roading and gave us some new appreciation for what is possible with electrification. It also had us thinking about the Cybertruck. If a Model Y could be this much fun and capable enough for trail work with minimal mods, what will happen with a more purpose-built platform.
While we are used to building up Tacomas and Wranglers, this was a new and welcome experience. Understanding the capabilities of the Model Y platform, we could see a modified version being an alternative to someone who is looking at something similar to a Subaru Crosstrek, but wanting to do it on a BEV platform.
Unplugged Performance tells us that the Model Y is just the start of their off-road performance business and they have huge plans to tackle the Cybertruck and make it fit for off-road and overlanding duty. With some of the Rivian R1T owners starting to discover the benefits and drawbacks to that platform, and BEV overlanding in general, we are excited to see another platform enter the market and be adopted by the aftermarket. With big plans set for the Cybertruck, this won't be the last you hear from Unplugged Performance in this space.
SOURCE
Unplugged Performance