Portable LED light manufacturer, Ledlenser, recently released its new HF6R Signature and HF8R Signature LED headlamps. While innovation isn't necessarily a word associated with a light you strap to your noggin, these German-engineered headlamps debut new features that help outdoor enthusiasts light their way. We put them to the test over a two-week trip to Iceland.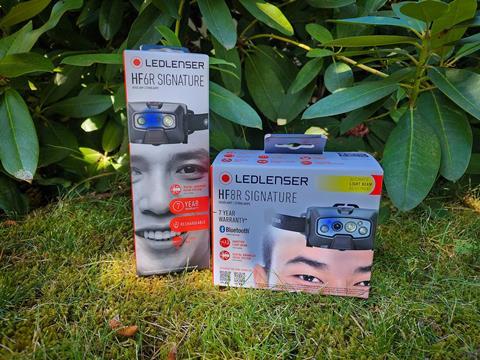 HF6R Signature: Medium Size, Durable Feel
This headlamp is billed as "an outdoor headlamp for outdoor enthusiasts." The contemporary, slim, and IP68 waterproof light employs the company's patent-pending Digital Advanced Focus System to let you go from floodlight to a more focused light using a small wheel on the lamp. It features an aluminum housing and white, red, green, and blue lights, the latter two can be beneficial for hunting. The rechargeable headlamp uses the company's proprietary Magnetic Charge System. There's also a lock to prevent accidental power-ups and a battery status indicator.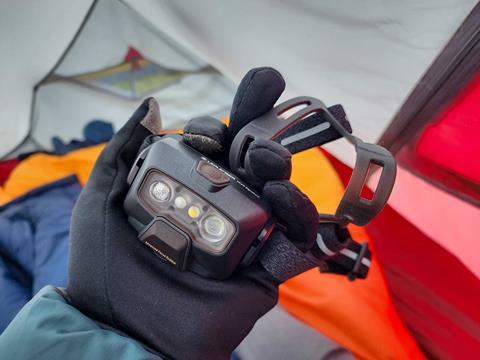 The HF6R Signature has between 20 and 1,000 lumens with between 82 ft and 558 ft (25m and 170m) of distance. The company claims a charge lasts between 3–60 hours depending on the setting, and power comes from a single 3.7v Li-ion battery with 7.4 Wh. The headlamp produces 5200K color, has a blink function, and all the switches are on the front. This headlamp weighs 4.76 ounces (135g)
HF6R Signature Functions: Easy To Use
Ledlenser's Digital Advanced Focus System will transition from flood to spot using a wheel on the lamp's base. The wheel is simple to use even if wearing gloves. The light also has a temperature control system to keep the light from overheating, something we didn't need while in Iceland. In addition, the lamp has cooling technology that pulls heat away from the LED insuring efficiency and performance.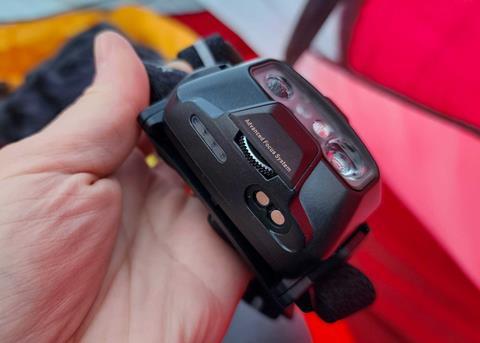 While many headlamps have a white and red option (red can be great for reading maps in a vehicle at night, for example), the HF6R also has a green light which is good for game hunting. The blue LED function lets you track game blood while hunting.
HF6R Signature: Performance and Usage
This is a medium-sized headlamp and it isn't a featherweight, but it's also not overly bulky. It's certainly bigger than many plastic headlamps. The back of the lamp has padding for comfort. The elastic headband has a broad rubber rear section to prevent it from moving around. While weighty it's not uncomfortable and stays in place well.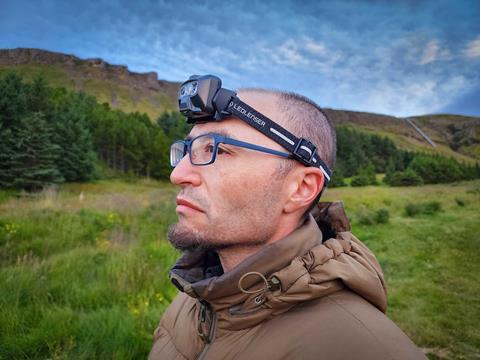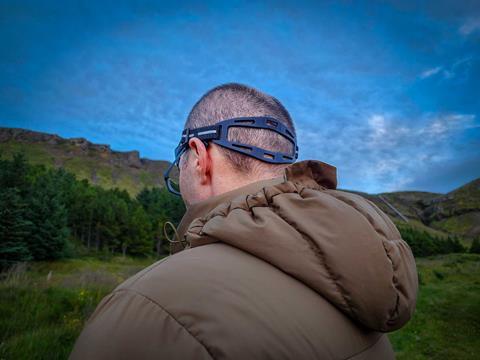 A single push of the button turns the headlamp on the low setting. You can press it two more times for increased brightness levels, and once more for flashing. Hold the button down for the red light function and keep pressing it and you'll get the various color choices.
The lamp's metal body makes it feel very durable and the button and dial also feel sturdy. The four-bar battery indicator on the bottom is a nice touch. The magnetic charger has a USB-C on the charger end, and a proprietary end that links to the headlamp. A wall plug isn't included, so you'll need to ensure you have a USB-C charge base. It works well and is simple to attach, but the proprietary connection system means you'll always have to have this cord to charge. Don't lose it!
Overall performance is good, with just the right amount of options, lots of light, and an overall comfortable fit for hours.
HF8R Signature: High-Tech in A Big, Powerful Package
The HF8R Signature is a step up in pretty much everything from the HF6R. It's larger, more powerful, and more fully featured. It's billed as an innovative "hands free headlamp" by Ledlenser and is great for all activities. Make no mistake, the HF8R is a big headlamp. But its features are also big.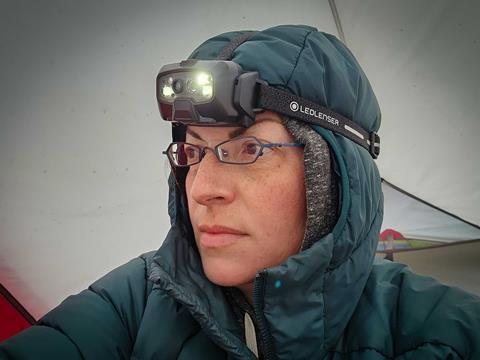 The HF8R uses the company's Adaptive Light Beam technology. This means the headlamp dims and focuses automatically on whatever you're pointing at. It adjusts light output and focus for you. Like the HF6R, it also has multiple color LEDs, efficient cooling, and is IP68 waterproof.
This headlamp is twice as powerful as the HF6R with between 20 and 2,000 lumens. It also has a longer distance of between 82 ft and 721.8 ft (25m and 220m). It's powered by a much higher capacity 13.69Wh battery at the same 3.7V power. This means extended battery life of between 3.5–90 hours. However, it's a significantly larger unit too.
Lastly, and this is a first for me, this headlamp has Bluetooth operation. Yes, you read that right. Download the Ledlenser Connect app, and you can operate the headlamp via a custom, free app on your smartphone.
HF8R Signature Function: Lots of Options
This headlamp's operation is different from the HF6R Signature. A single click on the button turns the headlamp on and puts it into the Adaptive Light Beam mode. This is the automatic function. A second click puts it into the battery-saving low-power mode. A third click turns on mid power, four click is mid power, and fifth is high power. One last click will activate the blink mode. A double-tap turns on boost mode which goes right to high power. When not in automatic mode, you can adjust the beam pattern using the wheel on the lamp's base.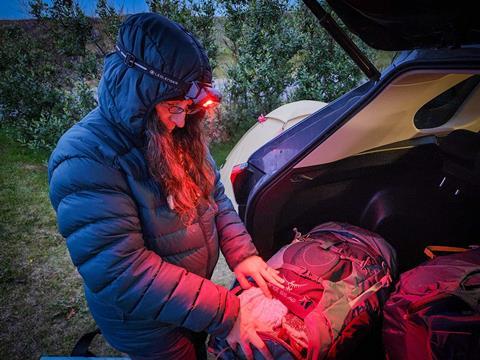 Hold the button down, and you'll get the red mode, with more clicks making it cycle through the other colors.
The Ledlesnser Connect app is simple and easy to use. The smartphone app automatically paired with my HF8R test lamp, and you can control all the functions using your smartphone.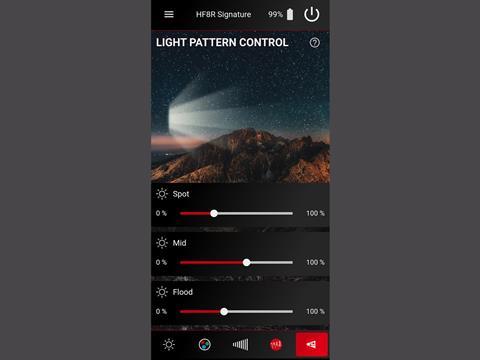 Using the HF8R Signature: A Learning Curve
This is a big headlamp weighing in at 6.8 oz (194g) or 0.43 lbs. It includes the elastic band but also a third strap to go over the top of your head as well as a rubber brace in the back of the band. There's a pad for comfort, but this is a pretty significant headpiece. It's not uncomfortable, but it is weighty.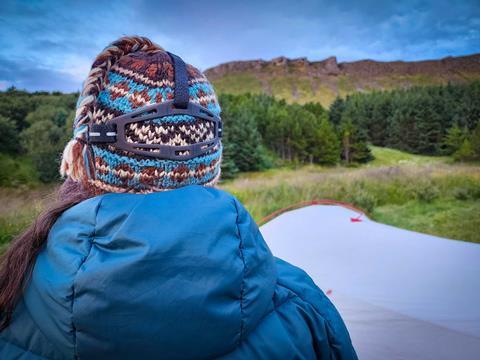 Operation can be confusing if you don't at least glance at the manual, so be sure to do that. We played around with the automatic focus while at a campground in Djúpivogur Iceland. Aim at something far away then close and you can tell the focus and brightness will change. It's pretty neat tech. Even once back home, I experimented with it in the house and the adaptive nature is pretty cool. And while its operation takes some learning, once you get it down it's second nature.
The Ledlenser Connect is slick, but I don't know how practical it is. I'm trying to think where this might be useful; probably not while hiking. However, our headlamp came with some other accessories allowing the unit to be turned into a work light and clamped onto certain objects. I could see the app being handy here I suppose. Innovative? Perhaps. However, I'm not sure this is an answer to a question anyone was asking.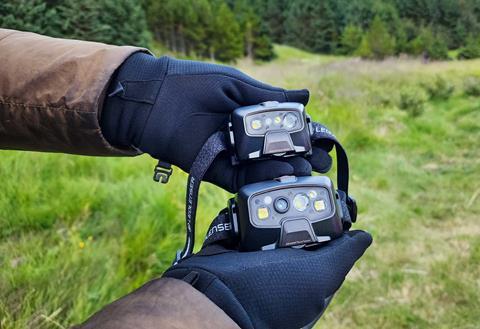 Two Headlamps, Some Commonalities
While these are different headlamps, they have common features, such as the ability to adjust the beam with a wheel, the rubber headlight brace in the back, and proprietary magnetic charging. They're also both large headlamps—not the kind you'd want for trail running or anywhere else where having low weight is important. However, both offer durability and a host of innovative features and would be a good choice for camping, hiking, hunting, or other outdoor activities. Both also include Ledlenser's seven-year warranty.
Source
MSRP: $89.95 (HF6R Signature) and $169.95 (HF8R Signature)