The AeroPress coffee maker has been a popular way to brew both at home and on the road. The company just released its new AeroPress XL that promises to make more coffee while providing the same great flavor.
For years, the AeroPress coffee maker has provided a simple, fast, and low-mess solution for brewing delicious coffee. I've been an AeroPress owner for nearly a half decade and use it for my morning cup of joe daily whether at home or while traveling. The apparatus is made of plastic and rubber, uses pressure to push water past the coffee grounds and into a cup.
However, the downside is that it doesn't make all that much coffee. It's generally good for one full-strength cup at a time. For years, I'd wished they would come out with a larger version. Well, they finally have: the AeroPress XL.
HOW MUCH MORE COFFEE AND WHAT'S INCLUDED
The AeroPress XL has twice the capacity of a standard AeroPress coffee maker according to the manufacturer. I said the standard version was good for one cup or so. Of course, "one cup" of coffee depends on how strong you make it. An AeroPress XL will hold 24 oz of water vs. 12 oz for the standard model. The compact travel-ready AeroPress Go holds 8 oz.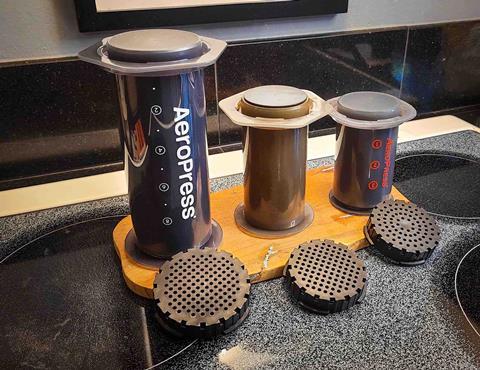 They company states you can get up the three cups of American-style coffee from the standard press, so in theory, you can get up to six cups from the XL. With this method, you're essentially brewing a concentrate and diluting it with more hot water. Again, since everyone has different preferences to their coffee's strength, your mileage may vary.
An AeroPress XL includes the chamber for water and coffee, the plunger, filter cap, seal, 100 AeroPress paper micro filters, brewing carafe, a stirrer, and scoop. There are also instructions on how to use the product.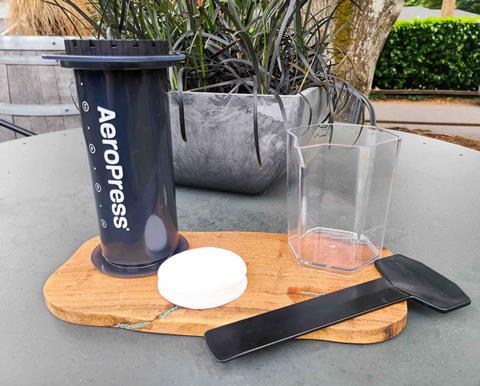 HOW IT WORKS
There's no difference in operation between any of the AeroPress coffee makers, and it's super easy to use. First, grind your coffee; AeroPress recommends using a medium-fine grind.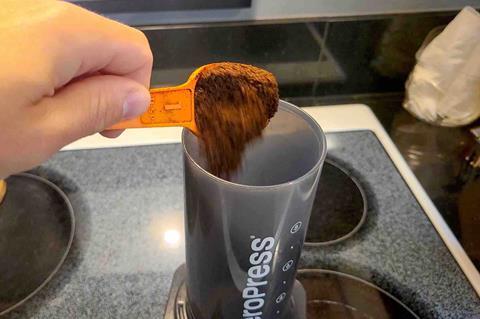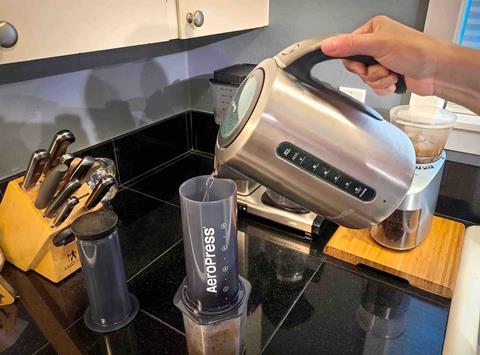 Next, heat your water to 185°F (85°C). If the plunger is in the chamber, pull it out. Put your filter into the filter cap, then attach the filter cap to the chamber by twisting it into place. Add your coffee. (They have a blog with recipes here) Add your hot water, stir for 10 seconds, then press the plunger down, pushing the hot water past the coffee, through the filter, and into your vessel. Once all the liquid is out, undo the filter cap, set it aside, and press the plunger down to eject the grinds. Enjoy.
AEROPRESS XL: MORE COFFEE, SLIGHT DIFFERENCES
As an AeroPress geek (I have the standard AeroPress and the AeroPress Go as well), the XL model is significantly bigger than both. It stands 7.25" tall when collapsed, which is 2.0" taller than the standard AeroPress, and 2.75" taller than the Go. With the plunger extended, the XL is 14.75" tall vs. 10.25" in height on standard model and just 8.5" with the Go.
Keep in mind you'll also be brewing into a container of some sort. If you use the included carafe, you'll tack on an additional 4.75" of height to the XL for a towering 19.5" brewing machine. Just be careful not to tip it over. If you're vertically challenged (e.g. short like my wife), you might actually need a step stool to press the plunger down depending on how high your countertop or table is.
The XL's larger size also means a larger filter cap and subsequently larger filters must be used. This means you can't just buy standard AeroPress filters (which also fit the Go), you'll need ones made specifically for the XL. The company makes reusable metal filters for standard and Go models, but not for the XL at the time of this writing.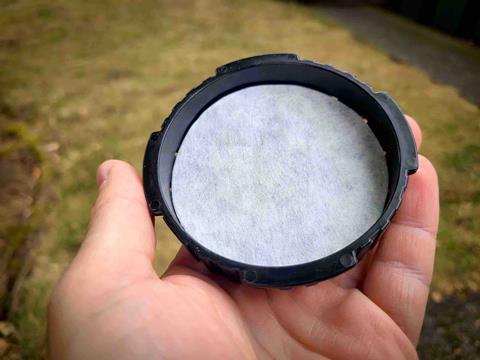 AeroPress suggests starting with 15g of grounds for a single coffee, or 30g for a double coffee. For the XL, I started with 20g and went all the way up to 50g for a cold brew.
Once you've got your grinds in and your hot water poured over and stirred, it's time to press down that big plunger. It takes significant effort to push down, so you may need to lean into it. You'll want to be sure the coffee maker is on sturdy surface like a countertop or robust table so nothing shifts or slips.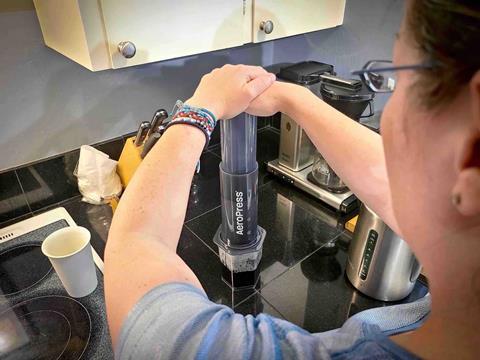 With your coffee brewed into the carafe or a large mug, you can remove the filter basket and eject the filter and grounds into the appropriate receptacle.
FYI, I found the XL's filter cap diameter too big to use for standard coffee mugs. Larger mugs or wide camping-style metal cups did work. Of course, the included brewing carafe is the perfect fit.
SO, HOW'S IT TASTE?
AeroPress coffee has always been one of my favorite ways to make coffee. Part of this is because of the smooth, robust flavor you get. I was concerned the larger format might affect the taste. Thankfully, I haven't noticed any significant difference in hot or cold brewing. It just simply makes more tasty coffee.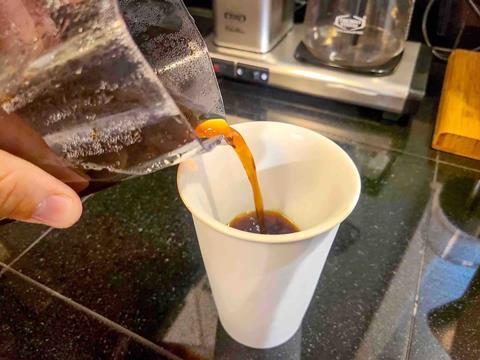 I played around with slightly different grind settings and coffee quantities to get the flavor I wanted. I find AeroPress's medium-fine grind recommendation works the best, but I prefer my coffee a bit stronger, so I add more coffee than suggested. Keep in mind if you were to use a finer grind, such as espresso, it makes it more difficult to press the plunger down. It can be done but takes more effort.
HAVE COFFEE, WILL TRAVEL
I've taken my AeroPress coffee makers to multiple countries and countless states. They're lightweight and fairly compact, especially the AeroPress Go which weighs just 5.6 oz (or 11.6 with the entire self-contained package). The XL comes in at 10.2 oz; with the standard model weighing 6.5 oz according to my digital kitchen scale. Even the XL is plenty light enough to throw into a backpack, duffel bag, or kitchen box for your next adventure.
While traveling, I've found both the standard and Go to be good for making two cups of coffee, or one bigger cup. However, if I were making coffee for 3–4 people, I would bring the AeroPress XL instead.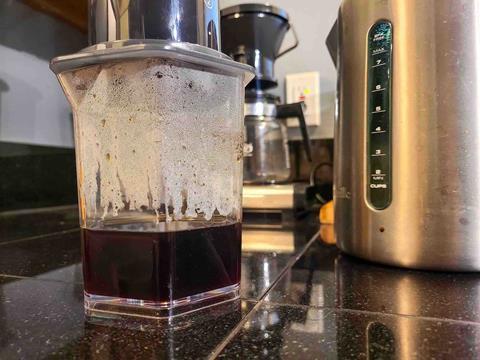 This wouldn't require two separate kettle boils and would make coffee prep that much faster. However, I'd have to either bring the brewing carafe or ensure I have a vessel that'd work with the XL's larger size and volume.
Whether using the AeroPress XL at home or while traveling, it—like the company's other coffee makers—has proven to make delicious coffee quickly and with very little clean-up. And now, you can make even more of it.
The AeroPress XL retails for $69.95 and is available on aeropress.com as well as a host of retailers across the globe.