There are times when a running shoe just isn't enough and a hiking boot is simply too much. In trots the Hoka Challenger 7 trail-runner and after reviewing a pair, we find ourselves pretty close to finding a happy medium between the two.
The Challenger 7 is billed as an all-terrain running shoe and was completely rebuilt from its previous iteration. It has several features worth noting. Weighing at just under 8 ounces, 7.70 ounces to be exact, these normally brightly colored trail-goers typically have a "be-seen" attitude. However, subdued colors like our Harbor Mist/Spruce testers exist and work well in a wide range of wardrobe choices.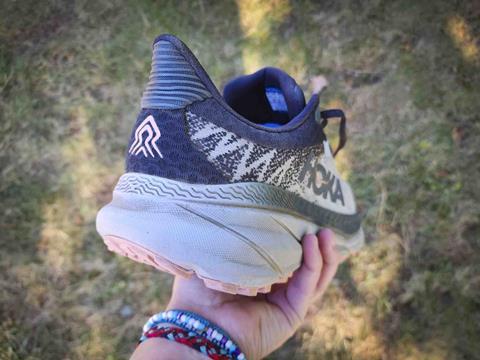 Hoka Challenger 7 Features
The Challenger 7s are designed with a balanced, protective cushion and have an impressive toe-off departure angle for when you want to hike faster. Hoka increased the stack height for a more luxurious feel and added a proprietary rubber to the bottom of the sole—mimicking "gravel" tires. Deep and evenly spaced 4mm lugs span the front three-quarters and rear sections of each shoe, allowing tons of grip, especially on slippery surfaces. Finally, a newly designed mesh upper rounds out the bit, with laces that contain 70% recycled nylon and 30% recycled polyester (excluding the aglet).
The latest Challenger 7 model is lighter, breathable, offers an increased stack height, and new materials throughout its design.
On Hoka's scale of stability where neutral is on one side of the spectrum and stable is on the other side, the Challenger 7 falls on the neutral end of stability. They're not a replacement for dedicated hiking boots, but they're not meant to be. Hoka Challenger 7s are a versatile shoe for paved and natural surfaces that aren't too rocky or extreme.
Testing the Challenger 7s
We tested the Hoka Challenger 7 shoes over a wide array of surfaces over a month-long period. These included gravel roads, dirt trails, rocky tracks, and plenty of pavement during our time with them, including a two-week trip to Iceland. Initially they felt overly cushy but became more stable as our feet got used to them.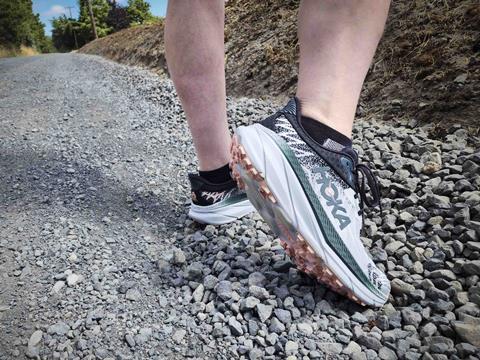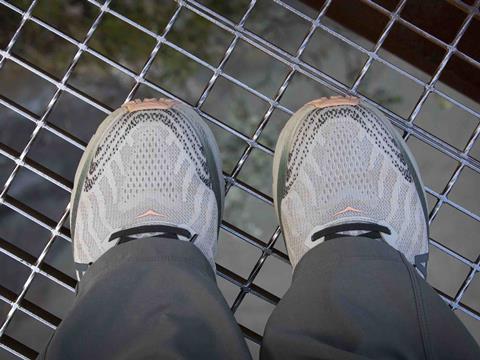 The Challenger 7s successfully tackled numerous hiking trails and dew-lined tracks. Its beefy soles gripped most surfaces with confidence, though larger boulders were challenging due to it's low-ankle sneaker styling (remember, these aren't bonafide hiking boots).
The mesh upper was breathable and kept our feet comfortable, even during strenuous workouts. However, inclement weather didn't keep the rain out, so switching to waterproof footwear during this time was a must.
Slipping the Hoka Challenger 7 shoes on was a breeze, thanks to its overexaggerated heel pull and wide tongue that's cleverly sewn in place. The Challenger's laces are thin and easily tied but won't come undone even after an intense day of trail hiking. Even after a month's worth of dusty trails and rainy days, little staining showed on our light silver upper mesh. Our Hoka testers still look nearly as good as new.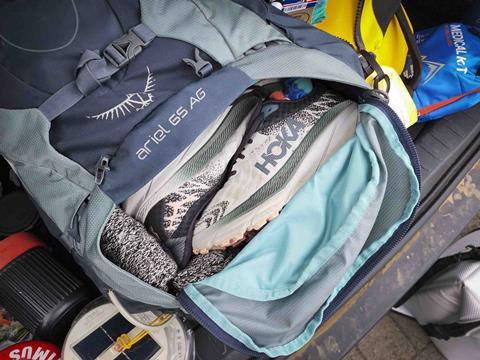 Final Thoughts
Known for stacked soles, bright colors, and the extended heel tab, our Hoka Challenger 7s looked bigger on our feet than most sneakers. We wonder about the plush cushion's longevity, too, if worn every day for a long period of time. However, if you don't mind drawing attention to your feet and rotating your footwear on a regular basis, the Hoka Challenger 7 trail running shoes are a great refreshed alternative for hybrid pavement/trail hikers. Price: $145.00