How We Modified Our Already Capable All-Wheel-Drive 2022 Subaru Crosstrek to Perform Above and Beyond
Since the pandemic hit in early 2020, more people than ever before flocked to the great outdoors for a change of scenery and moments of relaxed respite. Interior dwellings filled with angst, germs, and hand sanitizer were exchanged for trails, thick forests, and mountainous vistas—or whatever else constitutes your nearby habitat.
Four-wheel-drive vehicles with big tires, low-range gears, and generous ground clearance are always going to be more capable than all-wheel-drive (AWD) crossovers or SUVs. However, you can still up the capability of your AWD runabout to make it more off-road capable. The following bolt-on upgrades will help you go farther, see better, and protect your vehicle while doing so. They're simple, usually easy to install, and can add to your AWD's capability.
Upgrading your all-wheel-drive daily driver shouldn't break the bank, and with careful consideration and using quality products, an everyday grocery getter can become an adventuremobile for whenever nature calls you away from everyday life.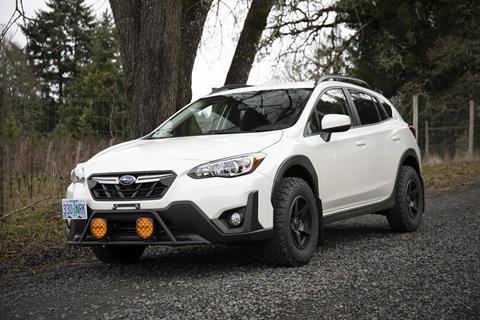 All-Terrain Tires, More Capability
Choosing reputable rubber is essential, especially when it comes to off-road tires. A typical AWD vehicle spends most of its time on the pavement. However, if you're planning to take it on paths less traveled more regularly, choosing an off-road tire best suited to various terrain types will help keep you on the straight and narrow versus in the ditch (or worse).
All-terrain tires, or A/Ts, boast beefier tread designs that handle off-road duties better than all-season highway tires. Because of this, all-terrain tires are designed to grip various types of off-road surfaces as they help drivers navigate through dirt, sand, snow, water, and so on. All-terrain tires also feature unique or multi-pitch tread delineations that produce a quieter ride on the road—making all-terrain tires an excellent answer if you're looking for a single set to suffice for both on- and off-road requirements.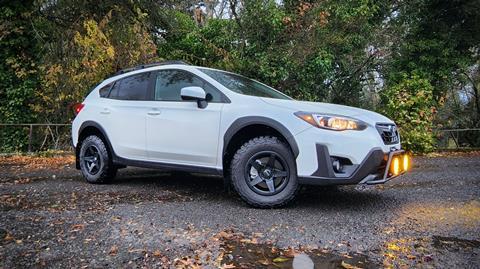 In addition to emphasized tread patterns, all-terrain tire sidewalls have different rugged and undulating designs, allowing them the ability to grip trail-side boulders and other impediments when traversing over uneven ground. A/T tires, like the 215/75R15 BFGoodrich KO2s wrapped around 15x7 Reika Seeker R15 wheels we have on our 2022 Subaru Crosstrek, are comprised of oversized lugs that have successfully mitigated a variety of weather conditions and trail types. They grip when needed and aren't too loud at highway speeds, a winning combination in our book.
All-terrain tires are a happy medium between highway tires and a dedicated off-roading tire, such as a mud-terrain. A/T tires are meant to do both successfully. Quality all-terrain tires, like those from BFGoodrich, Falken, Yokohama, Cooper, Nitto, and others, offer solid on- and off-road performance, comfort, and overall capability.
However, keep in mind that all-terrain tires do have limitations. If you're planning to slog your all-wheel-drive through the mud on a continual basis, or to try your hand at trickier trails than your average gravel or dirt tracks, a dedicated, more aggressive mud-terrain tire would be a better bet (but so would a 4x4, for that matter). All-terrain tires are meant to be competent on- and off-road tires, but they're not meant to be dedicated off-road rubber that regularly tackles tough terrain or thick mud. A/T tires are also typically noisier than a highway tire, so you'll give up a bit of comfort in exchange for capability. Oftentimes they worsen a vehicle's fuel economy, too.
Seeing Is Believing (Plus Up-Front Protection)
In addition to solid rolling rubber, upgrading your all-wheel-drive vehicle's luminosity is important, especially when adventuring into the night on remote trails. Aftermarket auxiliary lighting is a great addition to help you see better and be safer. Since most AWD vehicles don't have stock mounting solutions to affix front-facing auxiliary lights, a host of aftermarket companies have come to the rescue, like Subaru-centric SSD Performance, RalliTEK, and Rally Innovations.
Our Subaru Crosstrek features a beefy hand-made Rally Innovations steel-tube light bar that can fit up to four aux lights. It attaches to the Crosstrek's existing radiator supports and license plate mounting holes in the front bumper, creating a strong and durable light-bar solution. California-based Rally Innovations' light bar not only securely houses auxiliary lights, but also adds up-front bumper protection, something all adventuring all-wheel-drives could benefit from while on the trail.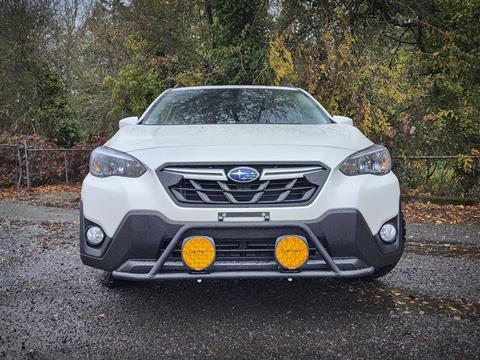 Running additional lumens when running trails in low-light conditions can help make excursions more safe and enjoyable. Companies like Baja Designs, Rigid, KC HiLites, or Lightforce make a wide variety of quality auxiliary lighting to fit different vehicle setups. From LED to halogen, and even combinations of the two, running quality auxiliary lights will help you see better and keep your vehicle on the trail.
Our Rally Innovations light bar houses a pair of Australian-made Lightforce Venom Professional Edition LED driving lights. These 6-inch high-powered lights boast 5,764 lumens. They come with clear lenses but can also be used with a variety of other lens types and colors depending on trail conditions. The Lightforce Venom aux lights are IP69K waterproof rated, come with corrosion-resistant stainless steel fasteners, and are built for years of adventure-ready use.
Full-Body Protection
Another important upgrade to consider is underbody protection. Skid plates can protect vital front-end, mid-section, and rear-area vehicle components like the oil pan, transmission, and rear differential.
All-wheel-drive vehicles typically come with a thin plastic front underbody covering (a splash guard), with nothing else to cover the rest. This poses issues when navigating over tougher off-road terrain. Aftermarket skid plates replace the original flimsy plastic with sturdy steel or aluminum to protect the components they cover. Companies like Jsport Performance Accessories, ASFIR 4x4, and Primitive Racing make skid plates for a variety of makes and models.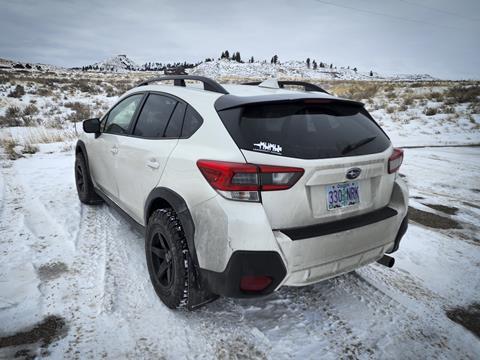 Our Subaru Crosstrek carries three 3/16" 5052 polished aluminum skid plates from Oregon-based Primitive Racing: front, mid, and rear units. In total they add only adding approximately 21 net pounds of valuable protection to our all-wheel-drive adventure rig's underpinnings. This alleviates any worries we have when crossing through rocky sections of trails on the way to our next campsite.
Knowledge is Power
These basic upgrades will help you go farther, see better, and protect your vehicle while exploring the great outdoors. Informing yourself with the proper knowledge of what's best for the terrain type you plan to regularly tackle will arm you with the confidence to move forward and push boundaries confidently, making it safer for everyone involved. Everyone starts from somewhere, so let's help turn your daily errand runner into something a little bit more adventurous.
Here's A Closer Look at 9 Key AWD Upgrades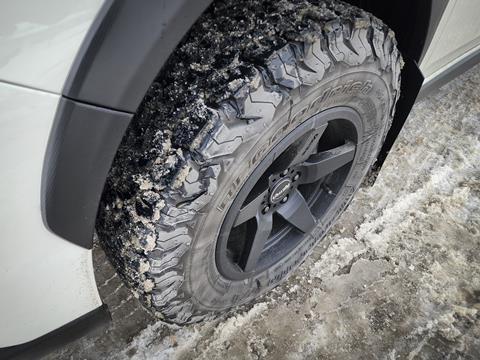 1. Wheels & Mud Flaps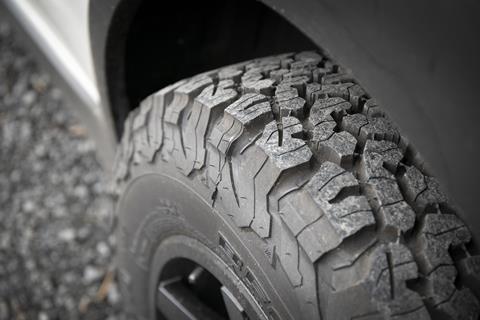 2. All-Terrain Tires
3. Light Bar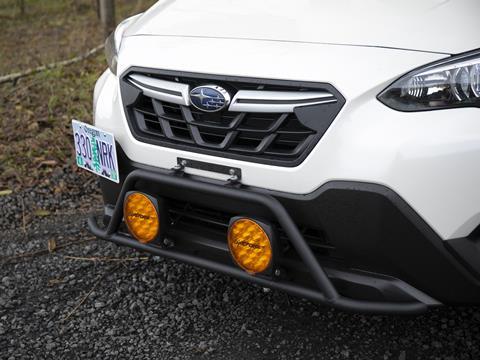 4. Auxiliary Lights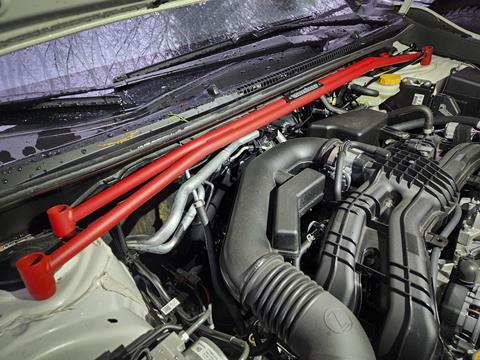 5. Strut Tower Brace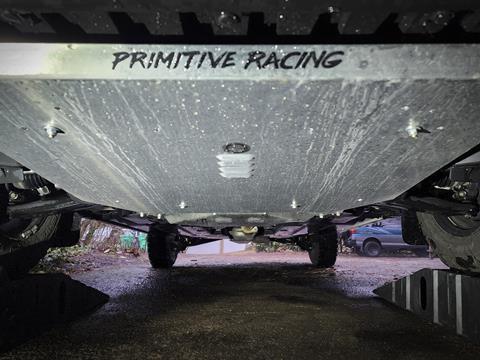 6. Front Skid Plate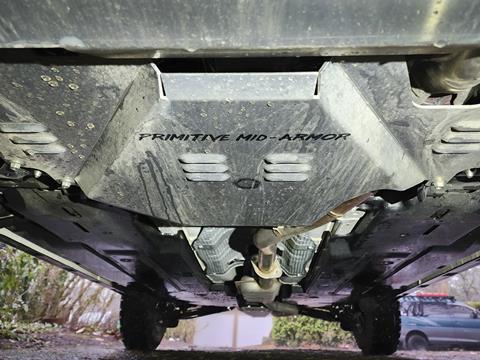 7. Mid-area Skid Plate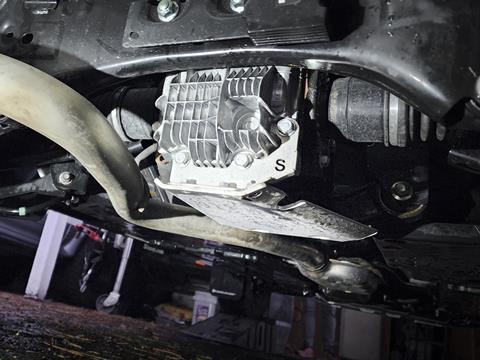 8. Rear Skid Plate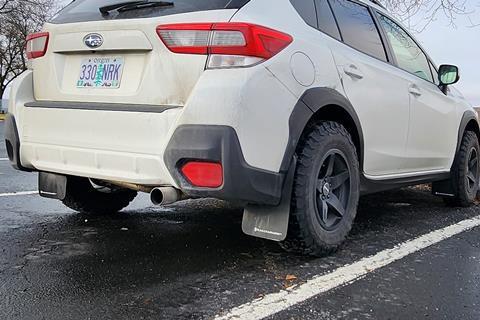 9. Exhaust