Famed poet William Blake once wrote, "Great things are done when men and mountains meet; This is not done by jostling in the street."
As in all great accomplishments, the ascent to the summit means taking on and overcoming challenges of all kinds along the way. Those who conquer rely on knowledge, strategy, and reserves of guile to see ambitions of magnitude come to life. Inevitably, in this life of adventure, streets end, terrain begins and, ultimately, mountains are met.
The die-hard team behind Peak Suspension embrace a challenge as much as anyone. Based in Riverside, California, the relatively young business began life with a direct emphasis on modifying and prepping second-gen Chevy Colorados, specifically for action off the highway. However, running on the mantra "by enthusiasts for enthusiasts," shop founder Nick Psomas's passion for go-anywhere rigs runs far deeper than just the mid-size Chevy platform.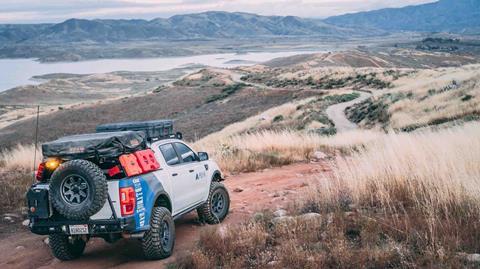 Throughout earlier years, Psomas forged his know how through a series of Ford Ranger pickups prepped in various guises for off-road performance. That was up until the popular truck was ultimately pulled from the American market. The Colorado was a natural platform transition that allowed Psomas to continue his passion, eventually turning it in to a viable business.
Fast forward a few short years and the Peak crew was ecstatic to learn that its beloved Ranger was to be re-released to the American market. Psomas's rapid reaction time saw a brand-new version of the Ford delivered to the Peak headquarters in early 2019—one of the first new Rangers to arrive.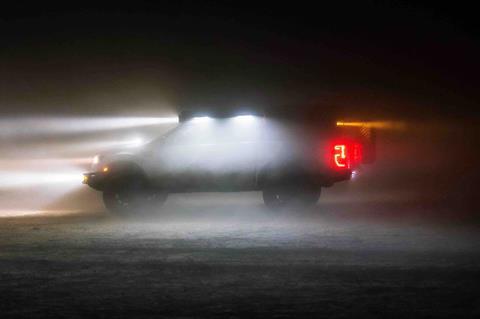 With excitement already high over the prospect of once again transforming stock Rangers into capable adventure vehicles, aspirations and opportunity rang and rang loud.
The challenge Psomas threw down this time was to not only convert the newly-purchased truck into his ideal version of it, but also to unveil the shop's latest creation at an upcoming Overland Expo event. A strategy that might seem straightforward enough, but given that the new Ranger had barely rolled on to dealer floors, aftermarket parts were merely a figment of the imagination, and the Expo was only three months away, you could argue that Psomas needs his head examining!
Peak's strategy naturally started off with ground clearance and suspension travel. For this, the team enlisted the expertise of Eibach Springs in neighboring Corona, California. Together they designed and built the new Ranger's Eibach Pro Truck Lift Kit that it relies on today.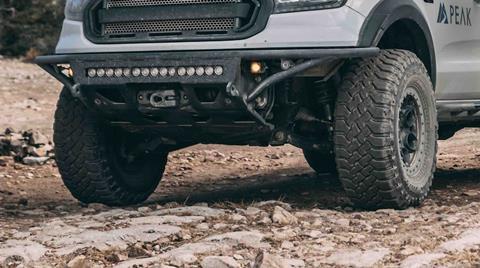 This setup is designed to be used on- and off-road and delivers close to an additional four inches of ground clearance. With the suspension dialed in, focus turned to fabrication. A critical part of the vision, the fabricated parts would serve as a foundation for many of the later modifications that the Peak team had in mind. Rago Fabrication in Kerrville, Texas, has built a solid reputation for constructing high-quality, high-functioning parts right out of its Texas shop.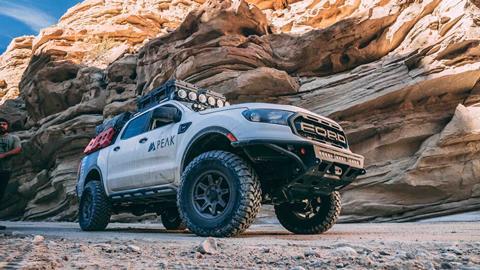 It was here that the Ranger underwent the first round of fab work. Rago designed and outfitted the Ford with a host of key accessories such as ditch brackets, a bed rack, antenna mounts, skid plates, and rock sliders. The truck went back on the transporter, and round two of the fabrication saw the Ranger stop off in Sparks, Nevada. Relentless Fabrication took on the task of crafting a hybrid front bumper that accommodates a Warn VR10S Platinum winch and a swing-out rear bumper that features a Factor 55 Fairlead with Ultrahook. Improved protection, approach, and departure angles were now all sorted.
With the armor in place, it was time to move on and address other areas of necessity. A strong emphasis on lighting was incorporated in to Peak's overall plan and it was a no-punches-pulled approach. Williams, Arizona, was the next port of call, where KC HiLites built a Ranger-spec version of its Mrack roof rack and KC Gravity roof lightbar.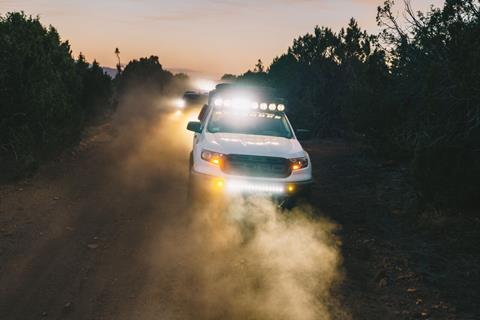 Farther down, KC Flex Duals were mounted to the ditch brackets while a 40-inch KC Flex Bar and ambers went in to the bumper for optimized forward visibility. Another KC Flex amber sits out back as a chase light, and for parked comfort, KC C Series lighting wraps the Ranger to acting as campsite perimeter lighting. All of this is captained via a sPod SE 8-circuit lighting control.
With Peak's industry partners' work complete, the Ranger headed back to Peak HQ. With plenty of work to do still, the Peak crew got straight to it. Further performance add-ons saw the Ranger's suspension equipped with Baja Kits boxed upper control arms, along with Old Man Emu rear leafs and 1-inch blocks.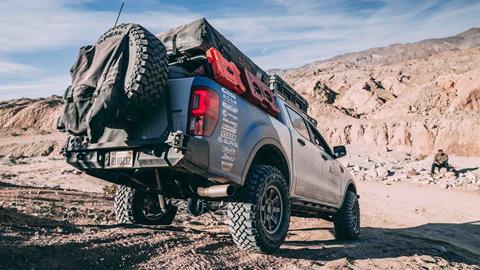 The shop also installed one of its own Peak 1-inch diff drops. To optimize power output, the Ranger was fitted with a Magnaflow Overland exhaust system and an AFE Power Magnum Force intake. Attention then turned to the truck bed. A LineX bedliner went down first. The Rago bed rack maximizes storage capabilities and Peak made sure it was put to good use. Roam Adventure Co.'s Vagabond tent sits atop the rack.
The Vagabond features a 3-inch-thick mattress and sleeps up to three people. It even offers two large skylights if stargazing is your thing. Also from Roam, the rack houses a 5-foot awning and a large, low-profile 95L storage case.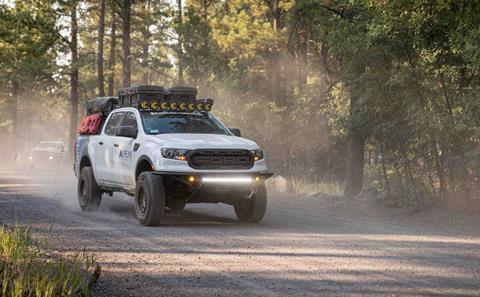 The Peak team upped the storage capabilities in the form of a Decked drawer system and three Decked toolboxes. This combination means that no matter what you take along, there's plenty of space for it, stored safe and away from the elements.
Of course, no bed rack goes without essential Rotopax containers, and the Peak Ranger is no different—Fuelpax, first aid, and water storage is all on board. Tred4X4 110 recovery boards are in place, as is a 6.5-gallon Waterport mounted water system, a welcome addition at the end of long, tough days.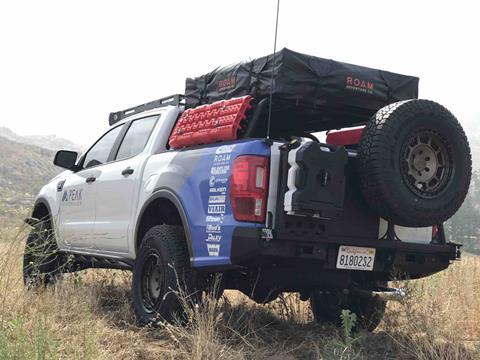 Addressing the onboard technology, the team continued in its ambition. Comms come via a Midland GMRS radio system providing reliable long-range communication through even the toughest terrain. Vehicle power output is managed through cockpit controls utilizing a 5Star tuning programmer and NGauge onboard tuner simultaneously. The combination allows the user to select pre-tuned performance programs to handle various driving situations while also delivering direct access to the truck's OBD-II port.
Further back, the Ranger is fitted with two Renogy 100W solar panels that help power campsite luxuries such as the Dometic CX55 refrigerator and GoalZero Yeti400 power station. Working remotely never looked so good.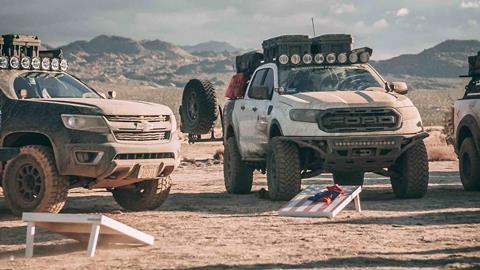 The team at Peak met its mountain head-on. In true enthusiast fashion they pushed boundaries, overcame all before them, and ultimately arrived at Expo. The finished rig and the response it received rank right at the top of the shop's builds. Simply put, in the end, it's been great.
| Base Vehicle: | 2019 Ford Ranger XLT |
| --- | --- |
| Engine: | 2.3-liter EcoBoost I-4, Magnaflow catback exhaust system, AFE Power Magnum Force Intake |
| Drivetrain: | 4x4 front open differential, rear drive with electronic locking differential |
| Suspension: | Eibach Pro Truck Lift Kit. Baja Kits Upper Control Arms, Autospring add-a-leaf, Old Man Emu rear leaf springs, Peak 1-inch diff drop |
| Wheels & Tires: | Alpha Equipt Command Wheels / Falken Wildpeak MT (35x12.5) |
| Armor & Racks: | Relentless Fabrication Swingout Bumper, Relentless Fabrication Hybrid Front Bumper, Brute Offroad Rock Sliders |
| Storage: | KC Mracks roof rack system, Rago Fabrication Bed Rack, Roam Adventure Co Rugged Case 95L, Decked System, Decked Toolboxes, Rotopax Fuelpax, First Aid, Water Storage and Storage Containers with mounts |
| Lighting: | Baja Designs S2 flush mount Bumper lights, KC HiLites Gravity Pro6 LED Lightbar, KC HiLites 30" Flex LED lightbar, KC HiLites single Flex amber lights, KC HiLites single Flex rear chase light, KC HiLites C-Series Camping Side Lights, KC HiLites C2 Perimeter lighting, sPOD SE 8 Circuit Lighting Control |
| Upgrades & Accessories: | Warn XPS10.5 Platinum winch with wireless remote, Roam Adventure Co. 5' awning, Roam Adventure Co. Vagabond Tent, Rago Fabrication CB Mount, Tred4x4 1100 Recovery Boards with Mount, HiLift Jack, LineX Bedliner, Viair300P onboard air, 5Star Tuning Custom Tune, NGauge Onboard Tuner, Waterport 6.5 gallon mounted water system, Midland GMRS radio system, Renogy 100W Solar Panels (2), GoalZero Yeti400, Dometic CX55 |