Considering an upgrade for your upper control arms (UCAs)? Well, it's not all about flashy transformations, but more about practical enhancements. If you're eyeing larger tires that scream off-road adventures or a lifted suspension that promises a smoother ride over bumps, upgrading those UCAs could be a smart move.
They'll grant your vehicle the clearance it needs to avoid awkward tire-body collisions and maintain proper alignment, ensuring your tires wear evenly and your handling remains steady. For the backroads where no concrete roam, upgraded UCAs will be your best buddies, allowing your wheels to flex and adapt to tricky terrains without drama.
Peak Suspension tackled these challenges by crafting their arms with higher caster angles and strategically adjusting pivot positions, effectively alleviating strain on the joints. This enhanced caster setup ensures accurate alignment and elevated handling performance. Furthermore, they opted for robust 1" stainless steel uniballs to replace the original factory ball joints, thereby maximizing durability and enhancing the suspension's articulation capacity.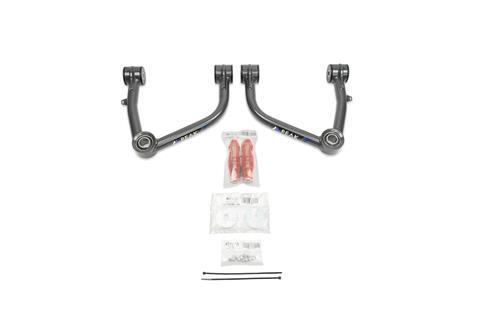 Fitments For:
Chevy Silverado, GMC Sierra 1500, ZR2, AT4X (19+)… MSRP: $979.00
Chevy Colorado and GMC Canyon (15-22)… MSRP: $879.00
Chevy Colorado ZR2 (17-22)… MSRP: $979.00
Lexus GX, 4Runner (03+ )…MSRP: $879.00
Toyota FJ (03+ )…MSRP: $879.00
Toyota Tacoma (05-23)…MSRP: $879.00
For the inner pivots Peak used machined Delrin bushings with grease fittings for easy servicing. All of the components on their upper control arms are rebuildable or replaceable to make this product last a lifetime. The arms come preassembled and include detailed instructions for easy installation.
Increased articulation: Peak UCAs are designed to provide increased wheel travel and articulation. This can enhance the vehicle's off-road capabilities by allowing the wheels to maintain better contact with uneven terrain, improving traction and stability during challenging off-road situations.
Better Suspension Geometry: These control arms are engineered to maintain proper suspension geometry, which is crucial for ensuring consistent handling, tire wear, alignment settings and preventing premature wear on other suspension components.
Sturdier Construction: Peak UCAs are constructed using heavy-duty materials and precision engineering. This improved strength and durability can help your vehicle withstand the rigors of off-road driving, impacts, and vibrations, reducing the risk of control arm failure or damage in demanding conditions.
Compatibility with larger tires: These UCAs will also provide additional clearance to accommodate larger tires sizes to without any rubbing.
What's in the Box: (varies per vehicle)
Chromoly Upper Control Arms
Delrin Bushings
Grease Fittings
FK Uniball
Zinc Plated Bushing Washers
Zinc Plated Inner Bushing Sleeves
Durable Peak Signature Powder coat
Zip Ties
Key Benefits:
High angle FK uniball
Delrin bushing for low maintenance
Built in Aster for tire clearance
2" of additional down travel
Tubular steel construction
Powder coat finish
About Peak Suspension:
Peak Suspension, founded in Riverside, CA, started making 2.0 coilover kits with adjustable ride height and selectable spring rate for the 2nd Gen Chevy Colorado. Successfully built on the core value of "by enthusiasts for enthusiasts," Peak Suspension has expanded to upper control arms, diff drops, tie rod sleeves, ZR2 coilover conversion kits, lean shims and more.