For those who love the great outdoors, Colorado is a true paradise. With its diverse landscapes, ranging from majestic mountains and rolling hills to expansive deserts and fertile valleys, it's no wonder Colorado has become a playground for outdoor enthusiasts. It is also home to some of the toughest and most challenging off-roading trails in the United States. These trails offer a unique experience for off-roaders, ranging from mild to extremely rugged.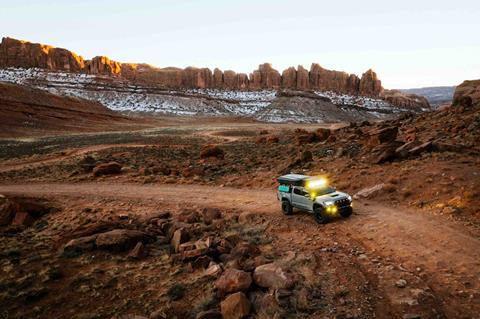 The Rocky Mountains provide a stunning backdrop to these challenging trails, where steep inclines and rocky terrain are the norm. With some of the most popular off-roading trails located in Colorado including Imogene Pass, and Black Bear Pass, it's the perfect location for a vehicle outfitter's headquarters.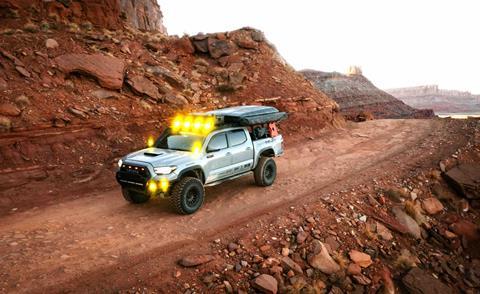 For Tuan and Toan, longtime friends and business partners, their passion for automotive customization started in high school where they shared a common love for import tuning. Taking automotive technology courses in school allowed them to gain the necessary skills and technical knowledge that eventually led to jobs in an automotive repair shop. After gaining the proper experience, they decided to start their own business doing what they love.
Fast forward to November 2018, when the two decided to document the process of building out their trucks. They started filming simple install videos from their homes and eventually shared their trips out on the trails with their Toyota Tacomas on YouTube. Their channel quickly gained traction and viewership, which led to more opportunities for the business-minded duo. In just a couple of months, they would launch their online shop, runnin4tacos.com, selling Toyota gear for enthusiasts.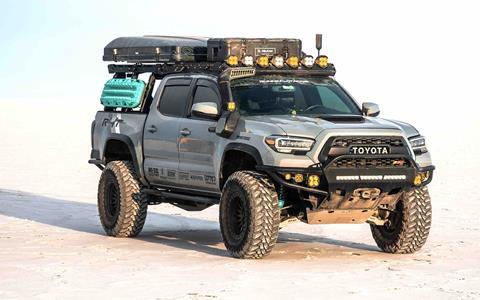 Within a scant six months, they would open the doors to their own brick-and-mortar storefront, also called Runnin4Tacos.
Located in Denver, Runnin4Tacos is a one-stop-shop for all things Toyota. As a specialized off-road vehicle shop, they have built a reputation for providing top-notch modifications and services for Toyota truck owners. Whether you're looking to upgrade your Tacoma for off-road adventures or for improved daily driving, Runnin4Tacos has you covered. From basic upgrades to full custom builds, their team has the knowledge and experience to create the ultimate off-road-capable Toyota.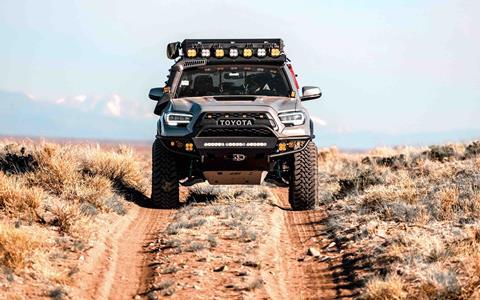 This passion for Toyota trucks and the desire to provide high-quality parts and services has driven the success of Runnin4Tacos. From its humble beginnings of making custom parts to the present day, the shop has always had a commitment to excellence and a focus on meeting the needs of Toyota truck enthusiasts.
Over time, this 2017 Toyota Tacoma owned by Runnin4Tacos has undergone various improvements based on lessons learned during off-roading and camping trips. The goal was to create a vehicle that could reach remote locations but also serve as a comfortable daily driver, as well as be able to sustain off-grid living for several days. The Tacoma was chosen for its reliability and aftermarket support.
Tuan tells us a little more about the truck's modification history. "The Tacoma has seen the most changes out of all of our rigs," he says. "We have been through three to four phases, and each time the truck gets a little better and more useful. We made changes to the Taco based on lifestyle changes like having kids, which affects the gear we would need to bring on the trips."
The Tacoma began with minor modifications such as rain guards and LED lights, but soon progressed to more significant changes. With the intention of navigating the challenging trails of Colorado, Tuan realized the importance of a robust suspension system. As a result, he upgraded the front suspension with the installation of Locked Off Road long-travel struts, Total Chaos +2" long-travel lower control arms, DuroBumps extended bump stops, Total Chaos upper control arms, and Total Chaos spindle and cam gussets.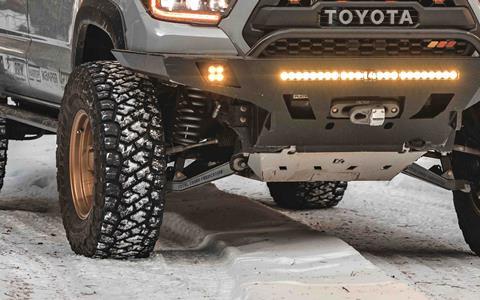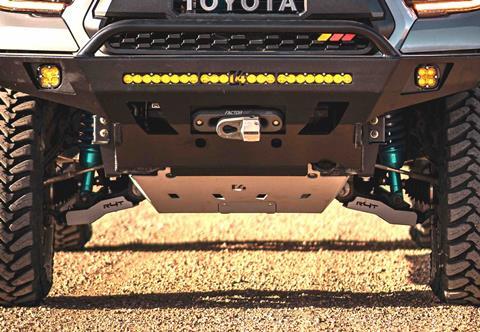 Meanwhile, the rear suspension was also improved with the addition of Locked Off Road long-travel shocks, Deaver Stage 3 leaf packs, and Rago Fabrication shackle hangers. This expansive suspension overhaul gives the Taco much more capability than its factory underpinnings could provide.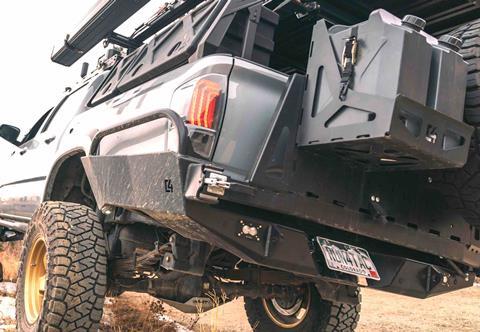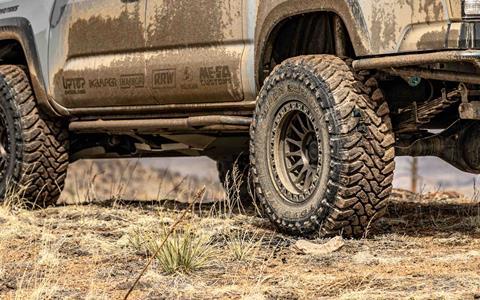 Residing near some of the most demanding off-road tracks in the United States, it's essential to have adequate protection along with proper wheels and tires. The Tacoma is equipped with C4 Fabrication armor and protection, including a front bumper, rear bumper, and skid plates. The truck is also outfitted with the company's own Runnin4Tacos rock sliders and differential skid plate.
The latest wheels the pair chose to replace the factory rollers with are Work S1HC 17x8.5 with a -10 offset, and the tires are Toyo R/T Trail 35x12.5 for enhanced grip and durability.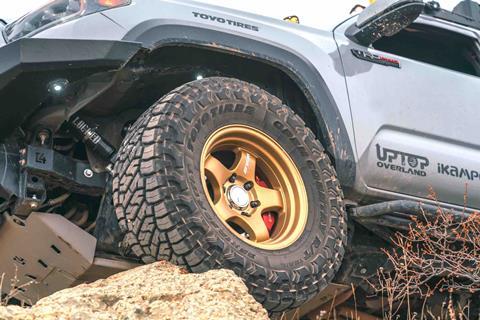 Evidently, JDM style still flows in their veins, but we can't blame them; the Japanese engineered and designed wheels do give the Taco a decidedly refined yet muscular look. Tuan and Toan evidently love aftermarket wheels; they are known to run a set of Relations Race Wheels model RR7-H's at times on the Taco, also in size 17x8.5. You'll notice pictures of the pick-up with both style wheels in this story's accompanying pictures. Both look good to us.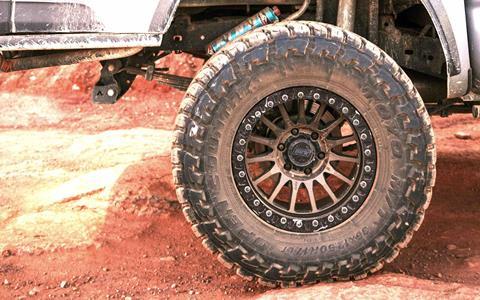 In order to quickly air up and down, an ARB twin compressor was installed with a ⅜" air line plumbed through the entire truck, which is fed with CO2 from a Power Tank mounted in the bed. Other upgrades were made to ensure good visibility in low- or no-light situations, like the installation of Morimoto XB LED headlights, Morimoto/ME-SO Customs taillights, and a Baja Designs light bar located in the grille and front bumper.
For recovery, a Warn 10S Platinum winch was installed within the front bumper. The lights, along with the winch, are controlled by a Switch Pros SP9100 located in the pickup truck's cabin.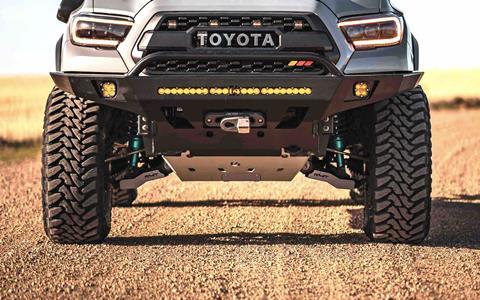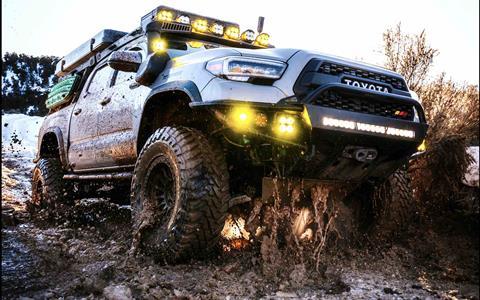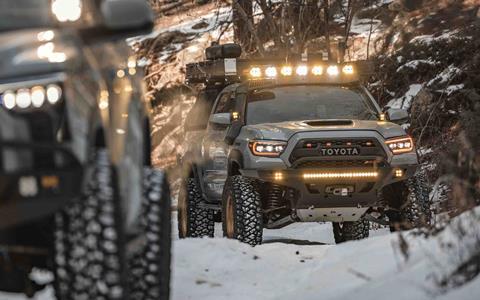 For additional storage, a Leitner ACS storage system and a Pelican Cargo box can be found on the bed rack. Storage and the capability of organizing one's gear is important while on the trail, and thanks to these Leitner and Pelican storage solutions, this Taco is squared away in top fashion. A Prinsu roof rack houses an iKamper X-Cover 2.0 rooftop tent, which sets up in seconds and provides an off the ground sleeping area.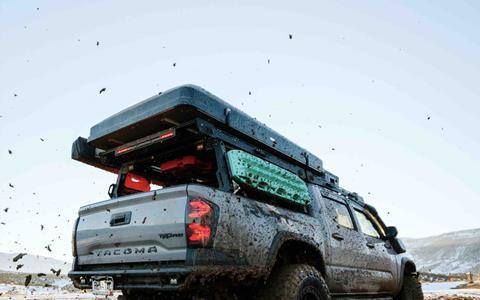 Experienced drivers rely on good communication to make it through challenging trails, and for that reason the Tacoma is equipped with a Rugged Radios GMR45 on-board GMRS communications system located in the center console.
Runnin4Tacos is more than just a shop; it's a community of individuals who share a love for adventure and pushing the limits of what their vehicles can do. You may come across Tuan and Toan, along with their friends and family, as they savor breathtaking views from the peak of a trail, enjoying Korean barbecue, while creating memories to share on their YouTube channel.
For more information on Runnin4Tacos and their Tacoma, visit their website at runnin4tacos.com, follow them on Facebook @Runnin4Tacos, on Instagram @runnin4tacos, and view their YouTube channel at youtube.com/c/R4T303.
VEHICLE SPECS
| | |
| --- | --- |
| Base Vehicle: | 2017 Toyota Tacoma |
| Suspension: | Front—Locked Off Road long-travel struts, Total Chaos +2" long-travel lower control arms, DuroBumps extended bump stops, Total Chaos upper control arms, and Total Chaos spindle & cam |
| Wheels & Tires: | Work S1HC (17x8.5, ET-10), Toyo Tires RT Trail (35x12.5) |
| Armor & Racks: | C4 Fabrication front bumper, C4 Fabrication rear bumper, C4 Fabrication skid plates, Runnin4Tacos rock sliders, Runnin4Tacos diff skid, Prinsu Roof Rack |
| Storage: | Leitner ACS storage system, Pelican Cargo box |
| Lighting: | Morimoto XB LED headlights, Morimoto/ME-SO Customs taillights, Baja Designs LED light bar, Baja Designs LP4 |
| Upgrades & Accessories: | Warn 10S Platinum winch, Pelican Cargo Box, Rugged Radios GMR45, Switch Pros SP9100, iKamper X-Cover 2.0 rooftop tent, behind-grille ARB twin compressor, Power Tank CO2 tank |
Special Thanks: "We wouldn't have been able to build this truck without companies that supported us including Toyo Tires, Baja Designs, ME-SO Customs, upTOP Overland, Relation Race Wheels, iKamper, Prinsu, CBI Offroad, C4 Fabrication, Decked, AlphaRex, Morimoto, and Total Chaos."