When it comes to outfitting caravans or camper trailers, the last thing you want to worry about is whether all your 12V devices are connected, powered, and working properly. With the new REDARC TVMS Rogue, you can rest easy knowing that everything is under control

LONSDALE, SOUTH AUSTRALIA; REDARC Electronics, Looking for an off-grid power solution that can handle all your driving needs? Look no further than Redarc Electronics, the leading authority in power management! The new Total Vehicle Management System (TVMS Rogue) is perfect for those who travel often and need a compact and convenient design to take with them on their travels.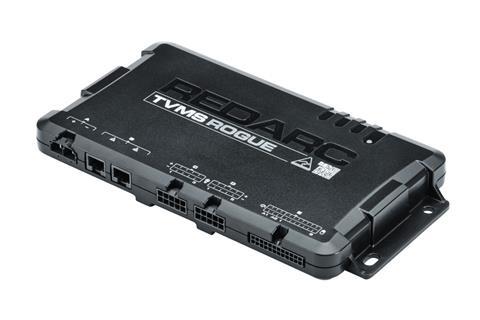 The new TVMS Rogue will bring a host of new features, and system improvements, all wrapped into a compact design. TVMS Rogue features 10 x 10A outputs for control of devices including lights, fridges, pumps, heaters, and fans. It interfaces with up to eight switch inputs including toggle and push button switches enabling convenient control from anywhere around the vehicle, while also featuring light dimming and timer functions.
Additionally, the TVMS Rogue has analog inputs to measure up to two water tanks. This game-changing vehicle management system sets an unprecedented level of control and automation by bringing information right to your fingertips. When paired with the RedVision display, users can easily switch things on/off at will, like their lights, fridge, and TV, using the wall display or the handy app on a phone.
The original TVMS1280 is now dubbed the TVMS Prime and will continue to be offered in the product lineup, more specifically suited to large power demands like those in RV's or Caravans. The TVMS Rogue is 74% smaller and 78% lighter than the TVMS Prime. The slimmer design is well suited for most overlanders' demands, largely those that are installing in a small camper trailer or their vehicles canopy, where space is precious. The TVMS Rogue will be available starting in late Q1 2023.
About REDARC
Born in Australia, REDARC has over 40 years of experience in the research, design, and advanced manufacturing of power and safety solutions for 4x4s, RVs, and trailers. We make the most rugged, reliable, and innovative voltage converters, power supplies, battery chargers, 12/24V management systems, and trailer braking products on the market. Our technology is trusted by many in the automotive aftermarket, RVing, industrial, and defense sectors, and we strive to set ourselves as a benchmark for product and customer service quality in our industry. www.redarcelectronics.com
About Idea Ranch
Idea Ranch is a full-service advertising, public relations, and consumer insights firm headquartered in Tulsa, Oklahoma, with offices in Wichita, Kansas, and Durango, Colorado. The firm has a diversified list of clients across the country and is an industry-leading marketing-communications company building brands in the outdoor recreation and passion sports sectors. For more information, please visit www.idearanch.com.