Starting with Issue #3 of OVR: Outdoor Vehicle Recreation, Antelope Valley Overland Supply will become our first specialty retailer to carry and sell our print magazine. If you are driving past Antelope Valley on your way to Mammoth or coming back home, stop by, grab a copy and say hello to Chris.
Chris Phillip is a husband and a father of two boys, Jacob and Chadwick. He was born on the island of Barbados and immigrated to NYC in his teenage years. He lived there for close to 15 years, it's where he met his wife, Erica. Believe it or not, camping wasn't their thing. In fact, their first date was Friday night street racing on Long Island.
OVR: What was the reason for starting AV Overland Supply? What was your motivation?
CHRIS: In 2016, we made the move to the west coast and have not looked back. Naturally, I began noticing things I had not seen in Brooklyn and with the help of my friend Jimmy (@roamrx) I was bit by the need of wanting to explore this beautiful state. My very first rig was a 2006 Outback with the flat six engine.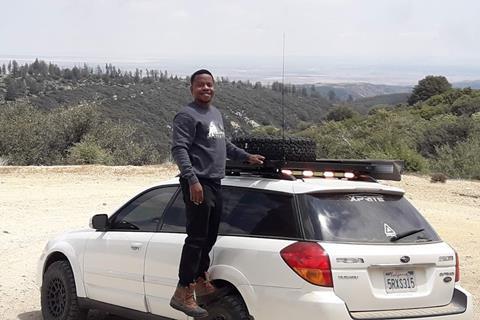 Threw some basic mods on it and off we went. I have since sold that car but man, do I miss it! Moving to the Antelope Valley was great for me because I had grown tired of the busy city life, so the wide-open views and fresh air was greatly appreciated. With that said, the AV really had nothing in terms of off-road or overland outfitters going for it. After turning in my two week notice at the local Toyota dealership, I decided that I wanted to be my own boss but then covid happened and AV OVERLAND SUPPLY almost didn't.
The shutdown was a crazy time, but I like to say I'm fairly determined so I adjusted and now here we are. I noticed a void and then I filled it. Imagine living so close to all the popular areas like Jawbone, Red Rock, and Mojave just to name a few but with no knowledgeable store or shops to buy gear or even meet other people who are interested in the outdoors. That's what I wanted to fix with AV OVERLAND SUPPLY.
OVR: When did you start AV Overland Supply?
CHRIS: Finding the perfect location was top of mine in early 2021 but man was it tough. The spot we are in doesn't look great if you drive by and see the parking lot, but the actual store was the right size and price! I worked on the space for three months, 13-14hr days to bring to what you see now. I even built stuff with wood for the first time ever, it felt amazing to see it all come together.
The doors opened on June 12, 2021 but even that was tough. It was in the middle of the pandemic and the shipping crisis that seemed to last for an eternity. I gave myself an extra month just to get the store stocked for grand opening. That day went off as well as it could.
It was amazing to see so many people come out to support my little pandemic dream of owning my own business. Huge thank you to all who showed up and to the suppliers for doing business with us.
Fun Fact: AV OVERLAND SUPPLY is the only black owned overland gear retailer and installer in California, possibly even the country. Maybe even the world! Kind of crazy when you think about it.
OVR: How is the business doing?
CHRIS: Here, we believe in buying a quality product once. We carry well-known brands, but we also like to seek out the new to the game stuff that you never heard of. Everything sold here can be installed here, from tents, racks, lights, controllers, solar systems and much more. It's like a one man, one stop shop. Seriously, almost two years in and the business is running itself. We, like many others experience the occasional slowdown (I'm looking at you, the United States economy..) but we are doing our best to push through. It's super important to keep small businesses alive in times like these so I also do my due diligence to support as many small businesses as I can every day, whether it's for personal use or for my business. If you've been with us since opening, you would know we like to give back to the community. I know what it was like growing up and not having it "easy". The Antelope Valley is a lot of times underserved so I try to donate food and toys and whatever I can to our local YMCA, especially during the holidays. I believe every kid should have the joy.
OVR: Why did you choose this location?
CHRIS: We are 2 mins off the freeway and that just kind of happened to work out in our favor. Most of or customers live "down below" and if they forget anything, we wanted it to be an easy no brainer stop at our location and it has been great.
OVR: Tell us about your overlanding vehicle.
CHRIS: My current vehicles include a 1991 Landcruiser, 80 series. It was a pandemic build that included a Frontrunner roof rack, a Gofsr Evolution RTT, custom dual battery and solar setup, Dometic 75L fridge, dual swing out rear bumper kit from 4x4 labs, front bumper from BinksFab with Baja Lights all around.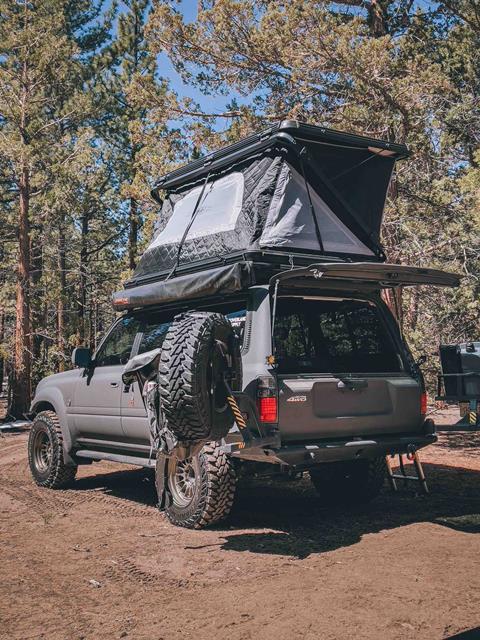 There's also a 12k ironman4x4 winch, foam cell 2inch lift kit. Wheel and tire combo consists of 17" summit wheels wrapped in 285/75 Geolander muddies. Sadly, she's not running so if anyone wants to donate an LS swap, slide into my dm's!
The other vehicle you might see more often is the company van, a 2017 Nissan NV3500. It's a multi-use vehicle for me as it hauls the family around, hauls our products to events and it can also be used as an overland vehicle.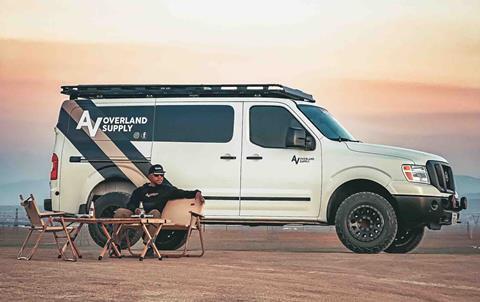 This one has built in solar, courtesy of sun flare XPlor, a huge Vantech roof rack, storage boxes on the roof and a tent up there also. Inside, we have a custom battery box that powers everything from the diesel heater, camp lights, fridge and more. Exterior lights are controlled by our favorite controller, the mighty SP9100 switch-pro.
OVR: A huge thanks to Chris for being the first Overlanding Specialty Shop to carry and sell OVR: Outdoor, Vehicle, Recreation magazine. If you happen to be in the area, please stop by and say hello to Chris.