Sometimes the best products are the ones least noticed. Gear that gets the job done no matter where you are in the world—they simply work every time.
South African-made Cawood Guy Line Anchors are one such item. They're small, sturdy, and are well-designed. We put their one-piece heavy-duty Medium Guy Line Anchors and lighter-weight Back Packer Guy Line Anchors to the test in a variety of conditions.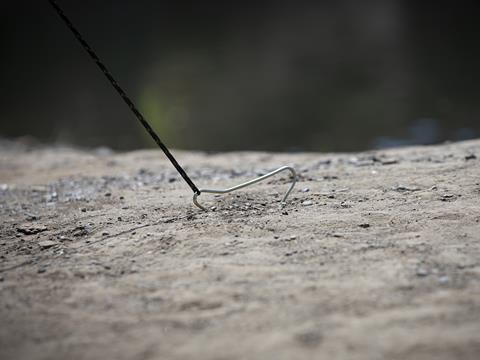 Cawood Medium Guy Line Anchors
It doesn't matter if you're sporting a Taruca batwing on a Toyota Land Cruiser or single-panel ARB awning on a Mitsubishi Delica 4x4 van (like ours), Cawood's Medium Guy Line Anchors have proven their place in an overlander's arsenal. They adequately secure shade and are made from electroplated corrosion-resistant spring steel. The Medium Guy Line Anchors are sold as a set of four and are 12.5" x 5.25" x 0.2" in size. They can easily be tossed under a seat or in a glove box and grabbed for quick use when needed.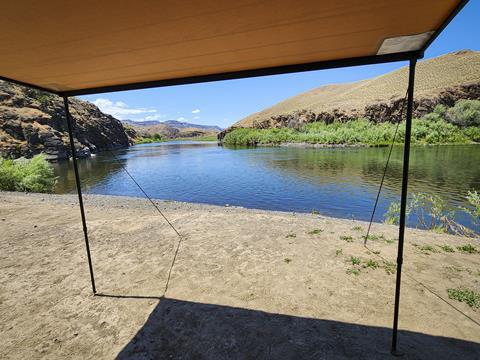 After testing Cawood Medium Guy Line Anchors, we said goodbye to flimsy straight anchors that bent after a few uses. We also discontinued using bulky, heavy anchors that weighed down our camp kit. As winds kicked up, the Cawood anchors dug farther down into the ground. They acted like a land anchor, burrowing themselves into steadfast positions until we pulled them up. These are a game changer for securing tents, awning, or other portable structures. In fact, it made us wonder — where have these been all this time?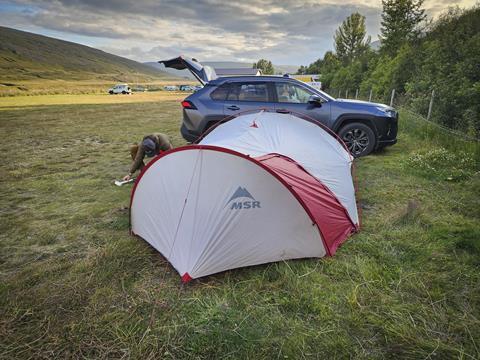 Why Cawood?
We talked with husband and wife and sole-U.S. distributors Jared Simpson and Jen Usinger about Cawood. Why did it take such a simple product so long to come to the United States?
"We picked up the [Cawood] guy line anchors and ground sheet stakes at a Conqueror Trailer dealership [while traveling Africa]." Usinger reminisced about their multi-year overlanding trip to South Africa and the rest of the continent as she talked to us. "We later saw these products in all of the camping and outdoor stores across the country."
"It seemed like every time we used our anchors and stakes, we would get questions about them. People wanted to know where they could get some," she said.
The duo didn't realize there was no such item available in the US. They learned Cawood Anchor Manufacturing CC was established in 1961 by Allan Cawood. According to the South African-based company, he invented and patented the original spring-steel anchor tent peg. The company has since grown to include anchors and other products, too. Unlike many other entities, Cawood as remained a steadfast family-owned company and is third generation operated.
After the discovery was made, the couple decided to bring Cawood to the U.S. for others to enjoy.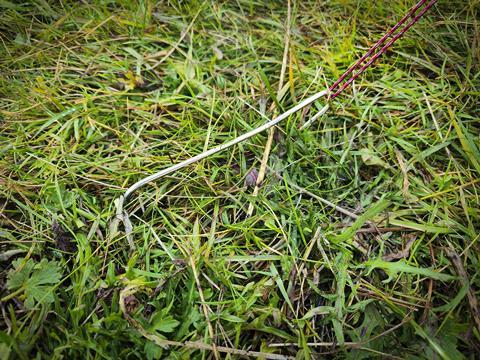 Cawood Back Packer Tent Anchors
Sometimes we need to tent camp instead of using our vehicles as basecamp. In this case, Cawood Back Packer Guy Line Anchors can come into play. Sized at only 7" vs. 12.5" in length, this diminutive guy line anchor holds its own during strong winds and inclement weather. This was especially true during our time in Iceland as we tent-camped throughout the island over a two-week period.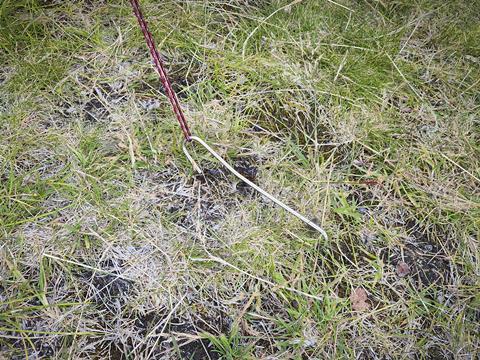 Though we needed to be careful when stashing it in our tent bag, we quickly realized their necessity when securing our MSR tent's guy lines. Some of Iceland's ground was soft enough we didn't need a mallet to pound them in. Other times, the ground was solid rock and we needed to reposition them a few times to secure adequately.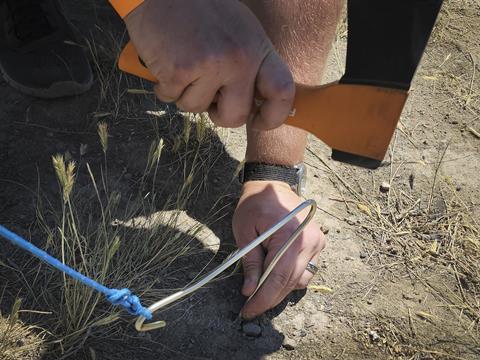 How Do You Use Cawood Guy Line Anchors?
Cawood guy line anchors, no matter their size, are all used the same way.
Position the anchor with the long, pointed end at a 45-degree angle to the ground. Affix the guy line to the hooked end of the anchor but leave loose.
Take a mallet and drive the pointed end into the ground by pounding the rounded corner. Keep the hooked end parallel to the ground.
Once hammered into the ground, tighten the guy line and you're done.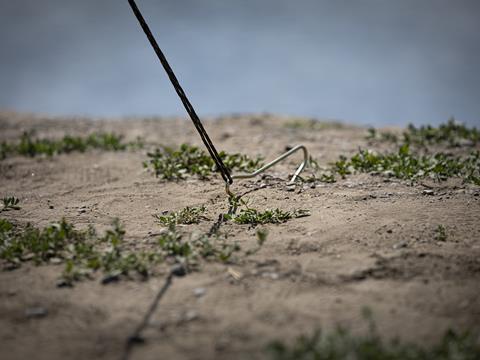 The OVR Verdict
Once you find the rhythm of installing them, your other tent stakes and guy line anchors may be cast off in your camp closet's shadows. The Cawood guy line anchors are just so good. Just be cognizant of storing them as the ends may be sharp. We found that wrapping them in our existing tent or awning stake bag was sufficient.
Cawood's uniquely shaped guy line anchors provide a surprisingly sturdy anchor point when affixing vehicle awning or tent guy lines. Though they're odd in shape and larger in footprint than some traditional guy line anchors or tent stakes, they make up for it in security and functionality.
Cawood Medium Guy Line or Back Packer Anchors are a solid bet to secure your vehicle awning or ground tent for a wide variety of adventures to come. They easily push into soft ground and hammer into tougher terrain with a mallet or the blunt end of an axe. They've found a permanent home in our gearbox. Four pack Medium Guy Line Anchors are sold via Amazon as well as four packs of the Back Packer Guy Line Anchors.