Based on the same TNGA-F platform as the 300-series Land Cruiser, GX 550, Prado, Sequoia, Tundra, and Tacoma, the new Land Cruiser is most closely related to the Lexus GX 550. The "big" Land Cruiser (300-series), which is only available in North America as the Lexus LX 600, will not be returning to the Toyota lineup.
Hoping to win back Land Cruiser faithful, the new Land Cruiser incorporates styling cues from across the history of the Cruiser. The base model, called the "1958", as a nod to the first Land Cruisers in America, even comes round headlights reminiscent of earlier TLCs, while the Land Cruiser trim gets rectangular headlights that have hints of 60-series (complemented with Rigid fog lights), but to us it looks a little bit like a Lego set.
TOYOTA LAND CRUISER "1958" IMAGES
Toyota will offer 5,000 First Editions that include the round headlights, but with upmarket content that includes a roof rack and rock rails. We are glad that Toyota incorporated historic Land Cruiser cues in the design and body surfacing, including available heritage colors, such as Trail Dust and Heritage Blue, with a two-tone with a "Greyscape'' roof.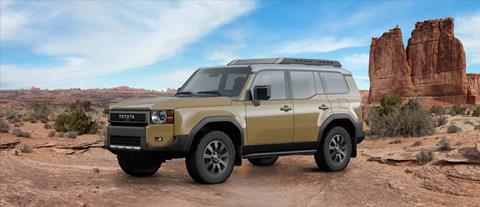 Every Land Cruiser comes standard with the i-FORCE MAX turbocharged 2.4L four-cylinder hybrid powertrain that puts out 326hp and 465 lb-ft of torque, which was a bit of a surprise to us, as we thought Land Cruiser might stick with the turbo V-6 from the GX to leave room for the upcoming next-gen 4Runner, which it shares a platform with. With no option for a third row and no front locker available, it's now a question of where the 4Runner will fit into the ever-expanding body-on-frame Toyota SUV family.
2024 TOYOTA LAND CRUISER EXTERIOR IMAGES
From a capability standpoint, the Land Cruiser is equipped with full-time Four-wheel drive with low range and a locking center and rear differential. Higher trims can be had with an articulation-enhancing electronic disconnecting front sway bar and tow hooks are standard across the range. Skid plates and rock rails are optional and the Land Cruiser. Ground clearance checks in at a modest 8.4 inches with the 32.6-inch 265/70R18 tire package.
Toyota owners will be familiar with many of the off-road technologies, such as Multi-Terrain Select, which now works in both 4-Hi and 4-Lo, CRAWL Control for managing speed while crawling, and Downhill Assist Control, which limits the vehicle speed during descents. Toyota has also added the company's Multi-terrain Monitor to the Land Cruiser, which displays camera images on the available 12.3-inch touchscreen.
2024 TOYOTA LAND CRUISER INTERIOR IMAGES
Inside, the Land Cruiser feels modern and roomy and mixes the best attributes of recent Toyota interiors with a few Mercedes G-wagon and Jeep styling cues. A successfully modernized version of the famous Land Cruiser twill fabric is available on the 1958 grade, while leather is of course available as an option. The expansive cargo area is accessed through a liftgate with a rear window that can be opened independently, but we will always miss the ultra-useful and beloved Land Cruiser tailgate.
The Land Cruiser will start production early next year with a base price in the mid-$50Ks. We will have a more complete look at the new Toyota in an upcoming issue of OVR Magazine.