Decathlon is a big name in outdoor gear globally. Founded in 1976, the company has 1,600 stores worldwide in 69 countries. Known for high quality products at an affordable price, France-based Decathlon has a comprehensive line of gear including bikes, bags, and backpacks.
One of their newer backpacks is the Forclaz Men's MT900 50+10 L Ultralight Backpacking Pack.
FORCLAZ MEN'S MT900 50+10
The Decathlon Forclaz Men's MT900 50+10L Ultralight Backpacking Pack has a 50-liter main compartment with a removable 10-liter top pouch for a total of 60 combined liters. Add to it a weight of just 2.9 lbs. (1.3 kg) and this pack doesn't weigh much.
The Men's MT900 50+10 can carry up to 26.5 lbs. of gear, clothes, or whatever you're bringing with you. With seven total pockets and full-height access to the central section, the pack offers plenty of storage. There are two zip compartments on the removable 10-liter top section, a zipper with twin pulls on the main section, and three elastic pouches (two on the side and one on the front). There's a pole holder for hiking poles, an included rain cover, and an internal compartment for a hydration bladder (not included). Dimensions are 25.6" H x 13.8" W x 13.8" D.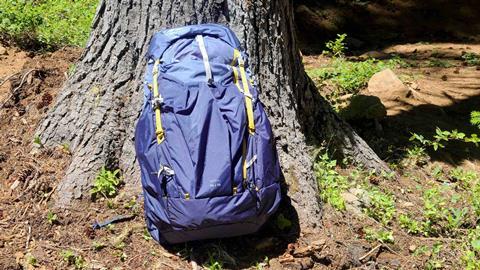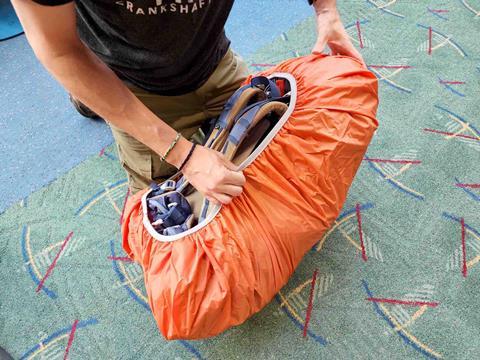 Constructed of 100D RS polyamide with a reinforced 210D RS bottom, the MT900 pack promises plenty of durability. The shoulder straps are comfortable and easily adjustable. The entire shoulder strap system can also be changed for a variety of body sizes. Simply pull up on the orange strap, and you can move the shoulder strap system up or town for a customized fit. The adjustable hip belt has two zippered pockets as well.
The quick-access side and front pouches have elastic to keep contents secure but don't offer zippers for better containment, so don't put anything in them that's small as these items could fall out. There are additional cords that can be anchored and moved around to stow additional gear on the sides. Finally, a bottom strap system lets you bring a tent or rolled-up pad along with you.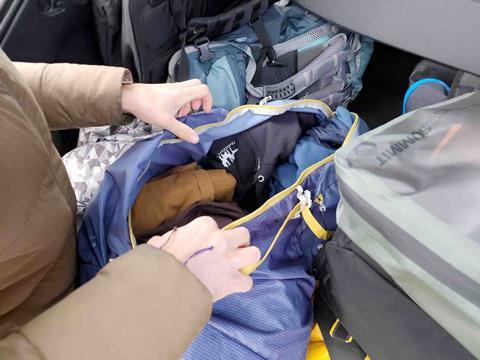 MADE FOR BACKPACKING, WORKS FOR TRAVEL
I'm not going to lie; I don't do a lot of backpacking. However, I do use these packs a lot for travel. They're often the right size for trips two weeks and under and can easily be thrown in a van or even checked as luggage on an airplane.
Admittedly, the MT900's light weight made me skeptical of its durability. I've had other packs of the same size that weigh quite a bit more. But the MT900's materials felt substantial despite the lack of heft. The pack was easy to fit to my frame (5'7", 140 lbs.) and it had plenty of adjustment for someone bigger than me. Decathlon's website doesn't talk a lot about the adjustable and movable shoulder strap system, but it's slick.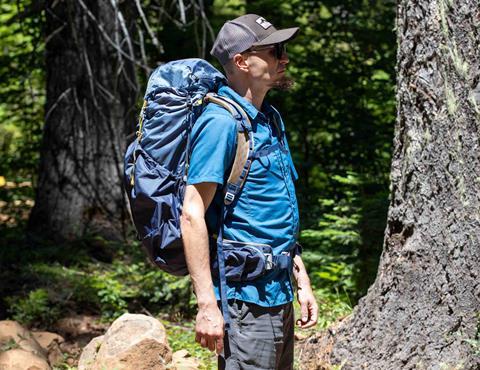 Speaking of—this bag uses the company's AIR concept ventilation system. This provides a gap between your back and the pack helping to keep you cool and reduce sweat—excellent whether you're hiking the trail or running through the airport concourse.
TRAVEL-TESTED
I took the Decathlon Forclaz MT900 500+10 on several trips ranging from a long weekend to a two-week camping trip through Iceland. In all scenarios, the bag's light weight was much appreciated. The hip belt and straps are also easily stowable when not needed. The top opens wide for easy access to gear and has a simple cinch strap to close. There's an additional strap with a clip that runs over the top to snug everything down. All the straps are adjustable. The side zipper opens and closes from either the top or bottom allowing access to your stuff, and secures with a snap at the top to prevent it from accidentally opening.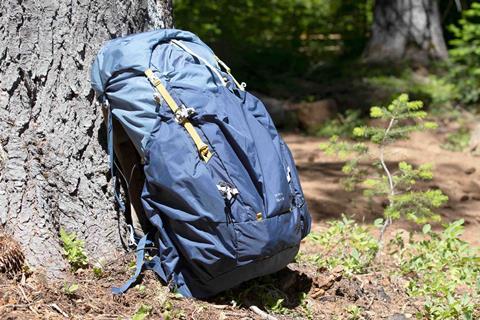 The side- and front-mounted pockets with non-adjustable elastic cinches have semi-open sides which secure with a loop around a plastic hook. I wish these were more secure or had zippers. While that wouldn't allow quick access to things, it would provide more protected storage. I kept the rain fly and packable towels in them. There are also some long cords with some plastic anchors on the bag's sides. I'm still not 100% sure how to use them correctly. I suppose they'd come in handy if you were toting around larger items in the side pockets.
The 10-liter top pouch is removable and has two zippered compartments. These were great for carrying headlamps, pocketknives, gloves, and other smaller items. If you remove the top pouch, however, the bag's opening is exposed, so you'll want to have it on most of the time.
CHECK MATE
I used the bag as checked luggage from the USA to Iceland and worried some items might fall out of those side pockets in transit. To help prevent this, I utilized the bright orange rain cover to encapsulate the bag. This also worked well at keeping the straps in check and nothing fell out of the pockets. I did secure it further by using a luggage strap.
LIGHTWEIGHT AND DURABLE
After traveling in three countries with the Decathlon Forclaz MT900 50+10 Backpacking Pack, and nearly a month of camping with it, I can say that, despite its light weight, the bag has held up very well. It offered plenty of comfort and versatile storage for my gear. I wish there were a couple more zippered compartments for more secure storage, however. Overall, this is a travel-worth backpack, whether you're trekking a trail or traveling the globe.