Overlanders love taking photos and their camera gear. But being organized while traveling and being smart with how you stow gear can mean the difference between long-term usage with zero issues or looking for premature replacement parts or enduring undue wear-and-tear on your equipment.
We just tested Peak Design's Medium Camera Cube, Capture Clip, and Camera Slide to see if they stand the test of time, durability, and design intention for the overlanding marketplace.
Medium Camera Cube
Peak Design's Medium Camera Cube is constructed with versatility in mind. It is designed with side-access zippers and anchor loops to lock it into place within any of Peak's backpacks. It also can be carried with Peak Design's Slide camera strap or within any other pack.
This black blocky cube is made with a recycled and waterproof 400D nylon canvas shell. It has a cushioned internal lining and a wide variety of Velcro interior dividers to keep camera components safe.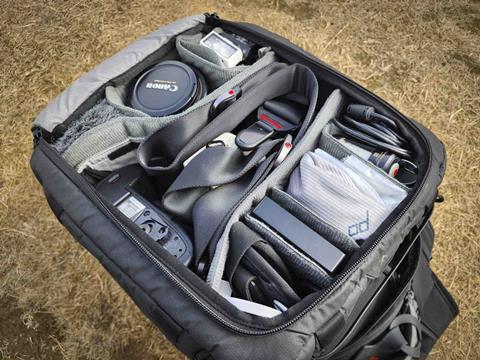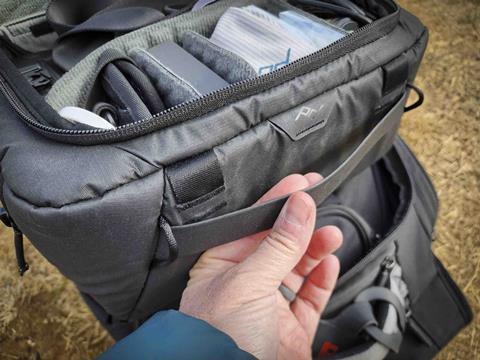 The Peak Design Medium Camera Cube is 12-liters in size, and its outer dimensions are 12.6" x 12.6" x 6.7." It weighs just under 26 ounces with dividers when empty.
The Medium Camera Cube can hold multiple camera lenses and up to two camera bodies though we tested it with a Canon 5D Mark IV body and EF 70-200mm 1:2.8 L IS II USM lens, as well as a wide angle and portrait lens, travel hard drive, RØDE microphone, extra camera batteries and associated cords, and a headlamp for good measure.
Camera Cube Thoughts
We found this camera cube easy to use and handle. Its zippers glided freely and the Velcro dividers stayed in place, even when off-roading, tent camping, and hiking in Iceland for two weeks. Our camera gear stayed secure and clean during our testing period with it, though we wished the plain matte black exterior cube's finish fared as well. Sunscreen and dirt accumulated on it. However, it was easily removed with a damp towel and gentle detergent and looked as good as new once refreshed.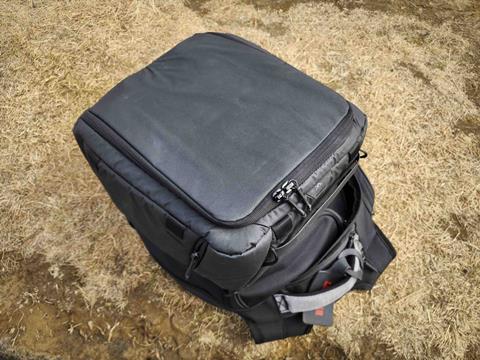 Care must be taken when using the cubby area containing the Velcro pouch as it has the tendency to tear open when gear is stowed next to it. This Velcro pouch contains pre-made slots for SD cards and a pocket fit for business cards or small items.
Peak Design's Medium Camera Cube is a great way to keep your camera gear organized, secure, and clean when overlanding. Not only is this tote thoughtfully designed, but it's also got endless ways to customize its interior. It's an ideal camera pack to grow with you as your needs change, or your gear switches from one trip to another. Price: $69.95
Peak Design Capture
If you need a rigid, easily accessible way to hold your camera, GoPro, or binoculars, then Peak Design's Capture system may be a good alternative. This small, lightweight aluminum and stainless-steel clip affixes onto belts, or backpack straps no wider than 2.5" and under an inch thick.
Capture is easy to mount and can carry over 200 pounds of weight. Simply attach Capture to a strap, tighten it into place, mount the coordinating plate to the item you want to carry, and snap it into place when using. Et voila: You can now hike, bike, or use your hands for other things while your gear is securely stowed. A quick-release button is concealed on its side. Press it in to unlock the system and grab your gear or rotate it forward away from your body to lock it in place.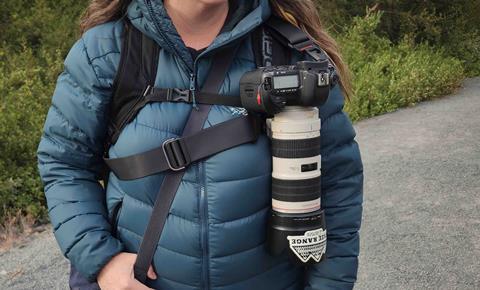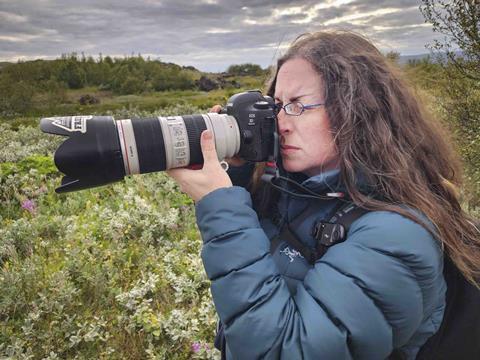 The Capture system kept various camera combos safe and secure once you figured out how to "holster" your gear into place. It kept our hands free for hiking on uneven ground through boulder fields in Iceland, eating while on the go, etc. A loud click would confirm our gear was in place, plus a redundant security locking pin was handy in certain situations, too. Capture gave us a quick and easy answer to stowing camera gear while being mobile.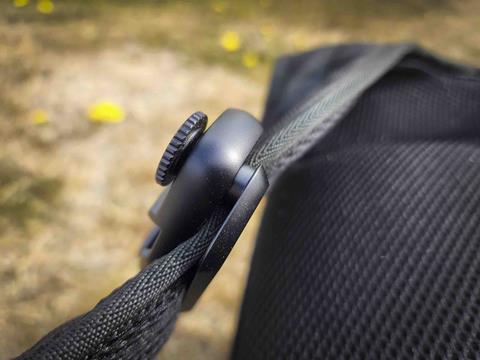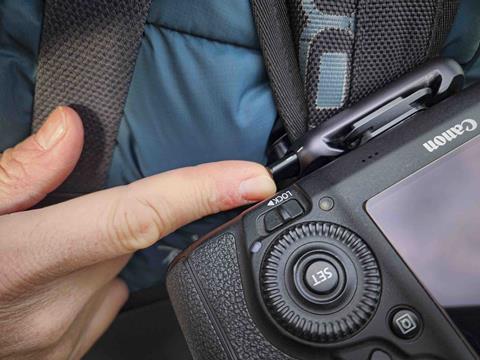 Note: Long hair can get tangled Capture's thumbscrews, it's best to wear it back in a ponytail or braid when using. They also can work themselves loose after a while, too. Check them intermittently to ensure tightness. Additionally, the locking pin is easy to depress but can be a challenge to reach when heavier or bulkier camera lenses are clipped to the Capture system. We found ourselves running without the security lock because of this.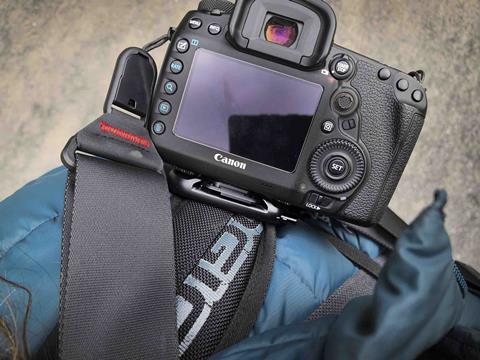 Summing it up: Peak Design's Capture system is a simple and slick way of carrying camera gear when out and about. Its heavy-duty materials feel sturdy and its slim design helps to ensure minimal weight and bulk. Capture helps photographers carry their gear securely, with easy and quick access to it when they need it. Price: $74.95
The Camera Slide
A good quality camera strap is an important accessory. Peak Design's Slide is a low-profile strap that is 1.8," is well made, and has a quick-connect and disconnect Anchor system.
The Slide strap can be worn as a neck or shoulder strap or a cross-body sling and measures 57" in maximum length and 39" in minimum capacity. It features thick nylon webbing, has dual quick-adjusters, and includes a grippy panel that helps prevent slippage.
Peak Design's Slide has red and black Anchor strap connectors made from glass-reinforced nylon links. They can hold over 200 pounds, perfect for large, heavy camera setups. The Slide camera strap comes with four Anchor connectors, one Anchor mount, microfiber bag, and a hex wrench.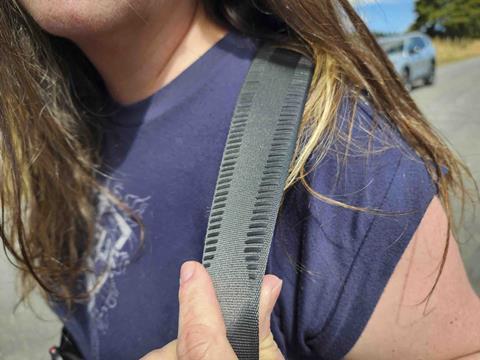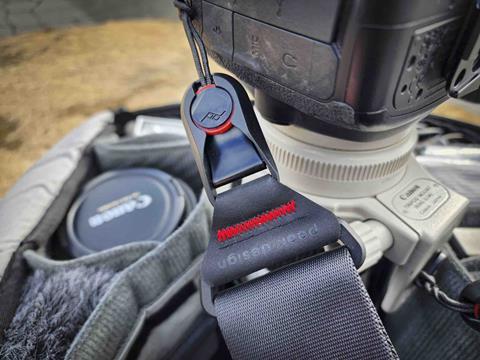 The Slide was simple to install, easy to use, and comfortable to wear in all three orientations. We even moved both Anchor connectors to our Medium Camera Cube for a quick-carry solution.
The camera strap glided easily across jackets, shirts, and even other materials, though it tended to snag on bare skin with sunscreen applied to it. The Slide held up to weeks of off-roading, event shooting, and global traveling without issue. It's a solid bit of kit when looking for a heavy-duty, adjustable, quick-connect camera strap. Price: $69.95