While our "best-gear" list could fill a book, we limited our choices to 10 great products that caught our eye at 2023 Overland Expo PNW.
Redmond, Oregon is nestled on the eastern side of Oregon's Cascade mountain range. It's home to some of the most picturesque High Desert areas the state has to offer. With a general populous of nearly 40,000 folks, Redmond is surrounded by mountains, rivers, trails, and more. It's the perfect backdrop to host an overlanding evet, especially this year's Overland Expo Pacific Northwest (OE PNW) show, which showcased tons of awesome gear to check out.
What is Overland Expo Pacific Northwest?
The OE PNW show just finished its second year, with the Deschutes County Fair & Expo Center as its home. Approximately 17,000 show-goers from around the globe attended the event. Over 400 classes, demonstrations, and other activities educated them on a variety of topics. Additionally, off-road trainers were on-hand to help attendees understand vehicle dynamics, off-road driving, vehicle recovery, and vendors showcased their latest products as well as tried-and-true favorites.
While our "best-gear" list could fill a book, we chose 10 great products that caught our eye (in no particular order). From an American-made trailer setup that boasts a full camper with available toilet and travel-sized pour-over coffee camping kit to innovative rooftop tents and other camp essentials, these items make off-grid travel easier, more comfortable, and safer.
Best Vehicle-Related Gear of 2023 Overland Expo Pacific Northwest
Combine the best of both worlds by marrying a robust 6.5-foot Skinny Guy Camper with a military-proven XVENTURE XV-2 off-road trailer. This American-made combo debuted at OE PNW. The setup offers many amenities, like solar, 12v/120v electricity, on-demand hot water, a slide-out galley kitchen, and even a flushable toilet! Pricing will start in the mid-to-high $30,000 mark, depending on options.
A new way to stow gear via a patent-pending panels and Velcro-backed pouches and packs. From large in-cabin wall-mounted systems to headrest-attached mini storage products, ØNWRD will get gear organized quickly.
The new Pelican Adventure Cases were debuted at OE PNW and will be available in the fall of 2023. The larger TX80 case will be approximately $250 without MOLLE panel but will come with the interior tray and lid stays. Its smaller sibling, the TX50, will cost around $200. The new in-vehicle storage series can be roof mounted, but at this time, they don't work with existing Pelican roof-mount kits.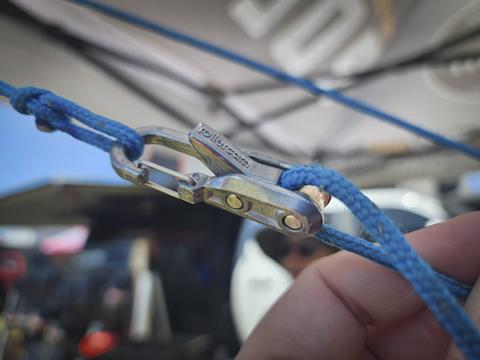 Sometimes it's the littlest things that make the biggest difference. Rollercam's new Roperoller with Accessory Cord makes quick work tightening down your vehicle's awning guy lines. Sold in different quantities, starting from $14.95 to $72.95.
This powerful lithium iron phosphate LiFePO jump starter can start gas-powered vehicles with up to eight cylinders. Additionally, Projecta's 1200A unit can start diesel-equipped rigs up to 4.5-liters. This product then recharges from the vehicle in just 40 seconds! Price: $209.00.
Best Camp Gear of 2023 Overland Expo Pacific Northwest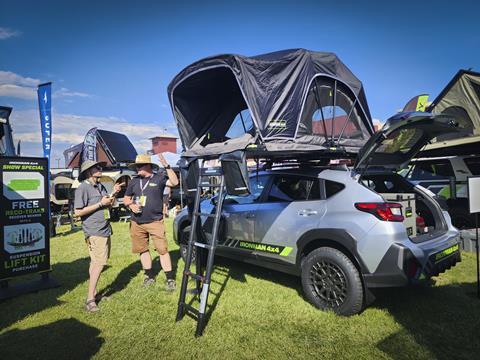 With a total weight of only 104 pounds and a mattress footprint of 93" x 47", this lightweight rooftop tent is perfect for smaller SUVs and CUVs. This tent includes boot bags, a built-in LED light strip, and three large windows with mesh vents. Price: $2,499.00.
Newly established Intrepid Camp Gear debuted their first single-person sleeper. This hard-shell rooftop-tent sets up in 60 seconds and features an innovative hinged roof that allows for 36% more interior space. This tent weighs about 120 pounds and will be priced around $3,200-$3,800 once it hits the market.
If you love camp coffee and high-quality kitchenware, look no further than Canadian-based VSSL. Their latest coffee line showcases a neatly packed stainless steel insulated pour-over kit with two 10-ounce mugs, adjustable coffee grinder, and cleaning brush. Available September 2023, full kit price: $225.00.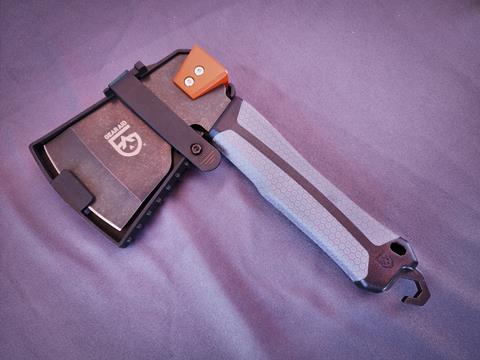 If you need a kindling cutter or awning stake pounder, check out GEAR AID's latest multipurpose hatchet. This cutting-edge design includes multiple camp-friendly features, like a textured grip for easy usage, blade protection, weighted hammer end, and belt clip.
This unique, easily stowable fire pit is powered by two Coleman propane tanks that screw inside the unit for ease of portability. Burn time runs for more than 3.5 hours on high and up to eight hours on its lowest setting. The Qube's wood lid can be used as a tabletop or cutting board when the fire pit isn't in use. This unit weighs 18 pounds and is one foot square. Price: $249.99. An optional carry bag is also available for $49.99.
Why Do People Go to These Events?
Folks attend the Overland Expo series for the classes, vehicle builds, and gear. Crystal Stegman is an avid off-roader, owns a customized 2020 Toyota 4Runner, and is a gear enthusiast. Last year, she and her dog Emmy, nabbed second place in the Kurgo Dog Days of Summer Contest and won weekend camping tickets to attend this year's event.
"The only thing I bought was a new leash and snacks," as Stegman chuckled. "The primary reason for coming here was because there are so many vendors in the same spot," she said. "I had multiple questions because I'm pursuing a few modifications, but I wanted to see them in person, I wanted to hear feedback, and I wanted to get nitty-gritty answers from the people who were around [those products] every day."
For Stegman, it's beneficial to have face-to-face conversations with vendors instead of bouncing emails back and forth.
Martin Myers of Roseburg, Oregon said, "I went to Overland Expo to check out new products and innovations inside the industry and to visit with friends."
What'd he buy? "I only purchased [one thing]: volume 1 of Dan Grec's book. But I did win a set of Front Runner straps at a game."
Martin attended the show with a group of friends and camped Friday and Saturday on public land. He drove his 1994 Mitsubishi Delica Van and slept in it both nights.