For nearly 20 years, the Breeze has been one of Vasque's most popular hiking boots. The company recently came out with a new Breeze design that combines many of the features people love with a new style and more sustainable materials.
Vasque as been making shoes since 1964 and is a brand under the iconic Minnesota-based company Red Wing Shoes. Best known for its go-anywhere hiking boots, the Vasque Breeze (available in men's and women's) has been beloved since 2004. They have sold over a million pairs and recently underwent a redesign. Vasque took parts from previous Breeze iterations and modernized the design. They added more sustainable and durable materials, and launched the latest Breeze.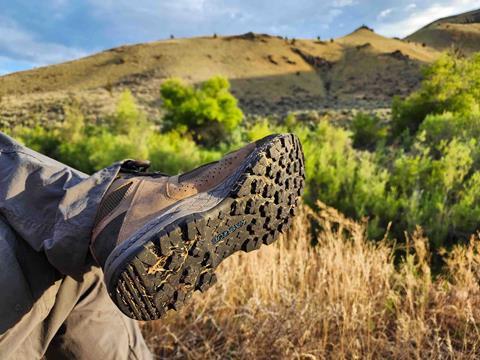 The new version includes VasqueDry, the company's waterproofing which is derived from 25% recycled materials. The boot's fabric is made from recycled polyester mesh as well. In fact, 100% of the collar lining and webbing are made from recycled content. Other parts made from recycled content include the upper mesh (75%), heel counter (60%), and the EVA (ethyl vinyl acetate) midsole, which is made from 20% recycled sugarcane. The footbed is composed of dual-density EVA (ethyl vinyl acetate); the midsole is Enduralast Bio EVA; the outsole is the Vasque Trail Strider. These boots are relatively light weight at 2 lbs. 8 oz.
I found the standard-width Breeze to be too narrow for me. Luckily, they offer wide sizes as well, and they fit perfectly. The boots aren't very heavy and lace up tall for good ankle support. While Vasque calls these a modern design, there isn't much that makes them standout compared to some other brands' highly styled boots.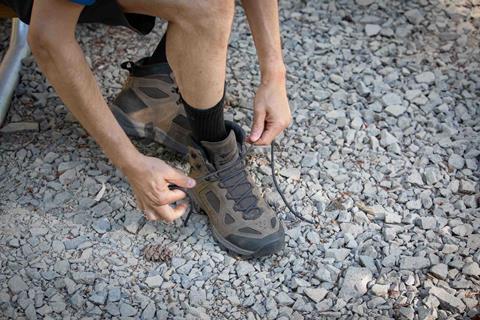 There are three colorways, Nutria (which is a lighter brown), Java (darker brown), and my test pair, Pavement which is grayer. I don't think the shoes are offensive looking, though I wouldn't call them fashion-forward. These hiking boots are designed for the trails—not for fashion shows.
These boots have been with me on trips through the U.S., Canada, and Iceland where they've seen many miles on various terrain from dusty dirt paths in Washington to lose glacial till in Iceland. They took a short while to get broken in, but once I was accustomed to them, they proved to be durable, comfortable, and waterproof footwear.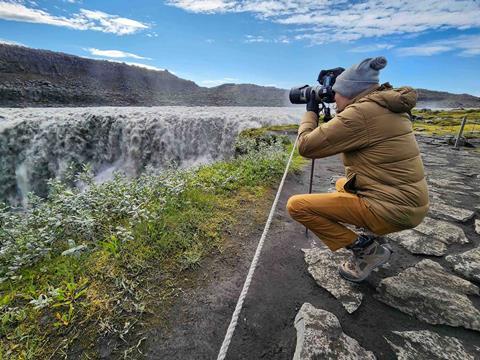 My previous hiking boots (from a different manufacturer) feel more like tall trail runners. The Breeze feel much more like solid hiking boots. The soles are more rigid and outers feel more durable and structured. No, these aren't shoes you'd climb Everest in, but they are surprisingly sturdy. The capped toes do a good job at protecting leather from scrapes and scuffs, too.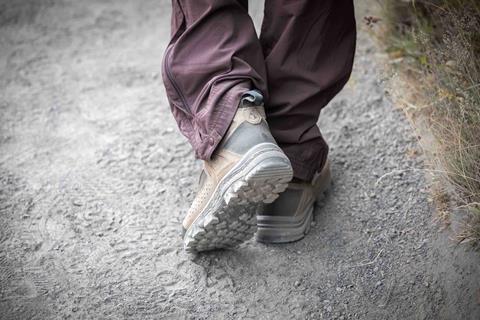 I wore these for two weeks straight in Iceland hiking up and down trails, and I was continually impressed by their comfort, durability, and traction. They provided good overall ankle support and kept my feet warm when it got cold. While I would like a bit more stylish shoe, they kept impressing me as I made more and more miles—especially for the price.
The Vasque Breeze boots are surprisingly affordable at $160.00—about $100 less than my previous hiking boots which didn't feel nearly as sturdy. While I prefer the style of Vasque's Talus AT Ultradry or the insulated Coldspark Ultradry, the Breeze's combination of recycled materials and fair price make them a great choice for hiking or adventuring in a variety of climates. These are function over form. After all, I'm not looking for style points—I'd rather have all the other attributes when hiking and adventuring.
MSRP: $160.00