Camel Trophy has been an obsession of mine for years. I absolutely love reading about the competition and watching the videos whenever they surface. Taking place annually over a span of 20 years from 1980 to 2000, Camel Trophy was an off-road vehicle based competition that was held all over the world and always over challenging terrain.
The off-road competition featured multiple teams of two driving their rigs through places including Siberia, Mongolia, the Amazon, Tierra del Fuego, and Borneo. The challenge was to make it to the goal while performing skills tasks along the way. Vehicle capability and reliability, along with how well the teammates worked with one another as well as their competitors, determined how far they got in the competition.
One truck always managed to dominate my attention while watching Camel Trophy videos, the iconic Land Rover Defender 110. The Defender has come to symbolize the resilience that it takes to adventure into and back from some of the most treacherous terrain on the planet. I've been wanting a 110 for a long time now, but as time goes by, its price keeps going up, always just out of reach.
A few years ago I discovered a radio-controlled brand called Traxxas that offered a highly detailed scale version of the Defender 110. I was impressed by the RC crawler's technology, capability, turnkey ready-to-run (RTR) attributes, and, of course, its ultra-realistic look. The electrically powered RC crawler comes fully built and with a radio controller, so all you need to do is supply batteries and a charger and you're good to go.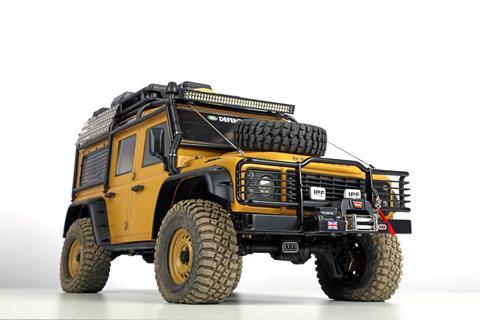 I did some further research on the TRX-4 and along the way discovered many impressive RC replicas of Camel Trophy Defenders online. In many cases it was difficult to tell if I was looking at an RC replica or a real truck. Perhaps this was just the thing I needed to scratch my Defender itch. It was then that I decided to create my own Camel Trophy 110, but in RC form.
I dove into the RC rabbit hole and was surprised to discover plenty of licensed parts that were scaled down to fit the 110. Not only do many of these parts look realistic, but they offer performance upgrades to the truck as well. As with real trucks, weight distribution is key to operating an RC overlander. Shifting or even adding weight as low as possible on your truck will give it more stability over uneven terrain. This can be done several ways, but the most common method is to add weight by replacing the plastic parts found on the lower parts of your truck to heavier aftermarket brass pieces. I added unsprung weight wherever possible and replaced the TRX-4's stock plastic parts with items such as brass portal axle covers and RC4WD's ARB branded aluminum diff covers. I also upgraded the truck's adjustable scale oil-filled coilover shocks. I'm telling you, these RC trucks mechanically operate just like real ones do.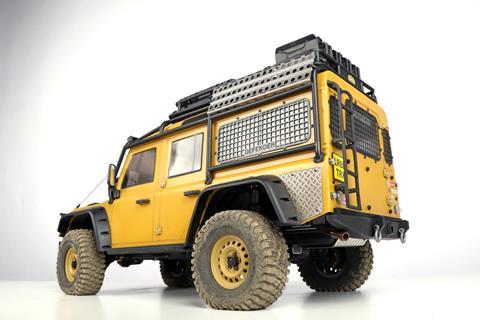 I replaced the gunmetal-colored Defender 110 body my TRX-4 came with in favor of a clear one that I painted to mimic the look of a Camel Trophy Defender. Referencing pictures online of real Camel Trophy Defenders, I painted the body with a mustard-toned yellow paint and also sprayed the outside of the body with a couple layers of a matte clear topcoat to rid it of its showroom floor gloss. I wanted my 110 to look like it just came off the trail.
Although not period correct, I added a really cool Traxxas LED light kit to the body. The fully functioning kit adds lighting to the headlights and taillights and even has a Rigid-branded LED light bar for the roof. The detail is incredible; the headlights can even be switched between low and high beams. The kit also adds rock lights that appear in the truck's fender wells. I can't stress how great it looks, like when driving an RC truck around the campsite. Looking to add even more detail, I installed a set of painted steel wheels and licensed BFGoodrich Mud-Terrain T/A KM3 tires.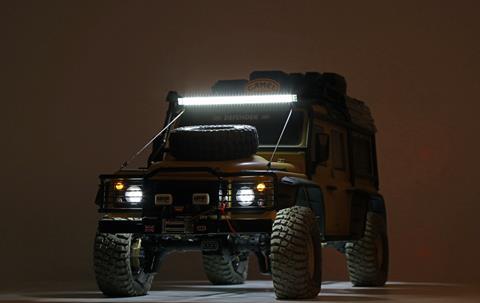 The front bumper adds so much to the aesthetics of a real truck, and it's the same with RC trucks. I opted to upgrade my 110's bumper to RC4WD's appropriately named Camel Bumper with Winch Mount and mock IPF auxiliary bumper-mounted lamps. The all-steel bumper looks and feels tough. I was excited to find that RC4WD also offers licensed WARN winches in 1/10-scale. I was blown away to learn that the mini WARN winch was not only operable, but it could be controlled via wireless remote, too. Yes, scale vehicle recovery is a thing, and as you can imagine, it's really fun to do.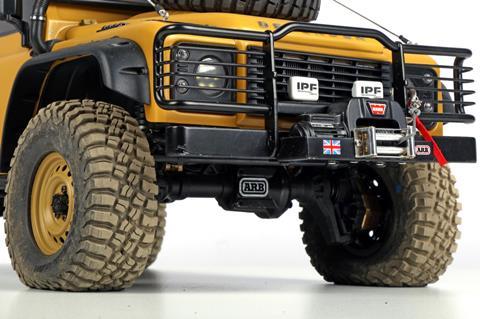 As if all the above wasn't enough, I dove deeper with the details and added a few more custo touches, such as aluminum diamond plates on the body and even a more accurate-looking snorkel. The limbrisers were made with some very fine steel cable and are hooked up to a roof rack that stows a set of scaled-down hardcases and fuel cans. Other added scale details include a RC4WD simulated fuel tank and exhaust, which are slung underneath the truck's rear. The steel exhaust tip came a bit too clean to look used, so I really nerded out and torched it to change its color to more of a burnt bronze tone.
The scale overlander not only looks good as a display model; it moves over rough terrain looking like a real truck would. The tires are super-soft and filled with a pliable foam so they look and act like they are aired down when crawling over rocks. The truck feels surefooted while traversing the trails and is certainly fun to drive.
This was undoubtedly a fun truck to build and even more fun to operate. I'm looking forward to taking it out on more adventures and running some of the full-scale trails I drive in my real truck. Equipped with its capable Traxxas TRX-4 underpinnings, this Defender 110 can probably take on similar (albeit scaled-down) Camel Trophy challenges, too. Thanks to this build, I can say that I finally have my Camel Trophy Defender—only it's in 1/10 scale.
SPEC BOX
Camel Trophy Land Rover Defender 110
A Customized Traxxas TRX-4 Defender
MSRP: $470 (stock)
Model # 82056-4
URL: traxxas.com
Type: Ready To Run
Chassis Type: Steel ladder frame with nylon composite crossmembers
Length: 23.07 in. (586mm)
Width: 9.78 in. (249mm)
Height: 11.48 in. (292mm)
Wheelbase: 12.75 in. (324mm)