If you've ever had to do a double-take on social media because you just realized that the overland rig you've been eyeing is actually a scale model rig, you're not alone. As evidenced on the streets in your neighborhood and on the trails across the nation, the rise of overland-themed trucks has been rampant. This isn't only true of real trucks, but of scale trucks as well. We're even seeing die-cast replica brands such as Hot Wheels get into the roof-racked Jeep and Bronco game.
The really impressive replicas, however, are of the radio-controlled (RC) variety. Pictured here in fact are RC replica builds that probably had you doing a double-take. These down-scaled and licensed RC Toyotas feature many of the same brand accessories that we see on full-scale trucks, only that they're shrunken down to usually 1/10 scale.
Unlike their full-sized cousins, these trucks normally run on electric motors and rechargeable batteries. With that difference being pointed out, RC trucks do have much in common with their 1:1 counterparts.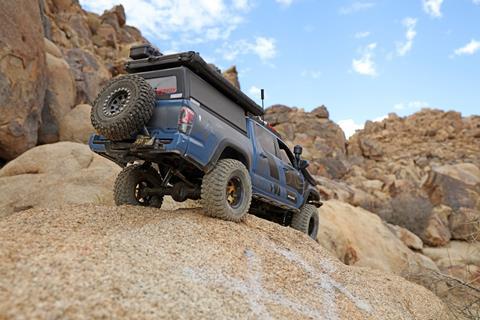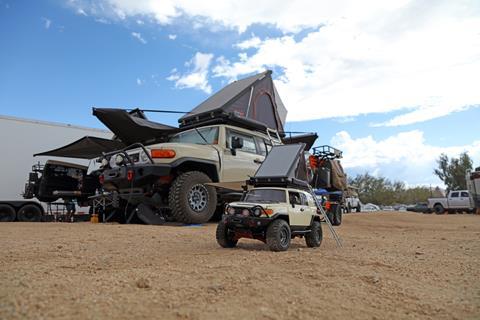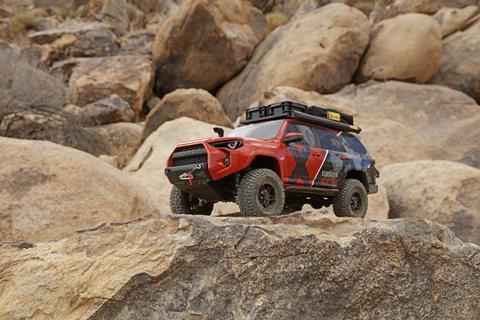 Suspensions, transmissions, and diffs on these RC crawlers all operate similarly to that of full-size components. The coilover shocks are oil-filled and can be adjusted for travel, rebound, height and more. Transmissions are available in high and low gear, which is switchable directly from the radio controller while on the go.
Differentials can be locked in the front, back, or both for superior crawling capabilities. Performance-wise, these scale overlanders are almost the real deal.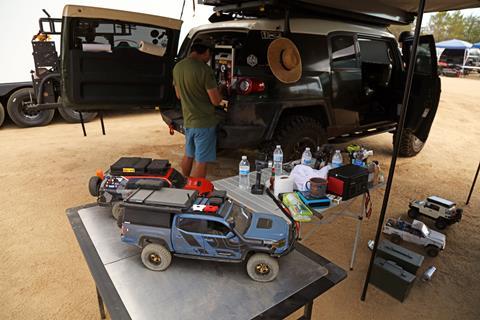 The fun of recreating a "mini-me" of your real life rig can be fun and addicting. Just ask Neil Leyesa, the owner of the white FJ shown here. He actually did the opposite and got into RC trucks before he had a real one, and based his real FJ build on his customized RC FJ.
He also helped his friend Chris Paez create the Tacoma and 4Runner pictured here. They really do look amazing.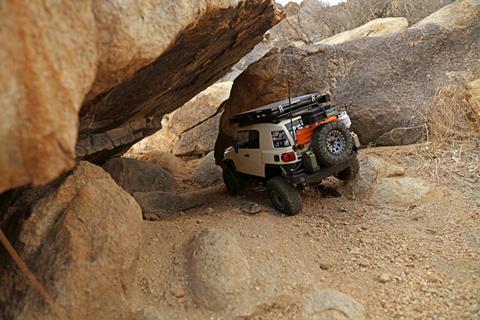 Ourselves, on the other hand, we would love to build a miniature, drivable recreation of our real-life ride. There are plenty of licensed RC trucks and bodies available for Toyotas of all vintages, Jeep JKs, JLs, and JTs, Ford Bronco, Land Rovers and more, not to mention accurately branded parts including lighting, winches, tires, wheels, recovery boards and so on.
Speaking of lighting and winches, are you aware that the LED lights work and even more amazingly, the winches do too? Winching your RC truck out of a rut is pretty fun.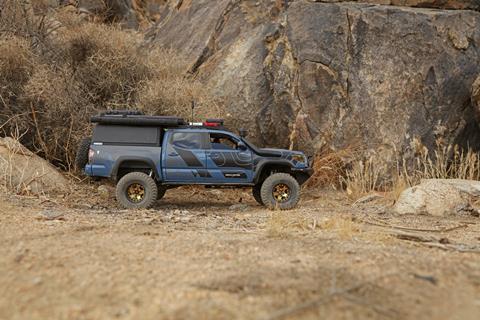 We enjoy taking an RC vehicle along with us on camping trips or trail runs for the downtimes. It's also fun using them to teach the little ones how to take the proper lines as well as the inner-mechanical workings of a truck. It's a great hobby that keeps us "out there" even if we're only romping around in our back yard. If you're tempted to build a scale version of your truck or have already built one, we encourage you to share it with us by tagging us on Instagram at @ovrmag.