Scaler is a special section in OVR that is dedicated to scaled-down, radio-controlled (RC) overlanders and off-road vehicles. For many full-size off-roader enthusiasts, seeing a miniaturized yet realistic-looking truck is a fun curiosity.
This take on off-roading may be whimsical to some, but also serves as the root inspiration for full-sized builds for others. For instance, take the Toyota FJ Cruiser that you see here. Both the 1/1-scale off-roader and 1/10-scale RC versions were built by Neil Leyesa.
Unlike many of us who may want to create a "mini-me" of our trucks as an RC version, Leyesa did quite the opposite. As an RC enthusiast, he started out by building several RC FJ Cruisers, which in turn started a chain reaction that landed him in a real FJ that he takes out on full-scale adventures.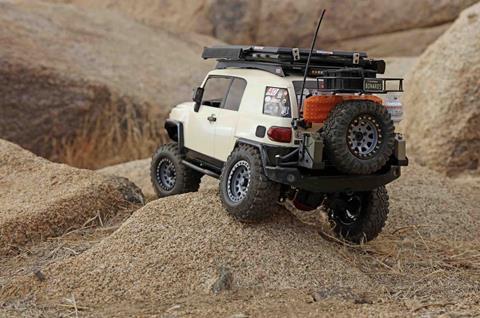 Leyesa's Toyota FJ Cruiser addiction began when he first saw one back in 2008. You could say it was love at first sight. Later that year he built not one, or two, but three RC replica FJs, each modified in different ways. The FJ obsession was strong, and only a couple years later he slid into the seat of his one-to-one scale Trail Team Edition FJ Cruiser.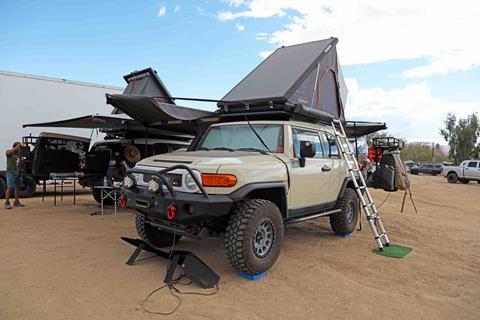 Leyesa reports that acquiring the FJ was a dream come true. In his case, RC overlanding led directly to him getting into real-life overlanding.
Since he was a dyed-in-the-wool RC fanatic, it only made sense that Leyesa assembled a mini-me of his full-scale ride. In his own words: "I started gathering parts to build the ultimate scale FJ Cruiser RC replica. Since I already have the real one, it will be easier for me to copy the truck for the build." He tells us that he started with a 1/10-scale Nikko FJ body nd crafted his own chassis by brazing C-channel steel to create a box frame,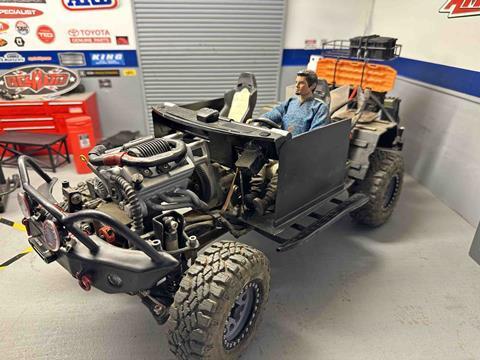 and crafted his own chassis by brazing C-channel steel to create a box frame, similar to the style of chassis used by the real FJ. "I did a lot of hammering and bending of the chassis to get the proper width since the front will have IFS (independent front suspension)," Leyesa adds. "I scratch-built all the crossmembers and custom mounts for the front diffs and upper and lower control arms."
He continues: "The front IFS is designed by myself using RC4WD Yota axles, CC01 hubs and lower control arms. I chopped the straight axles and converted it to run CV axles. The upper control arm is scratch-built as well using steel rod ends as ball joints and solid tubing. The chassis is a complete copy of the 1:1 FJ." Now that's what we called scale realism. Not only does it look the part, but it's as mechanically matched to a real FJ as can be.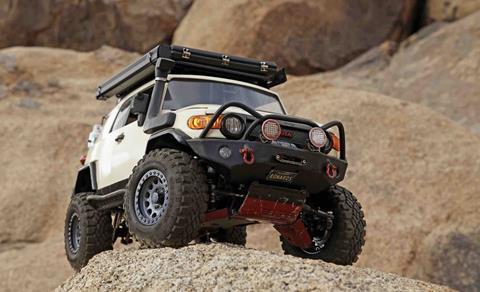 The FJ's drivetrain is based on an RC4WD 2-speed R3 transmission with hammer transfer case. The transfer case is directly connected to the transmission like the real truck. Turning to its aesthetics, Leyesa installed a scale engine bay and fully realized interior. He scratch-built both using styrene and Plastruct glue. Details such as the FJ's dashboard, door panels, and even the ARB snorkel are all made from styrene. "The build was about five years in the making since I am also busy building my real FJ as well," Leyesa tells us. "Both the full-scale and mini-me have Expedition One front bumpers, Demello Offroad rear bumpers with swingouts, All-Pro sliders, and Asfir 4X4 skidplates."
The life-size parts are all authentic, while the RC version parts are either miniaturized licensed replicas or hand-made to look the part. Leyesa points out that the RC's bumpers are built from 22-gauge steel and 3/16" brake line tubing. The RC FJ also has a full exhaust system replica that runs from the engine bay and is complete with catalytic converters and muffler. There's even a dummy gas tank.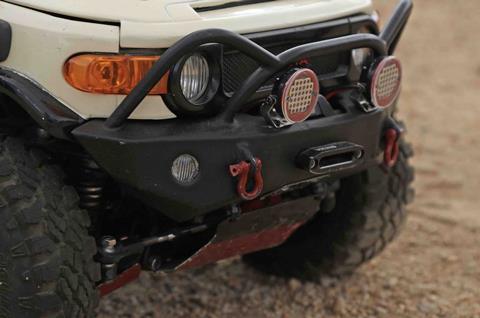 Moving on to the wheels, it was only right that he used the same Method MV wheels used on his FJ for the RC reproduction. He located a set of licensed 1/10-scale replicas of Method's NV wheels that are made by Vanquish Products. These wheels were then mounted with RC4WD's Goodyear Wrangler MT/R tires in 4.5" diameter. With the body, chassis, and other hard parts replicated to scale, Leyesa moved onto some of the FJ's finer details. Believe it or not, he copied all of the decals that he has on his real FJ and printed them at home in 1/10-scale.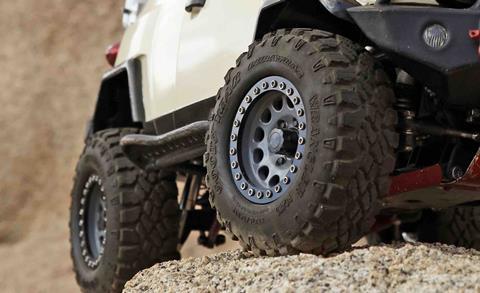 When asked if he will ever be done with either FJ, Leyesa told us, "I don't think these builds will ever be done since I've also been upgrading the 1:1 truck, and whatever I do to the real FJ must be done to the RC as well. When I painted my full-size Method wheels, the RC's wheels got a coat of new paint as well. Last year I upgraded my roof rack and added a Roofnest Falcon rooftop tent. Naturally, I had to fabricate an RC-sized ARB roof rack out of brass tubing and add a scale Roofnest Falcon rooftop tent too. The tent is handmade of styrene and aluminum pieces and opens up just like the real one."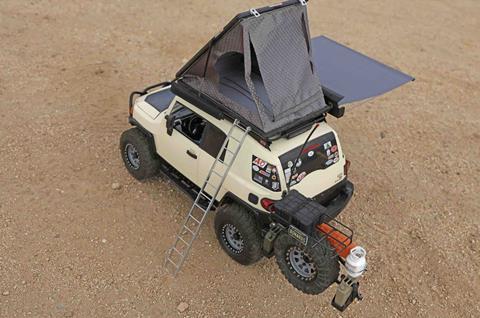 We're really digging the mini-me build of a real truck, and it's inspiring us to do the same. Leyesa's attention to detail and crafting skills are seriously on-point. He mentions that the RC FJ has been running great over the years and has even won some scale RC events like the West Coast Scale Challenge, in which it took home the award for Best in Show. "The funny thing about having a scale mini replica of your 1:1 truck is that every time I want to change the look on my real FJ, I'll try it on my mini RC FJ if it will look ok first," Leyesa says. "Thanks, and happy building, everyone!"
You can see more of Neil Leyesa's amazing RC builds on his Instagram account @bonards29.