Subaru's all-new compact 2024 Crosstrek Wilderness roared onto the off-roading scene with a big, new personality. A bigger brother to its already popular cousin, the standard Crosstrek (my husband Andy and I own a 2022 Crosstrek Premium MT), the new Crosstrek Wilderness, based on the new-for-2024 Crosstrek, has a plethora of off-pavement goodies that would make any adventurous outdoor enthusiast take note.

This is a first driving impression of the Crosstrek Wilderness on- and off-road across southern Utah and through Zion National Park to test its capabilities.
How Does the 2024 Crosstrek Wilderness Fit In?
Subaru added the Crosstrek Wilderness to its existing off-pavement capable Wilderness lineup which includes the Outback and Forester Wilderness. The Crosstrek Wilderness is the smallest of them. But by no means is it the least capable.
| VEHICLE | GROUND CLEARANCE | TOW RATING | MSRP |
| --- | --- | --- | --- |
| Subaru Crosstrek Wilderness | 9.3 inches | 3,500 lbs. | $31,995 |
| Ford Bronco Sport Badlands | 8.8 inches | 2,200 lbs. | $38,390 |
| Renegade Trailhawk (23 MY) | 8.7 inches | 2,000 lbs. | $36,395 |
The Ford Bronco Sport Badlands and Renegade Trailhawk are Subaru Crosstrek Wilderness' direct challengers, but they don't have as much ground clearance, they tow less, and they don't have as high of a roof rack load rating as the new Crosstrek Wilderness does. They rank higher in price when comparing side-by-side specifications, too.
Crosstrek Wilderness Against the Standard Iteration?
The 2024 Crosstrek Wilderness has many ruggedized off-road features versus the standard Crosstrek. Many of them are behind-the-scenes improvements that can't easily or inexpensively be duplicated to upgrade the predecessor.
"The Crosstrek Wilderness includes a number of enhancements ideal for those who want to take the vehicle out on the trails. Revised final-drive ratios, an additional pressure sensor inside the transmission, and all-terrain tires improve climbing ability. Additional cladding all around the vehicle provides protection for scrapes and scuffs. A transmission oil cooler, more powerful cooling fans, and larger rear differential contribute to a substantial towing capability increase from 1,500 lbs. to 3,500 lbs." said Todd Hill, manager of Subaru or America's (SOA) product public relations.

"On the interior easy-to-clean StarTex trimmed seats, all-weather floor liners, and water-resistant rear cargo tray all make life easier in dirty or muddy environments. A black headliner is less likely to show marks from hauling cargo or bikes. Most of these improvements would be difficult or very expensive to add to a different trim level of Crosstrek." Hill explained
Other than its blocky and bulldog-looking appearance, my immediate reaction gravitated towards the Crosstrek Wilderness' increased ground clearance over the standard sibling.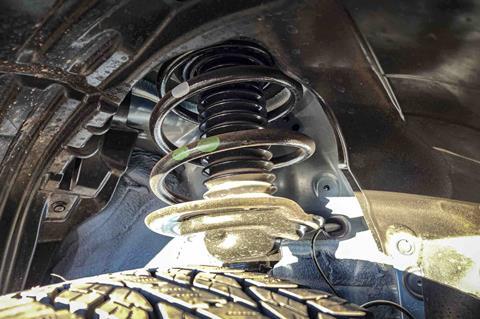 "The ground clearance was increased from 8.7" to 9.3-inches due to the addition of longer springs and dampers.The suspension was tuned for the best possible blend of on-road performance comfort and off-road capability." Hill said.
It's All About the Angles
Along with ground clearance, this dirt-loving SUV showcases an impressive 3,500-pound towing capacity and better approach, departure, and breakover angles than the standard iteration. Here are the 2024 Crosstrek Wilderness vs. standard Crosstrek angles:
| VEHCLE | APPROACH | BREAKOVER | DEPARTURE |
| --- | --- | --- | --- |
| Subaru Crosstrek Wilderness | 20 Degrees | 21.4 Degrees | 33 Degrees |
| Standard Subaru Crosstrek | 18 Degrees | 19.7 Degrees | 30.1 Degrees |
"The increased suspension height improves approach, breakover, and departure angles. Revisions to the front and rear fasciae improve approach and departure angles further than just that achieved with the additional ground clearance." Hill added.
Exterior Accoutrements
The 2024 Crosstrek Wilderness is capable and comfortable and comes from the factory with 17-inch matte black wheels shod with 225/60 R17 Yokohama Geolandar G015 all-terrain tires. It also wears oversized black body cladding and anodized copper-hued accents that'll etch "Subaru Crosstrek Wilderness" into onlooker's memories—whether they like it or not.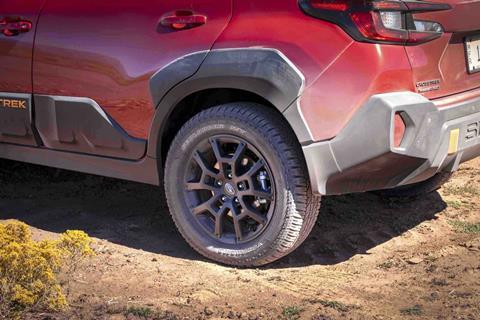 Other items, like enhanced transmission tuning, a beefier rear differential, and a front-located aluminum skid plate, make the Crosstrek Wilderness a more serious adventure rig than a basic ride. Copper-toned bits coupled with enlarged Wilderness and Crosstrek insignias let the world know what you're driving. And in case you missed it, a ginormous Subaru-stamped bumper rounds up the rear—framing an indelible image of the automaker's rally history in a perfect picture. Typical crossovers often have a low-slung trim piece on the rear bumper. That's often the first to go in an overzealous bit of off-road fun. However, you won't find that on a Crosstrek Wilderness.
Like it or leave it, the 2024 Crosstrek Wilderness displays an overall bad-ass attitude that'll keep many enthusiasts on the trails for years to come.
To Hear or Not to Hear
The first thing I noticed was the abundance of silence as my driving partner and I pummeled through miles of uneven gravel and dirt tracks. We held normal conversations as thousands of stones thrashed the Crosstrek Wilderness' underbody. When I asked SOA if they increased the sound deadening compared to 2022 model year we owned, they said this: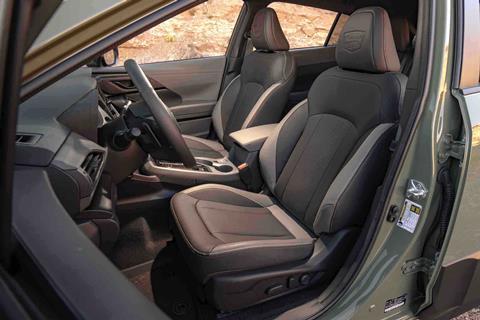 "When creating the 2024 Crosstrek, the development team focused on improving the NVH [noise vibration harshness] performance of the vehicle by reducing sounds and frequencies that were more noticeable to the human ear or body, rather than simply the overall volume level. Additional structural adhesive (three times the amount in the previous generation Crosstrek) in the body (including in the roof panel) is one technique that was used to improve the performance with minimal impact to the vehicle's overall weight. This enhancement applies to all 2024 Crosstrek."
So, by improving performance in those areas, SOA made advances in how quiet and comfortable the vehicle is.
New Transmission Tuning, But Same "Slow-ish" CVT
The 2024 Crosstrek Wilderness is remarkable off the pavement. Along with Subaru's symmetrical all-wheel-drive system and X-MODE, its newly tuned transmission and lower final drive ratios are ideally paired for better off-road performance. This was quickly evident when I engaged X-MODE's DEEP SNOW/MUD mode and conquered silty inclines with confidence and slung myself around deep sand-filled sections with ease.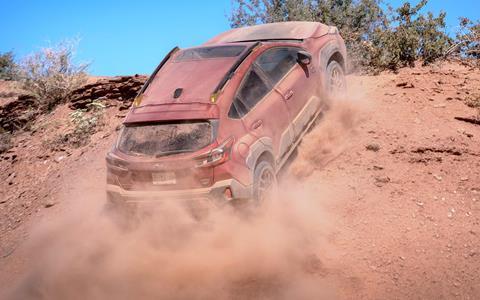 The Crosstrek Wilderness felt nimble, comfortable, stable, and confident—no matter what type of terrain I put it through—and SOA didn't hold back with off-road variation.
However, driving the Crosstrek on the highway was another story. Though steering was tight and handling was surprisingly car-like, passing power was lackluster and hill climbs at speed seemed arduous at times. The five-door SUV didn't have the immediate power I was looking for, even when using manual mode with paddle shifters.
The 2.5-liter four-cylinder makes 182 hp and 178 lb-ft of torque and is paired with a CVT, the only powertrain available, and power is put to all four wheels. It's the same engine found in the Crosstrek Sport and a host of other Subarus, but I can't help but wish that the new Crosstrek Wilderness had the 2.4-liter turbo from the WRX.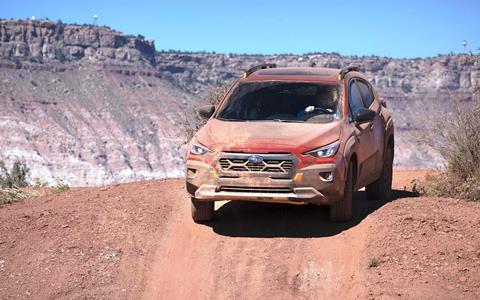 Now THAT would be the ultimate overlanding Subaru (are you listening SOA)! Nearly every other journalist who has driven this vehicle seemed to agree. However, with its current four-pot powerplant, the Crosstrek Wilderness is EPA rated at 25 city, 29 highway, and 27 combined MPG.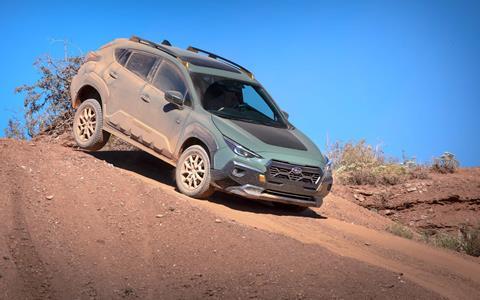 Interior Comfort
The Crosstrek Wilderness comes with a similar interior to the standard version but has copper accents, Wilderness badging, a black headliner, StarTex water-repellent upholstery, and more. Gone is the small digital screen like our 2022 model year has. Instead it has a large 11.6" touchscreen that operates everything, including the climate control.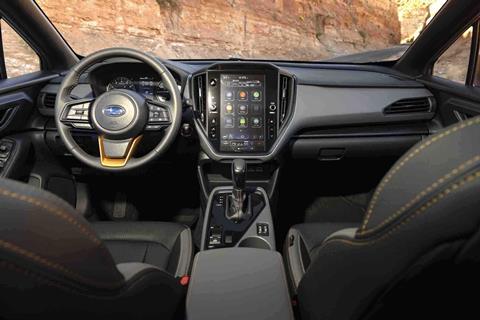 I wish the heating and cooling system was operated by old-school knobs and tactile buttons vs. a digital screen. There are things that should always remain with dials and buttons: climate control and the stereo's on/off switch. However, our 2024 Crosstrek Wilderness test model came with the optional Harman Kardon 10-speaker system with a 432-watt "equivalent amplifier" system that cranked out the tunes so we may have forgotten about the knob/tech dilemma while listening to our favorite tunes to the trailhead.
Wilderness Pricing
In addition to the stereo, our Lithium Red Pearl tester also came with an optional power moonroof and a 10-way power driver's seat that boasted two-way lumbar support. Those three items are part of the Crosstrek Wilderness Option Package that raised the base $31,995 MSRP by $2,270. Add to that an extra $1,295 delivery fee before tax, title, and license and the grand total for my red chariot of the day was $35,560.
All Crosstrek Wilderness colors are one price except for Alpine Green, which is $395 extra. Even the most expensive priced Crosstrek Wilderness tops out at $35,955, which dances right around the entry price of the larger turbocharged Outback Wilderness ($39,960), and a step less expensive than the Forester Wilderness ($34,720).
But if you're looking for a more capable Crosstrek, the Wilderness is a winner, even if it's not any faster than a regular Crosstrek.