Outside of the overlanding world, crossovers are most popular automotive segment these days. Auto manufacturers sell scads of these car-based vehicles which are often equipped with full-time all-wheel drive, a little bit more ground clearance, and a healthy dose of practicality.
They generally don't have the off-road cred, however, as they don't feature a four-wheel drive system with low range, typically don't have a ton of ground clearance, and don't have body-on-frame construction. But with nearly every automaker offering multiple crossover vehicles, it was inevitable that people would start to modify them, and more and more, people are upping their crossover's capability allowing them to take on tougher terrain, go farther on the trail, and be ready for more adventures.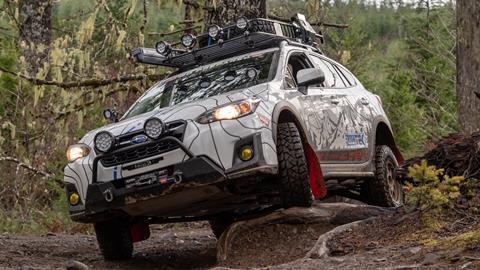 As of late, the Subaru Crosstrek has become the darling of the off-pavement crossover crowd, and a fine example of what people are doing with them is the 2018 Subaru Crosstrek owned by Portland, Oregon-based RalliTEK.
It's easy for owners of more traditional 4x4s to live in bubbles—bubbles on 35" tires with long-travel suspension setups, and upgraded axles. But remember, not everyone needs low-range four-wheel drive, differential lockers, and the ability to run huge tires to go on an overland adventure. Not everyone is trying to run the Rubicon Trail or conquer every trail in Moab. Crossovers typically offer higher fuel economy, better road manners, and a smaller, more nimble package and some people prefer that. But just like some SUV and pickup owners, some crossover owners want to increase their vehicle's capability to tackle more terrain and go farther on their journeys, and the aftermarket is beginning to take note.
The RalliTEK Crosstrek is a 2018 model, which represents the platform's second generation. According to Scott Schoenfelder, part of New Product Development for the company, they choose this model for their next vehicle because it was revamped for '18 and showed a lot of potential to be a great off-road platform.
"There is no doubt that the Crosstrek is already a popular platform to modify," says Scott, " … it definitely is the hot platform that can get you out into the wilderness and back again."
Scott states that the main advantages of a modified Crosstrek over other crossovers is symmetrical all-wheel Drive and Subaru's X-MODE, which adds a level of sensitivity to the traction control system allowing for faster power transfer to the tires that have less traction. The Crosstrek also comes with more ground clearance compared to similarly optioned crossovers, and the same ground clearance as the Jeep Renegade Trailhawk at 8.7". He also mentions that the Crosstrek is lighter than most of its competitors and a bit smaller so it makes for a more nimble platform in off-road situations.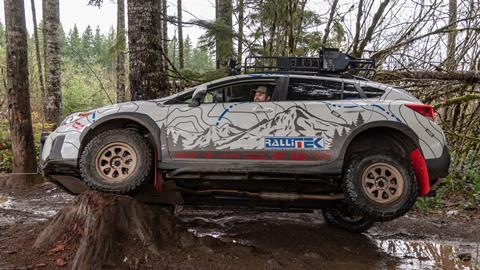 "We have found in real world situations, a modified Crosstrek can keep up with a fairly stock traditional 4WD but the main advantage to a traditional 4WD over the Crosstrek is the low range transfer case. If Subaru introduced a low range transfer case, these cars would definitely be more capable and handle the harder terrain with ease," says Scott.
The key to that previous statement is "modified Crosstrek," and the RalliTEK car definitely has been upfitted. For starters, the car has the company's 2" top hat spacer and 1" suspension lift. The top hat spacer lifts have been designed with offests for camber and caster in the front spacers to ensure the car can comply with factory alignment specs for optimal performance. The rear suspension features a rear sub-frame drop kit (included with the top hat kit) to keep the rear wheels centered in the wheel wells and to also maintain correct rear alignment specs. The springs are designed so the ride is slightly firmer, but still offer a comfortable, compliant ride. That increased spring rate also helps when the Crosstrek is loaded up for an adventure outing, and helps prevent bottoming out when off road.
The lift allows the vehicle to accommodate meaty 235/75R16 Kumho MT51 tires, which are mounted on bronze Method MR701 wheels. Like many people who mod the Crosstrek, RalliTEK went down in wheel size and up in tire size, allowing for more off-road tire choices with more sidewall. Just the more aggressive tires alone add capability.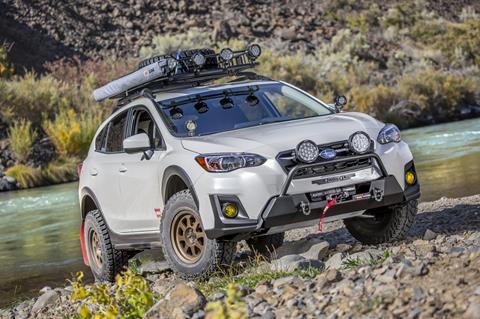 With that additional capability comes the potential to get to places a stock Subaru shouldn't go, so additional armor was added. RalliTEK ⅛" aluminum engine and transmission skid plates were added to help protect vulnerable areas of the Crosstrek's belly. Scott says the underbody armor is a key part of these vehicle's ability to do so well off road. Since they don't have as much ground clearance as a traditional 4x4 vehicle, protecting the chassis is critical. Custom-fabbed rock sliders help to guard the rocker pannels from rocks, stumps, and other trail hazards. For increased front end protection, there's a WARN Semi-Hidden Kit, which helps to add protection to the lower front fascia, and the bolt-on grille guard tube to keep the grille safer. The tube also allowed RalliTEK to add VisionX auxiliary lights up front. The Semi-Hidden Kit also allows provisions for the WARN AXON 55-S winch, which can pull 5,500 lbs.—more than enough to drag a Crosstrek out of the mud.
Let's just stop for a second here: The fact that Warn Industries, a major player in the off-road market, is now making bumpers for a Subaru Crosstrek, is a big milestone for those interested in customizing a Subaru, or any crossover for that matter. While RalliTEK is a fairly small and very specialized operation, Warn Industries is a veritable icon in the off-road world, and can be credited as a company that helped pioneer recreational off-roading. The point is that a larger mainstream company like Warn is taking notice that people are customizing crossover vehicles for off-road use. Full disclosure, I'm a full-time employee at Warn, and I was pleasantly surprised to hear about the Subaru bumpers. It represents a new direction not only for Warn but, potentially, the off-road aftermarket as a whole.
Items that complete this Crosstrek are a roof rack for carrying more gear, an ARB awning, VisionX lighting, and a custom rear license-plate-mount for auxiliary lights. Speaking of lighting, lighting solutions are a new thing for RalliTEK, and they've developed their own ditch light brackets to mount on hood hinges for a convenient place to mount small LED lights. And that rear license-plate mount? It allows owners to mount two small LED lights and wire them into the existing reverse light circuit or into a switch in the dash. These items not only make the vehicle function better, but it also stands out from an aesthetic perspective, too. This little rig not only looks the part, it can walk the walk, too. But Scott notes that this car is just as good of a daily driver as it a capable trail vehicle.
With the crazy amount of crossvers being sold on the global market, it wouldn't be surprising to see more and more crossovers being built up for overlanding duty. Whether it's a Crosstrek, an Outback, Forester, or an all-wheel-drive vehicle from another brand, I think we'll see a lot more people opting for these platforms in the future. And the RalliTEK Subaru Crosstrek is a great example of how to build one up, no matter where adventure might take you.
RALLITEK PERFORMANCE
SOCIAL: @RalliTEK, @rallitek_performance
RALLITEK SUBARU CROSSTREK
BASE VEHICLE:
2018 Subaru Crosstrek
ENGINE:
2.0-liter flat four
DRIVETRAIN:
Six-speed automatic
SUSPENSION:
RalliTEK 2-inch top hat spacers, rear subframe drop kit, 1-inch lift
WHEELS & TIRES:
Method MR701 (16x7), Kumho MT51 (235/75-16)
ARMOR:
RalliTEK engine/transmission skid plates, custom-fabricated rock sliders, Warn Industries Semi-Hidden Kit, bolt-on grille guard tube
UPGRADES & ACCESSORIES:
Warn AXON 55-S winch, roof rack, ARB awning, VisionX lighting, custom rear license plate mount