INEOS Automotive, the promising new automaker that makes the INEOS Grenadier 4x4, a new utilitarian off-roader, has just announced its first 18 U.S. dealerships.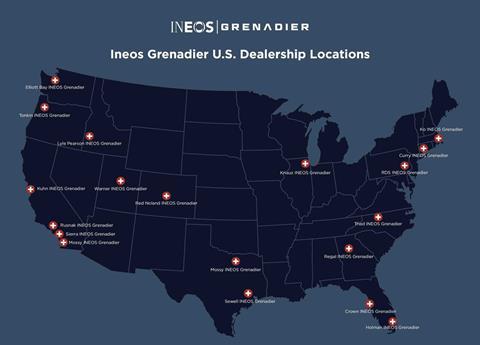 "We spent a long time selecting an exceptional team of experienced dealers to guide the Grenadier station wagons home for our customers. In conjunction with these dealer partners, we are committed to providing first-class sales and service," said Greg Clark, Executive Vice President Americas for INEOS Automotive.
The Retail Partners:
Sierra INEOS Grenadier, Irvine, CA
Rusnak INEOS Grenadier, Pasadena, CA
Mossy INEOS Grenadier, National City, CA
Kuhn INEOS Grenadier, Redwood City CA
Red Noland INEOS Grenadier, Colorado Springs, CO
Holman INEOS Grenadier, Fort Lauderdale, FL
Crown INEOS Grenadier, St. Petersburg, FL
Regal INEOS Grenadier, Roswell, GA
Lyle Pearson INEOS Grenadier, Boise, ID
Knauz INEOS Grenadier, Lake Bluff, IL
Ko INEOS Grenadier, Framingham, MA
Triad INEOS Grenadier, High Point, NC
Tonkin INEOS Grenadier , Wilsonville, OR
Elliot Bay INEOS Grenadier, Seattle, WA
RDS INEOS Grenadier, Devon, PA
Mossy INEOS Grenadier, Houston, TX
Sewell INEOS Grenadier, Plano, TX
Warner INEOS Grenadier, West Valley, UT
Worldwide Sales
What came about through design and planning is a British-inspired and German-engineered 4x4 that's made in Hambach, France. Europe, the U.K., and Australia are proving to be top buyers for the new 4x4. INEOS Automotive is already exporting new Grenadiers to over 40 markets globally.
However, North America is proving to be a heavy hitting market, too. Seven thousand initial orders were placed by U.S. customers, with Grenadier arrivals anticipated to hit our soil the beginning of Q4 2023.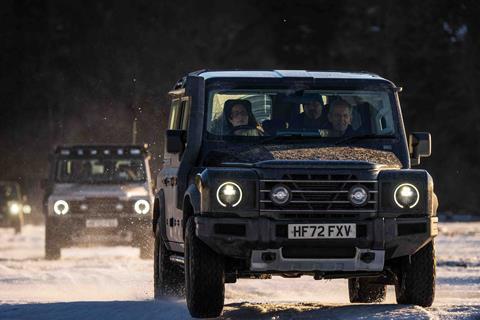 The Grenadier 4x4 starts at $71,500 USD for the base model. The Trialmaster and Fieldmaster Belstaff Editions both start at $79,190 USD.
The INEOS Grenadier
The INEOS Grenadier is different, it's unique. If you think the Grenadier is a Land Rover, you're mistaken. It's a newly developed 4x4 designed to fill a marketplace gap after Jaguar Land Rover (now JLR) stopped production on its famed boxy Defender in 2016.
All Grenadier trims showcase a body-on-frame ladder chassis, 115-inch wheelbase, front and rear recovery points, and exterior- and interior-mounted cargo-hauling L-tracks to keep cargo boxes secure. A BMW 3.0-liter turbo-charged inline six-cylinder gasoline engine powers each iteration. Sadly, North America doesn't get the diesel variant.
Additionally, The INEOS Grenadier boasts 10.4" of ground clearance which allows for plenty of capability on the trail. It also features a 2.5:1 Tremec two-speed transfer case, custom-built solid axles with 4.10 gearing from Italian manufacturer, Carraro which makes heavy-duty tractor axles and industrial components for companies like John Deere.
A wide range of factory-optional goodies can be ordered, too. These include items like a RED winch, rock sliders, rear roof-access ladder, and full-roof platform rack: items perfect to outfit your next overlanding rig. The online configurator and full information on pricing, specification and the ordering process is available at: www.ineosgrenadier.com.
INEOS Automotive is one of 36 businesses under the global INEOS Group out of England. The company is led by INEOS Group's founder, chairman, and British billionaire, Sir Jim Ratcliffe. In total, INEOS Group employs approximately 25,000 people.