You may have heard the running joke about overlanders being "overloaders," but there is some truth to this sentiment. Off-grid exploration requires a high level of self-sufficiency, and with the gear that provides us the ability to be far from others, the weight can quickly add up.
Excessive weight can cause a number of issues, from poor ride quality due to reduced suspension travel to overworked shocks that fade prematurely. Overloading can decrease ground clearance and strain the tires as well as other components. While we'll focus purely on the suspension here, it is important to remember the other components that should also be considered for upgrades, such as brakes and gearing.
To ensure that we could appropriately contrast the changes each upgrade would make, we tried to keep the variables to a minimum and started with an American Expedition Vehicles-equipped '20 Jeep Wrangler Rubicon with AEV's standard JL370 package, which includes a 2.5-inch lift, AEV/Bilstein RT5100 monotube shocks, and 37-inch tires.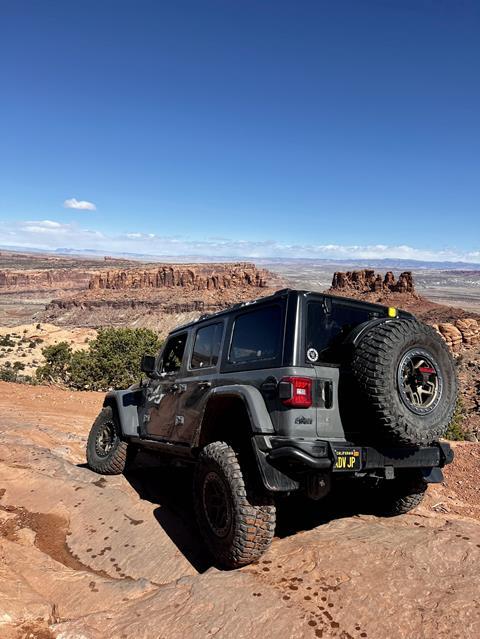 This vehicle has been used as a testing platform for thousands of off-road miles and we were incredibly familiar with it. American Expedition Vehicles is a Michigan-based premium upfitter of Jeep, Ram, and GM vehicles with a focus on OE-quality components. The company also has both direct-replacement upgrade shocks as well as high-capacity spring options available for their suspension packages, which can be upgraded in stages.
One of the most impressive aspects of AEV suspensions is the tuning, which provides exceptional on-road ride and handling prowess without a detriment to the off-road capability. Out of the box, the AEV 2.5-inch DualSport RT suspension is one of the best all-around JL suspensions on the market and perfect for a daily driver that sees regular weekend jaunts into the backcountry.
We were impressed with the ride quality, both on- and off-highway, even when pushing the limits of the 46mm RT5100 shocks. This basic setup is perfect for the vast majority of customers and strikes the perfect balance.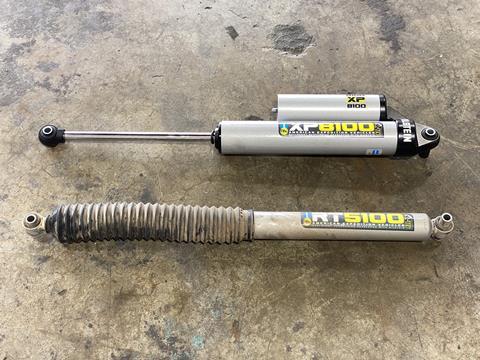 For those like us who enjoy a little more "go" with their overlanding and often cover considerable distances between camp spots, it's nice to have more suspension damping. Fortunately, AEV offers the 60mm-piston XP8100 upgrade (2.6-inch body).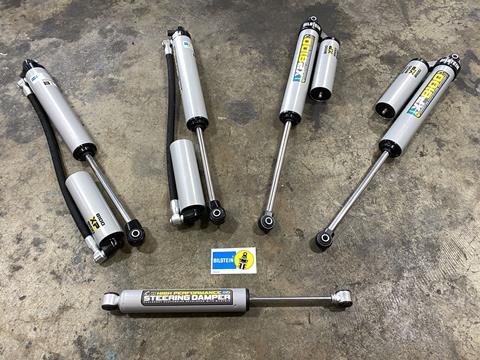 These shocks are based on the legendary Bilstein 8100 and feature remote reservoirs in the front and piggyback reservoirs in the rear. In addition to a larger piston, the user-rebuildable monotube 8100s have a much larger oil capacity, beefier 18mm piston shafts, billet caps, billet rod ends, and vulcanized rubber bushings to ensure OEM-like long-life and squeak-free performance. Part of the XP8100 magic is that AEV tunes them to the target weight of their fully outfitted packages rather than a stock vehicle.
The XP8100 shock upgrade is designed to handle bigger and more varied topography, at faster speeds, while offering much more consistent chassis control. The dampers really shine when soaking up terrain that would overwhelm the 5100s, and they can do it for extended periods of time without fade or performance degradation.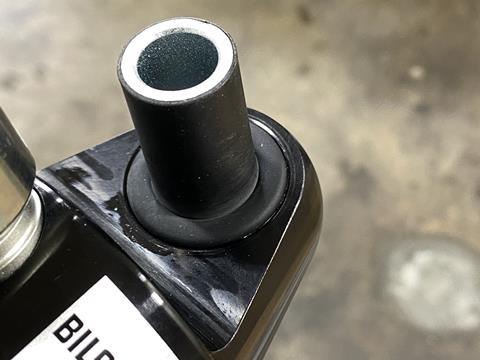 We also experienced an incredible improvement over long sections of rippled trails and when traversing square-edge dropouts at speed, where the suspension has much more overhead for those moments where we misjudged the trail and had no choice but to blow through a "truck gobbler."
As we grew into our AEV build and started to go on longer trips, we found ourselves carrying more and more gear. While the standard capacity springs still worked well, we could tell after adding our rooftop tent, fridge, cooking, and recovery gear that we were reaching the limit with two people on board and a week's worth of food, gas, and water.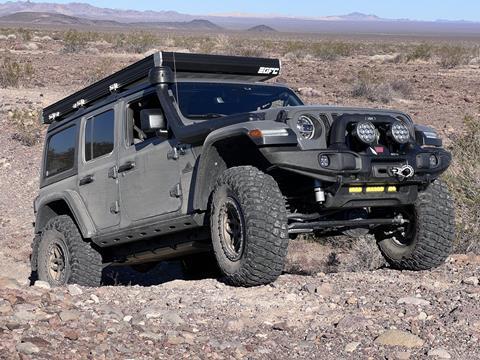 This resulted in some sag and the corresponding reduction in up-travel, meaning we were hitting the jounces more often and long days in the saddle became more fatigue-inducing.
The next step was to swap our springs out for AEV's 3-inch High Capacity Coil Springs. These springs were a direct fit for our four-door tester and like the base springs, are frequency tuned, progressive rate coil springs. AEV's target with the high-capacity option is to maintain ride quality and articulation with vehicles that are regularly 400-600 pounds over the base weight.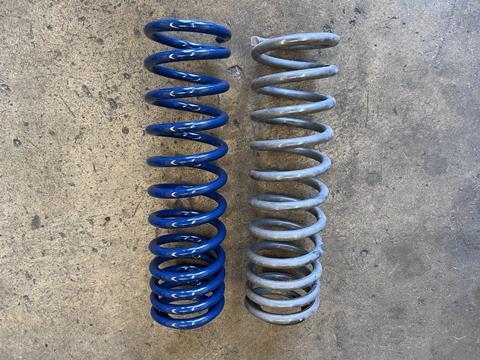 After installing the springs, we had a Jeep that sat prouder, we had restored our up-travel when loaded, and the shocks were allowed to return to their intended ride zone. The Wrangler was less susceptible to bottoming out and once again provided a controlled ride when loaded up for those extended excursions.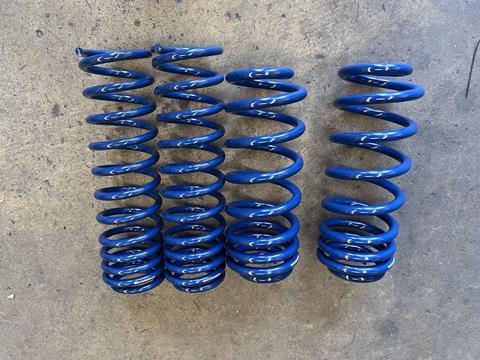 It is important to note that when the Jeep wasn't at full exploration weight, the ride was noticeably more "positive," but not harsh. However, the increase in firmness could be a turnoff for some potential customers. The best way to describe it is that the plusher ride of the base configuration was replaced with one that was noticeably more taut.
Between the stock JL370, the JL370 with the XP8100 shock upgrade, and the XP8100 shocks and HC coils, our favorite all-around setup was the standard coil springs with the XP8100 shock upgrade. That being said, there was no denying the improvement in off-road performance at full GVWR that high-capacity spring brought. Was it enough to justify the ride difference when not loaded down? Only the end user can determine if that trade-off is worthwhile.
We would say if you spend more time than not loaded up—is your rooftop tent a permanent fixture?—go with the high-capacity setup. If you are someone who returns your rig to daily driver mode when you hit the driveway after an adventure, you would be better served by upgrading the shocks and paying closer attention to the overall weight of your loadout.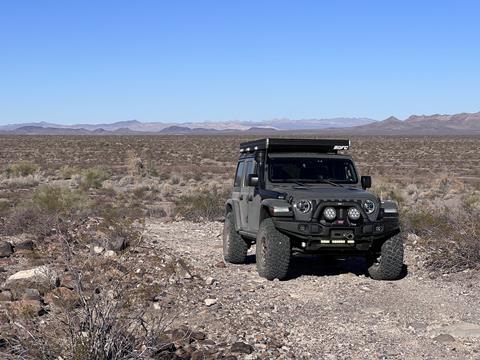 Special thanks to the pros at Adventure Off-Road in Huntington Beach, California, for helping us with the install of the shocks and Rock-Tech Offroad in La Habra, California, for installing the springs.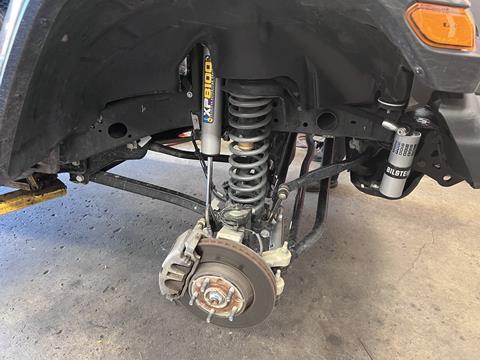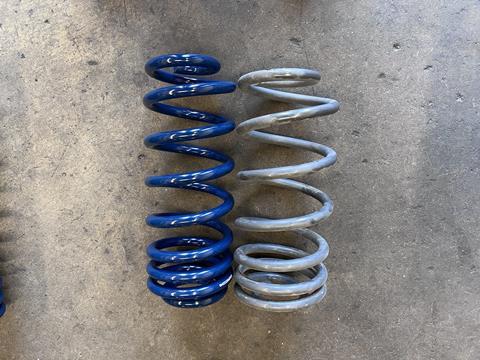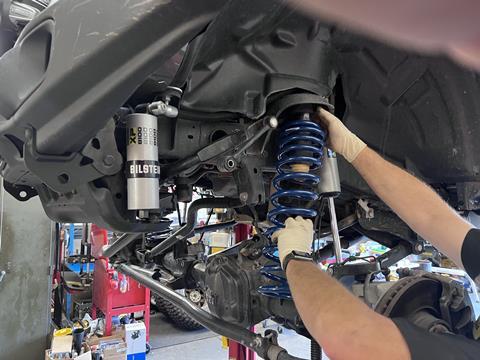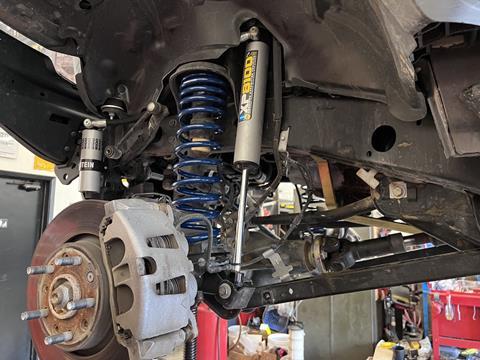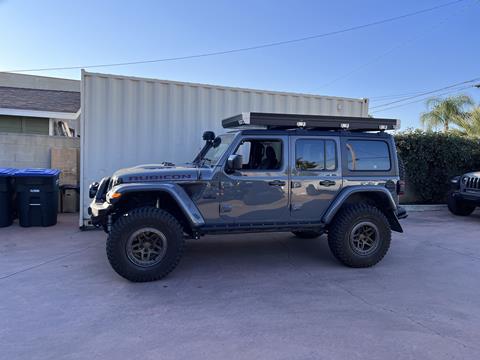 SOURCES: