Clackamas, OR (6/23/23) — Warn Industries, one of the most well-known names in the off-road and automotive aftermarket, is celebrating its 75th anniversary in 2023. To mark three-quarters of a century in business, the Oregon-based manufacturer will offer commemorative swag at shows, have employee celebrations, social media giveaways, and even offer up an ultra-rare 75th M8274 winch online.
A History of Innovation
Warn Industries started in 1948 in Kent, WA. Arthur Warn created hubs to allow better drivability of surplus Jeep vehicles returning from World War II. These were advertised to also help increase fuel economy. Suddenly the old Willys Jeep would become better to drive both off- and on-road.
The next big innovation came around 1959 when Warn Industries pioneered the electric winch courtesy of the Belleview Model 6000, a three-ton-capacity winch that was powered by the vehicle's battery. Most winches in this era were PTO-driven (power take off), which required the engine to be running for the winch to work. However, since off-road vehicles of that time were carbureted, at extreme angles, the engines would shut off. This gave the electric WARN winches a distinct advantage: they'd work with the engine off. This trailblazing winch would lead to countless other winch iterations and innovations. Winches remain at the company's core, but its product offerings have expanded far and wide since then.
Warn has also fostered excellent relationships with a variety of OEM manufacturers across both truck and powersports divisions. Warn provides products directly to several manufacturers including Ford, Stellantis (Ram, Jeep), Honda, and Yamaha to name a few.
Now Warn Industries operates alongside three other brands: Fab Fours, Fabtech, and Factor 55, all of which have all joined under one umbrella over the past few years.
The 75 Year Celebrations
Warn will be "celebrating 75" for the rest of 2023. Activities include an upcoming video sure to showcase the innovations, heritage, and imagery of three-quarters of a century of business and off-road lifestyle.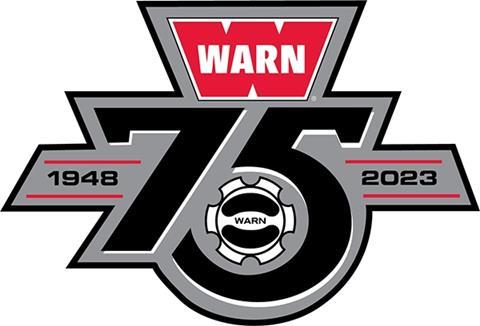 There will be employee celebrations both on and off the WARN campus, social media giveaways beginning in June, commemorative swag at events, and a giveaway of an ultra-rare 75th Anniversary WARN M8274 winch. This activity is slated for a July timeframe. The festivities will continue later into the year with a special SEMA Show booth in November.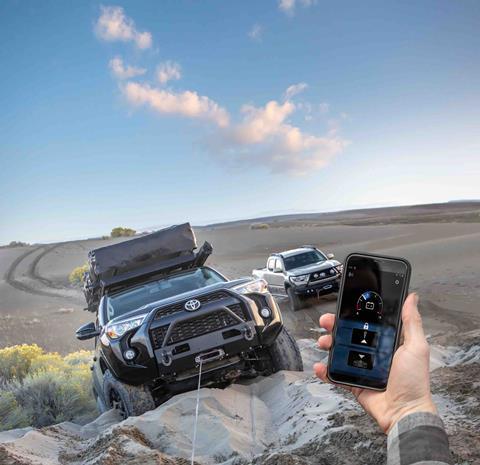 At The Forefront Of Off-Road And More
Warn has some of the best customer base in the automotive aftermarket. Thanks to years of reliable, innovative, and dependable products all backed by a global service organization, Warn has remained at the forefront of the market. Trusted by enthusiasts, OEMs, industry experts, and enthusiasts alike, Warn is proud to be celebrating 75 years as a company based in the Pacific Northwest, but known around the world.
"Here at Warn we are proud to be celebrating our 75th anniversary, 75 years of off-road heritage," says Corby Phillips, VP of Sales, Aftermarket. "We could make a strong argument that Warn was a catalyst to start the sport of recreational off-roading."
As post-war Willys Jeeps were being used for farming applications and Warn came out with the locking hub to make Jeeps more drivable, and soon after, the off-road hobby really came alive.
"I also must mention the famous M8274 winch and how it injected confidence into the driver's seat to try more and more challenging trials. The 8274 is the heart of our tagline of Go Prepared." says Phillips."Why is turning 75 important to Warn? It's a testament to our brand, our customers, our fans, the fact that the WARN workforce is made up of customers and fans of the product we produce," says Phillips.
Warn wants to bring our consumers, their kids, and grandkids products that keep them exploring the backcountry. Products that make sense and keep everyone enjoying the trails, and ultimately get our consumers home at the end of the day. Please join the Warn family in celebrating a great USA-based company, we appreciate your support and hope to see you on the trail!
About Warn Industries
Warn Industries is the world's most recognized brand in off-road products such as hub locks and vehicle recovery winches. The company designs, manufactures and markets a full line of off-road equipment and accessories that enhance the performance of four-wheel-drive and powersport vehicles. Warn Industries is headquartered near Portland, OR.
Warn Industries also includes Factor 55 (factor55.com), a manufacturer of highly-engineered rigging hardware; Fabtech (fabtechmotorsports.com), a producer of premium suspension systems, shocks, and leveling kits; and Fab Fours (fabfours.com), a leading manufacturer of fabricated mounting solutions for trucks and jeeps.
The Factor 55, Fabtech, and Fab Fours brands complement the Warn portfolio of premium branded, best in class, products that customers have come to expect.