Going back to where it all started, HydraPak has updated their wide-range of reservoirs that are purposefully designed for different users. The all-new Contour reservoirs lead the way for backpackers and bikers with several outstanding performance features while the popular Velocity and Force models gain notable updates.
"When it came to reinventing our flagship product line, we leveraged technology that's evolved for over seven years," said HydraPak President Matt Lyon."The Contour is not only beautifully designed, but it has the features and tech consumers have come to expect. Importantly, it's lightweight and fits more packs than ever before."
THE CONTOUR
The innovative Contour reservoirs are packed with several smart features that perform on the trail and make filling, cleaning and storage more user-friendly. The reservoirs are built to be lightweight and low profile, offering excellent fit and function in the widest variety packs.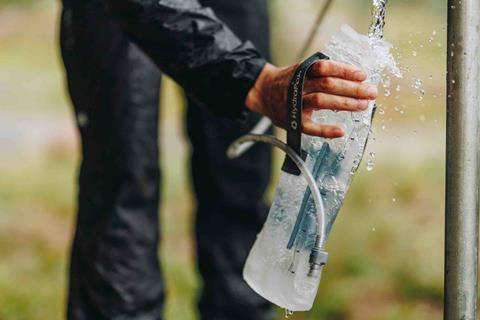 The Contour 2L and 3L are the first reservoirs to feature a 3D welded bottom and side tube exit port. In addition, the fixed Shape-Loc baffles ensure the reservoirs maintain a low profile when filled and help increase water stabilization during high-impact activities. And a new, soft and flexible handle simplifies filling and carrying.
Several of HydraPak's trademark features also received meaningful upgrades. The Slide-Seal top was updated to include a Universal Hanger designed to work with clips, hooks, and loops in a wide variety of packs including Osprey, CamelBak, Gregory, Dakine, and EVOC.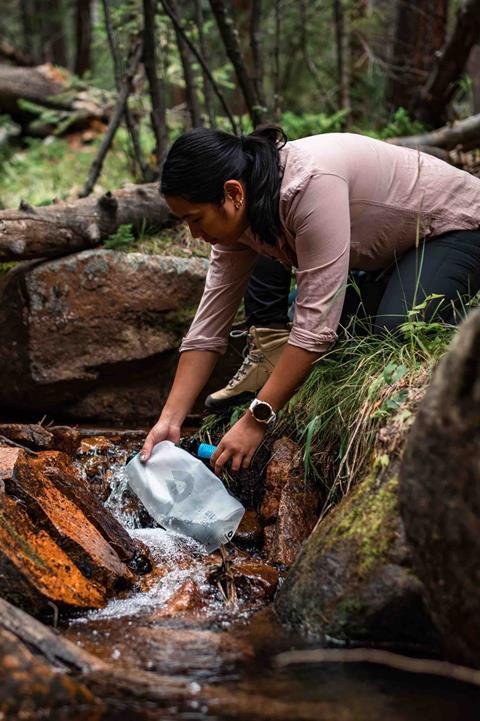 The new Comet Bite Valve self-seals after each sip and can be opened and locked with one hand to prevent leaks when not in use. It also features a tube magnet clip that attaches to the reservoir hose and can be paired with your pack of choice for easy access and hose management.
While the Contour is designed for hiking, biking and backpacking adventures, HydraPak also updated Velocity and Force reservoir lines as well. The lightweight Velocity, designed for runners in mind, is streamlined to be more comfortable in vests and packs with a slim profile and soft grab tab for fast loading and unloading. It features an extra wide opening for quick refills along the trail.
The Force reservoir remains ultra-durable, but now features a new lightweight and rugged 840D Nylon handle that lies flat when not in use. Both reservoirs come equipped with the new Comet Bite Valve.
WATER FILTER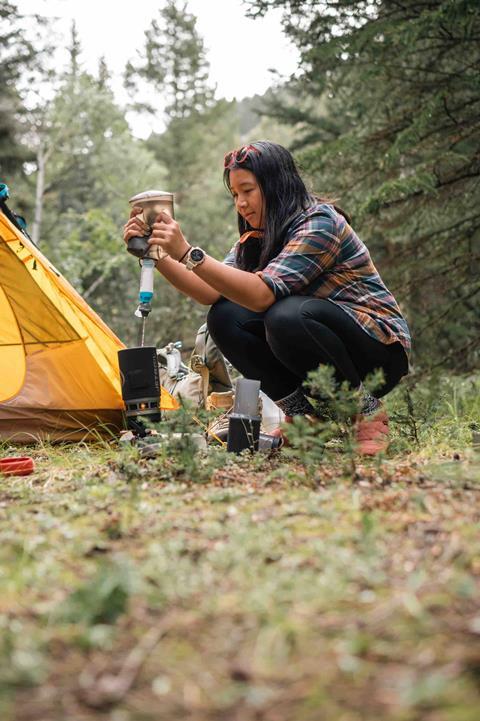 Offering a wide range of hydration solutions for outdoor enthusiasts, HydraPak has developed a new line of water filtration systems to allow access to potable water in the backcountry. Designed to seamlessly work with their water storage, flexible bottles, and reservoir lines, the filters deliver fast and easy water filtration around camp or on the trail.
"We're excited to introduce filtration products into our ever-expanding line of hydration solutions. The addition of filters ensures clean drinking water is never in short supply," said HydraPak President Matt Lyon. "Adventure depends on water, and we're constantly looking for the best way to help keep athletes hydrated so that they can continue to do what they love."
Each HydraPak filter effectively removes common waterborne bacteria and protozoa from approximately 1,500 liters of water at a rate of >1L per minute*. There are two filter accessory designs available: A 42mm filter cap and a 28mm filter kit.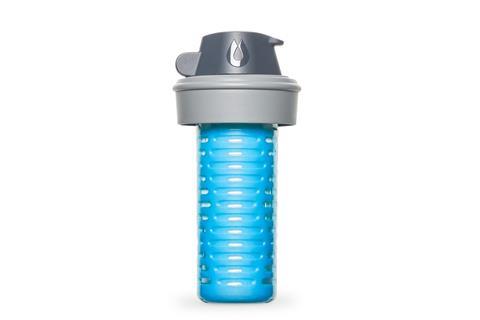 42mm Filter Cap – The new 42mm Filter Cap is compatible with all HydraPak 42mm opening products, including running flasks, Seekers and Flux bottles. The cap is equipped with a high-flow nozzle and dust cover that opens and closes with one hand while preventing contact with dirty hands. Users can drink directly from the nozzle or squeeze filtered water into another vessel. Weighing in at 2.0 ounces, this filter offers a lightweight and durable filtration solution for just about any activity.
28mm Filter Kit – This, first of its kind, filter gives adventure-seekers the option to thread directly onto bottles and flasks, or connect to Plug-N-Play systems used on reservoirs and and water storage containers. The 28mm Filter is an ideal backcountry water treatment solution whether you are gravity filtering your water out of a water storage bag, or filtering as you drink from a Stow bottle or HydraPak reservoir. The Kit comes equipped with both a cap and backflush adapter.
In addition to filter accessories, HydraPak has introduced the "+" series, denoting products that come equipped with filters for a complete hydration solution. The Flux+ 1.5L bottle, and Seeker+ 3L and Seeker+ 6L set a new standard for lightweight, fast and versatile backcountry water filtration.
Flux+ – The newly redesigned FLUX series is shaped like a hard bottle, compresses like a soft flask, and cuts weight by 60 percent. The Flux+ comes equipped with the 42mm Filter Cap so you can roll and squeeze into other containers or to directly drink freshly filtered water on the go. Plus, it also has a newly designed bail handle to keep hydration secure in your hand or on your pack.
Seeker+ – HydraPak is expanding its popular water storage series to include filter products in 3L and 6L sizes. The Seeker+ 3L comes equipped with the 42mm Filter Cap, whereas the Seeker+ 6L Gravity Filter Kit includes an inline hollow-fiber filter and HydraPak Camp Tap. The Seeker+ series is one of the lightest weight, high-capacity, filter-ready water storage solutions available.
*Effectively removes common waterborne bacteria, such as E. coli (99.9999%), and parasitic cysts (99.999%) per EPA Guide Standards and NSF P231 and microplastics (99.999%) per NSF 42 greater than or equal to 3.0 microns in size.
HydraPak's all-new Contour, updated Velocity, Force reservoirs, and new filter products are available now at HydraPak.com, REI.com and other quality retailers.
About HydraPak
Over the past two decades, HydraPak has become the number one original equipment manufacturer of reservoirs and soft flasks in the world. The company was founded in Northern California with a mission to create flexible and durable hydration products for recreational, athletic and military use. Its owned brands, Polar Bottle bicycle squeeze water bottles and Bottle Bright all-natural cleaning tablets, are leaders in their categories. By offering a better way to hydrate, HydraPak has pioneered new product categories and become a trusted partner for hundreds of renowned global brand partners.