My adventure started when I set out from Ocala, Fla. to Moab, Utah in a 2022 Toyota Tundra to take part in my first-ever Easter Jeep Safari. As someone who's been in the automotive industry for eight years (and a lifelong enthusiast), I've met and worked with countless people who've participated in this epic annual rite of passage. You might say Easter Jeep Safari was a Trucket List item for me. My expectations were certainly high, and the actual event did not disappoint.
The drive from Central Florida to Moab took just over 30 hours, and while this was a trip to one of the largest Jeep events in the country, I don't know that I'd survive that distance in our Jeep LJ. I was happy we needed the truck to haul out gear necessary for the vendor show later in the week—it made the drive a lot more tolerable.
Day 1: And so it begins with White Wash Sand Dunes
My first day in Moab, I settled in after my road trip, ran down the list of trails we'd be running later in the week and made sure the truck was ready to go (we actually ended up performing some maintenance in the parking lot). Our truck build isn't done yet, but has a solid foundation to build on and enjoy and is more than ready for some trail time.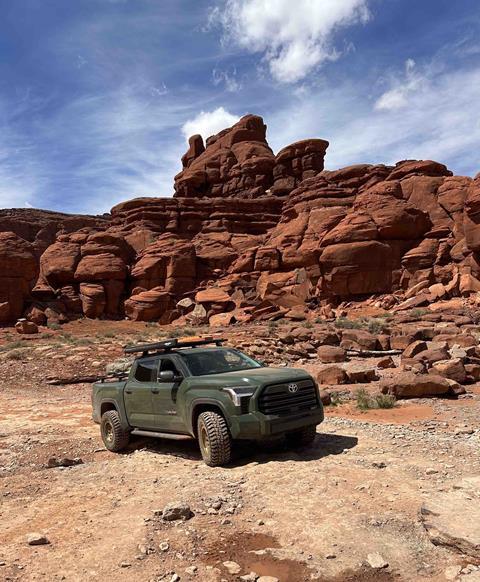 Currently, it's outfitted with some of the basics from RealTruck most would start off with in their accessorizing journey: a 2.5" Procomp Coilover lift kit, 35-inch Mickey Thompson tires a Rhino-Rack rack system, Rugged Ridge roof-top tent, Rhino Rack Sunseeker awning, Retrax XR tonneau cover, and other recovery and repair items that are worthy of inclusion on any trail ride. Are all these extras absolutely necessary to take on the trails of Moab? No, probably not. But as an avid off-roader and truck enthusiast, I wanted to maximize my Out-in-the-Real experience with the right after-market accessories.
Early in the day, we gathered with some of our team and other Easter Jeep Safari folks on the White Wash Sand Dunes, not far from town but some distance from the main highway down a dusty gravel road. This was my first time driving in the dunes, and it was a ton of fun!
Over the course of the morning, we had a few attendees lose momentum or take a bad line and quickly find themselves in need of a winch, which kept things exciting. Later in the day, some of us took a detour down a moderate 4x4 trail that snuck us into Arches National Park, where we took a short hike to admire the natural stone arches and rock fins up close. This was a great way to end the day, and we all enjoyed spending time together stretching our legs outside of our vehicles.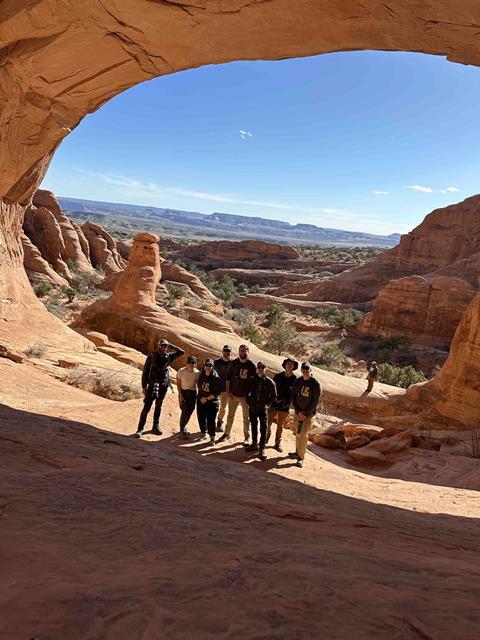 Day 2: Enjoying scenic Chicken Corners
Chicken Corners Trailhead is a 4X4 route that traces the Colorado River Canyon just below Moab. This 41.6 mile out-and-back trail was a relaxed, incredibly scenic ride offering views and areas to explore that offset its lack of technical obstacles along the way. To get to Chicken Corners, we passed Moab's Wall Street, a 500 ft. sandstone wall dotted with climbing routes for those daring enough. Then, we went through the iconic Hurrah Pass, which is also a popular trail for birding, hiking and mountain biking. Be sure to check out the Indian petroglyphs at the Birthing Rock if you get a chance.
Once we arrived at the actual trailhead, it was evident this was going to be a beautiful ride. Running along the Colorado River, with endless red rock in sight, it was reminiscent of the Grand Canyon, just at a smaller scale.
I was curious as to how the name Chicken Corners came to be, so I asked a veteran Easter Jeep Safari attendee who shared that the name was created because way back before Jeeps, travelers rode their donkeys on the trail, hundreds of feet up. If they walked the route instead of riding, they were deemed chickens.
I'm not afraid of heights myself, but that was certainly tested on a short hike around Chicken Corner as there was not much separating a misstep from a fall to the river several hundred feet below. As we wrapped up the day, we had a great time, and the Tundra did great despite not being quite as small and nimble as a Jeep.
Day 3: Mastering Metal Masher
On day three, I got to enjoy the trails riding in the passenger seat. We rode Metal Masher in a RealTruck employee's personal Jeep Rubicon JKU. This trail was the most technical yet, and forms a 66-mile loop near Moab. You can't talk about Metal Masher without mentioning Widow Maker and Rock Chucker. We personally opted out of these obstacles and took the bypass instead, but several from our group attempted them.
From the bottom of the trail, I watched as a very well-built Jeep almost rolled over in its final attempt to climb Widow Maker. Afterwards, Jeff Ismail and his International truck found the traction needed to complete the climb. Metal Masher loops around Arth's Rim, which is one of the most spectacular overlooks in Moab, approximately 1,300 feet above Highway 191. The trail follows Little Canyon and has incredible views of Arches National Park, Moab Valley and the La Sal Mountains. We were surrounded by gorgeous vistas the entire trip.
Day 4: Surfing the sand on Fins & Things
My final day on the trails included driving on Fins & Things, a moderate one-way trail recommended for those with some experience off-road. Our Jeep JLU was experiencing some intermittent problems, but we felt comfortable heading out for the day as they seemed to subside once the Jeep warmed up. The name Fins & Things comes from the iconic slickrock fins that were formed millions of years ago.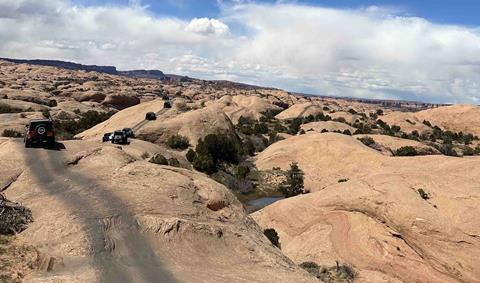 These formations present unique challenges for vehicles, but the "slickrock" actually has tons of traction and even with open differentials, our Jeep JLU had no issues traversing the trail. The views provided as the trail rolled up and down the slickrock fins reminded me of all the pictures I've seen of Easter Jeep Safari, and Moab wheeling in general. I was happy to finally spend time on this iconic Moab trail.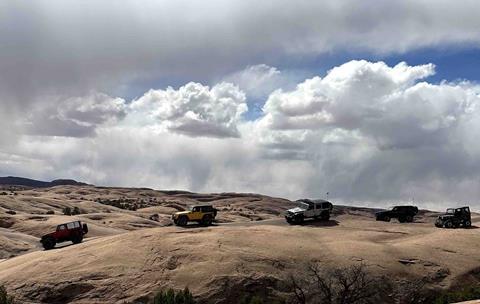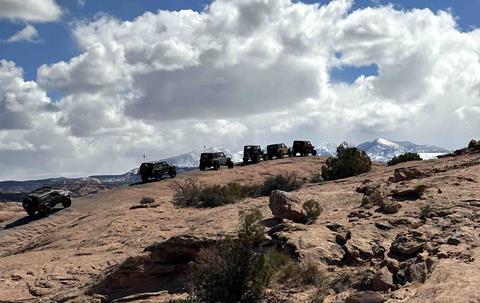 Thanks for the memories, Moab
The remainder of my trip involved connecting with customers at the vendor expo, where RealTruck had fantastic deals on Jeep parts, coupons for future purchases, and our new lifestyle apparel that we were excited to unveil to attendees. The rest of our time was spent at team dinners and exploring some of Moab's nightlife. That said, I was bummed to miss out on visiting Woody's Tavern, which is a popular watering hole among Easter Jeep Safari participants, so I guess I'll just have to go back next year!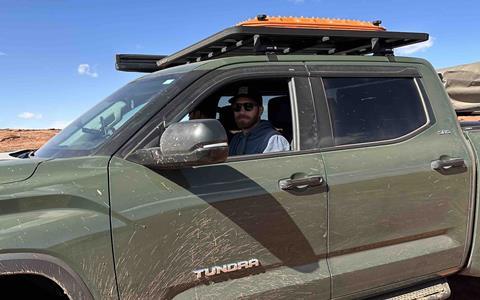 Overall, I had a great time at Easter Jeep Safari and learned a lot from my time wheeling in Moab. Here are two key takeaways:
First, this is an excellent event that all Jeep owners should try to attend at some point. Everyone who attended the event was just awesome, and the area itself is unlike anything else I've explored or visited. My second takeaway was that my next trip back will include more toys – next year I'll certainly have our Jeep LJ and mountain bikes on a trailer, so we have more options to explore and get Out in the Real.