For over eight decades, Jeep has pushed the off-road envelope to expand its popular 4x4 enthusiast base. From auto show reveals to the latest-and-greatest offerings from Jeep Performance Parts (JPP), the automaker stands proud of its off-pavement convictions.
Each year, Jeep debuts its new one-of-a-kind 4x4 concepts at the Easter Jeep Safari event in Moab, Utah. Thousands of Jeepers descend from all over the world to tackle the red-rock trails and get a glimpse of their latest four-wheel-drive iterations. This year, Jeep showcased seven distinctive concepts—just in time to help celebrate the 57th-annual off-roading event. We drove all of them for a day of fun, dirt, and everything in between.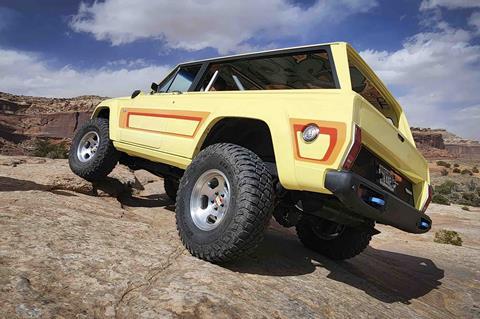 Each one of the concepts were equipped with different powertrains, with four of the seven electrified. Additionally, the latest prototype and production parts were showcased on, and in the vehicles, too.
"Every year, more than 20,000 Jeep enthusiasts descend on Moab, Utah, for Easter Jeep Safari to wheel in the most extreme off-road conditions, where our engineers continue to push the capability of our Jeep vehicles to next levels," said Jim Morrison, senior vice president and head of Jeep brand North America.
"It's the perfect place to showcase our seven new Jeep concepts, because it's with these Jeep enthusiasts that we'll be able to push the limits even more and get their feedback on where they want to take the Jeep brand into the future."
Electrified Off-Roaders
1978 Jeep Cherokee 4xe Concept: Quite possibly the coolest concept of the year, this plug-in hybrid 4x4 marries a 2022 Jeep Wrangler Rubicon 4xe's powertrain with a seriously transformed 1978 Jeep Cherokee SJ body. The classic chrome grille is accented by a WARN winch while a badass retro paint scheme is finished off with mag-style wheels and 37-inch tires.
Jeep Wrangler Magneto 3.0 Concept: It's the third (and final year) for this all-electric concept to make a showing as it was the test mule for Jeep's upcoming Recon EV. Three new driver select modes offer two power settings: normal at 285 horsepower and 273 lb.-ft. of torque and maximum at a remarkable 650 horsepower and 900 lb.-ft. of torque.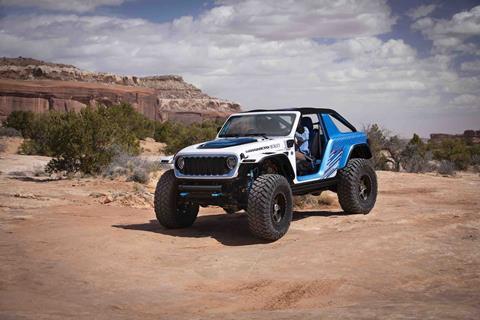 Jeep Wrangler Rubicon 4xe Departure Concept: This concept featured a rich color scheme with Nappa leather and oodles of JPP concept and ready-to-buy parts. Custom fender flares and wheel fender liners add additional clearance for larger tires while removable, integral daytime running lights (DRL) covers are included if every bit of space is needed for trail-side articulation.
Jeep Wrangler Rubicon 4xe Concept: Celebrating the limited-edition pink Tuscadero 2021 Jeep Wrangler paint hue, this concept offers an even more saturated magenta tone to its paint. Oddly displaying no name, though whispers of words that rhymed with pink that started with the letter "k" around this mystery machine that suddenly changed its theme before its showing.
This concept, along with the Scrambler 392 concept, features the newly released AccuAir adjustable air suspension kit that allows drivers the ability to alter the vehicle's height from 1.5 inches to 5.5 inches depending on trail conditions.
Traditional Powertrains, Nonconventional Designs
Jeep Scrambler 392 Concept: This high-horsepower concept combines a 6.4-liter HEMI V8 engine echoes of its origin, Jeep's first convertible, compact truck. The Sublime green Scrambler started as a four-door Rubicon 392 but got its rear chopped, gained a short truck bed, and an origami-shaped carbon-fiber body. Yes, please.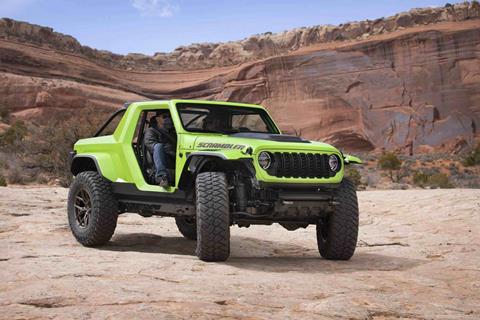 Grand Wagoneer Overland Concept: Delivering 510 horsepower and 510 lb.-ft. of torque, this premium SUV concept joins overlanding appointments with a bit of luxury. A custom RedTail Overland Skyloft rooftop tent and repositioned roof access point frames the Grand Wagoneer Overland concept whereas a pair of WARN winches are affixed to both ends of this eccentric and capable off-roader.
Jeep Gladiator Rubicon Sideburn Concept: Powered by the 3.6-liter Pentastar V6, the Sideburn concept showcases a plethora of JPP custom and readily available Gladiator parts. Most evident is the custom fold-down tubular grille guard that protects the seven-slot grille used from the 2023 Jeep Wrangler Rubicon 20th Anniversary 4x4.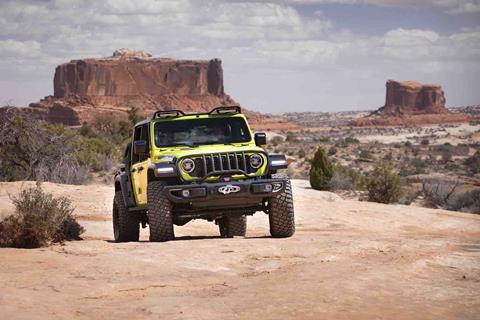 Which of these seven concept 4x4s of distiction would you wheel?
In our opinion, we'd nab keys to all of them.