"I've never owned a Toyota before and although I know how legendary Land Cruisers are, I've never considered getting one either."
I have a confession to make. It's been a couple of years since I last had an off road vehicle. Working in this industry, covering all the latest and greatest in the world of overland and off road, you'd think how can that be? How does an Editor of a vehicle-based outdoor lifestyle magazine not have a rig of his own? Let's back it up a few months and I'll explain.
My previous ride was a 2004 Land Rover Discovery II, which I had for well over a decade. It was my only off road vehicle so as you can imagine, I took it everywhere. As much as I loved my truck, it was time to move on and get something else; something more modern. When I first heard of the Ford Maverick, it immediately caught my attention. An affordable off road capable compact pickup that boasted decent gas milage? What's not to like? I went ahead and put the Disco up for sale and started looking into Mavericks.
It's no secret that the Maverick is a hot seller that's pretty hard to come by. I thought I knew this, but wow, I didn't know to what extent its scarcity actually was. One year goes by and I'm still looking. Not daily, but once in a while I'll stop by a dealership or look for one online. It was less than a year ago that Ford announced the Maverick Tremor. The Tremor trim is geared for off roading and I thought it would make a perfect vehicle to base an overland-style build on. That was the thought anyway.
When I finally got to see one in person, I was sold. Avalanche Gray with all the bells and whistles. "Sign me up!", I said. The window sticker said, settle down now, I'm carrying an almost no-room-to-negotiate-$15k-mark-up. After I stuffed my eyes back into my skull, I said let's keep looking. A few months go by and still no luck finding a Maverick Tremor at a reasonable price. Realizing that I'd be better off placing an order for a 2024 model, I worked out the timetable and saw that I might not take delivery until late-2023 or early-2024… if I was lucky. Plus, who knows what shenanigans the dealer will play once the truck was ready to be delivered.
So, on a whim I started looking up used 4x4s on AutoTrader and OfferUp. I hate car payments and avoid them when possible, but I was willing to take on a car payment if I was able to buy a Maverick. But since I was going used, I limited my budget so I could buy a truck outright so I didn't need to take on a car payment. The search was on.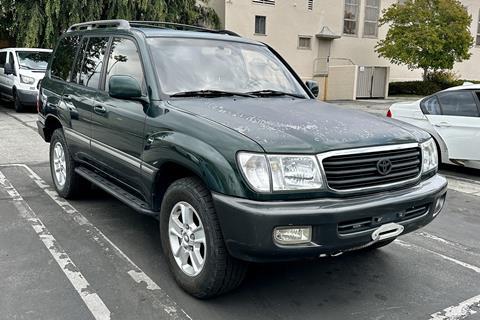 I always wanted a Jeep XJ, so I started looking there. The last I looked, clean XJ's used to be about 3- or 4-grand or so. To my shock, the clean ones that I managed to find have rocketed up to north of $7,000 and I even spotted one listed for $13,900! Never mind that. I changed my search parameters to 4x4's within a 100-mile radius that were listed for $15,000 and under. That's when the green machine you see here popped up into the listings, a 1999 Toyota Land Cruiser (100 Series) with some light off road modifications.
I've never owned a Toyota before and although I know how legendary Land Cruisers are, I've never considered getting one either. I'm not totally sure why, perhaps I gravitate towards quirkier, boxy vehicles such as the Disco and the XJ. This LC100 has been driven just shy of 300,000 miles and its asking price was $13,500. With peeling clearcoat and wear and tear all over, it's seen better days but was still in decent overall shape.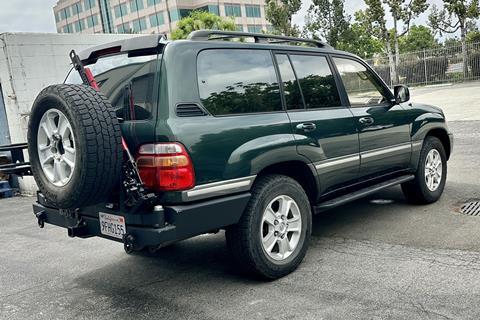 Considering that the LC100 had modifications such as Slee Offroad Slider Steps, BIO Off Road dual swing out rear bumper, Old Man Emu rear springs, a hidden Smittybilt X20 winch mounted behind the license plate in the front bumper, a Hi-Lift Jack, Cooper Discoverer AT3 4S tires mounted on 17" OEM Toyota Tundra wheels and more. The rig was ready to hit the trails as is, which did make it that much more appealing. After giving it a once over, I took it out for a test drive. That test drive really opened my eyes to the greatness of Land Cruisers.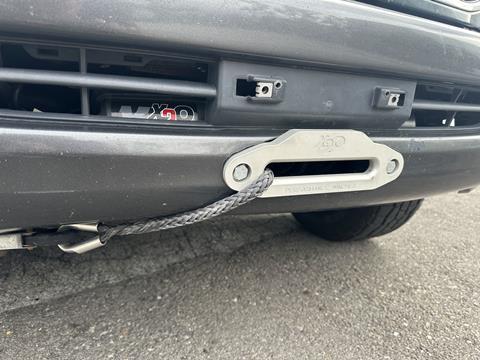 Compared to the Disco, the LC100's ride, build and handling qualities made it feel like I was driving a luxury sedan. The engine was quiet yet powerful and the ride was ultra-smooth, plus there were no rattles to be heard anywhere. The thing just drives solid with an abundance of confidence and its large windows give the occupants fantastic visibility. It's amazing for a 24-year-old vehicle. I was sold on it. The seller and I worked a deal out for far less than just the markup of that Maverick Tremor I looked at.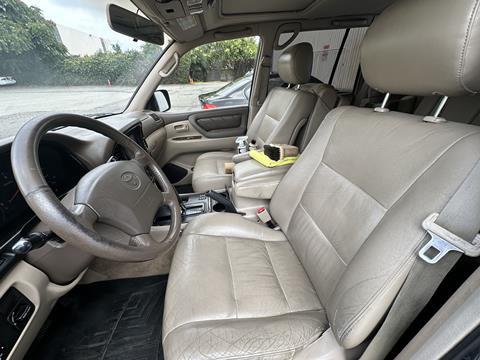 I did more homework into 100 Series Land Cruisers after taking it home and have to say it's an impressive truck, especially to serve as the foundation of an overland-style vehicle. This 1999 model comes with factory center and rear diff lockers and features a 2UZ-FE 4.7-liter V8 engine, one of the most reliable powerplants Toyota has ever produced. Even with 300k miles on the odometer, it feels like it's just getting going.
Not to disparage it, but my Disco only had 90k miles on it and it didn't feel this good to drive. I'm now seeing why Toyota owners are so proud of their vehicles. I can't wait to take it out for a trail run.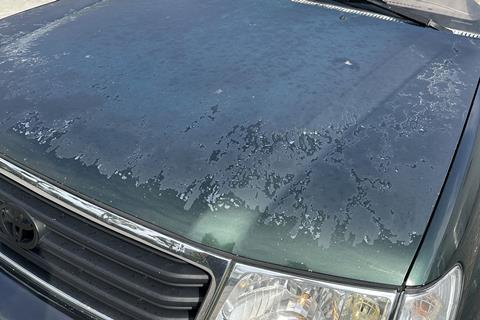 Now will I still try to buy a Ford Maverick down the line sometime? Perhaps… whenever the market stabilizes and dealers come to their senses. But for now, I'm having a ton of fun working on the LC100. Now that I am once again off road capable, I'll be focusing my attention on this LC100 project so I can get back on the trails. I'm already making upgrade plans for it, so stay tuned for build updates on this website as well as on OVR's Instagram account. (Land Cruiser owners, I'd be happy to hear out your modification suggestions too, just comment below.) In the meantime, I plan to do a much needed deep clean and take care of that peeling clear coat somehow. But before all that, perhaps I'll go hit a trail first.