Like most vehicles you see on the trail, Joshua Hayes' 2020 Jeep Gladiator Rubicon is a continual work in progress. It's been modified here and there throughout the few years that he's owned it and is pictured here in its second evolution. Before we take a deep dive into the Jeep, let's find out what motivated him to build it.
Hayes explains to us that he had a TD42 Nissan Patrol when he was in New Zealand and drove 5,000 miles in it. He loved the feeling of exploration he got when roaming around in the Patrol and wanted to replicate that feeling after he relocated to the States. This is how he found himself in Florida, looking for a new project vehicle.
This was about when the pandemic hit and, as the world shut down, everything fell into place for his get-out-and-explore vehicle. Hayes found his Gladiator only two days after beginning his search, buying it off the lot in West Palm Beach with just 17 miles on the odometer. He tells us that he immediately fell in love with his new ride. He also says it's his first Jeep and that he's "still trying to understand the Jeep thing."
Hayes continues to say: "I knew that it was new and controversial, twin-locked stock and an easy option to build on and be capable out the box. I looked at a lot of Tacomas, 4Runners, Raptors, Tundras, and it just made sense for what I wanted. It was built to travel the USA and see all of the national parks and hardest trails in America."
Hayes' Jeep was built as a "rocklander." He drives hard, has fun, and camps when he's done driving for the day. He feels that a lot of the newer exploration setups that he's seen are too heavy and restrict wheeling ability. In fact, weight was also the most challenging part of building this Jeep. Thinking about payload and keeping the rig light was a priority. He says that the JT is over its gross vehicle mass rating configured as it is, but the upgraded suspension allows it to work as hard as it does.
Most of the work on this Jeep was done by Hayes himself along with some helpful friends that include Aidan and Khris at Long Range America and John at WULF4x4. The Gladiator is powered by a factory stock 3.6 Pentastar V6, which drives a driveline that includes Dana 44 axles that have been augmented with Nitro Gear 5:13 gears and Adams 1350 driveshafts.
A look underneath the JT reveals a suspension package that includes Tereflex Falcon 3.3 adjustable shocks up front and a host of other components also made by Teraflex, including speed bumps, 4.5-inch plush-ride coil springs, and Alpine IR adjustable arms on all four corners. In the rear are Carbonshocks 12x2.5 triple bypass shocks and Carbonshocks 2.0 hydraulic 4-inch travel bumpstops that allow for 12 inches of travel, all mated to a Teraflex extended-travel rear end, with 4.5-inch Evo HD coils and a one-inch spacer to handle the extra load.
These upgrades allow the Jeep to take on rough trails with a smooth ride. To allow the Jeep to steer and track correctly over unimproved terrain, Hayes also installed Teraflex's chromoly tie rod kit, drag link, and track bar to give his ride a precise steering feel on the trails.
On the Gladiator's exterior, you'll find that it's hooked-up in the lighting department. There are plenty of KC HiLites lamps, including a Gravity Pro6 LED light bar, two Flex Era 4 amber floods, four C2 LED side lights, a whopping 14 Cyclone V2 lights under the frame, and two Flex Era 3 amber chase lights.
The Jeep's front end features an ARB stubby front bumper that houses a Warn VR EVO 12 winch paired with a Factor 55 FatLink. The 12,000-pound-capable winch is ideal for 3/4- and 1-ton pickups that require longer and heavier pulls. Factor 55's FatLink replaces the conventional winch hook in favor of its safer and stronger shackle thimble and D-ring. Vehicle recoveries are made safer and more effortless with this setup.
For extended range, the Jeep is fitted with a Long Range America 17-gallon auxiliary fuel tank. Hayes mentions that it "gives me around 600 miles at 65-70 mph." That's welcome range when traveling on long stretches of road and trail. This Gladiator rolls on Milestar Patagonia M/Ts that are mounted to 17-inch Fuel Covert wheels in bronze and black finish.
Up top, you'll find a JCR Offroad roof rack for Gladiator along with a JCR Overland bedrack mounted over a Softtopper bed cap. This combination gives Hayes plenty of storage options in, over, and around the Gladiator's roof and bed. On top of the roof rack are two Roam Adventure 83L boxes for auxiliary storage and clad to either side of the bedrack are Maxtrax recovery boards. Inside the bed enclosure, you'll find a 3.85-gallon WaterPort for showering. It's plumbed into the JT's ARB Twin Air Compressor so it has high-pressure water on tap. Now that's a nice luxury while away from civilization.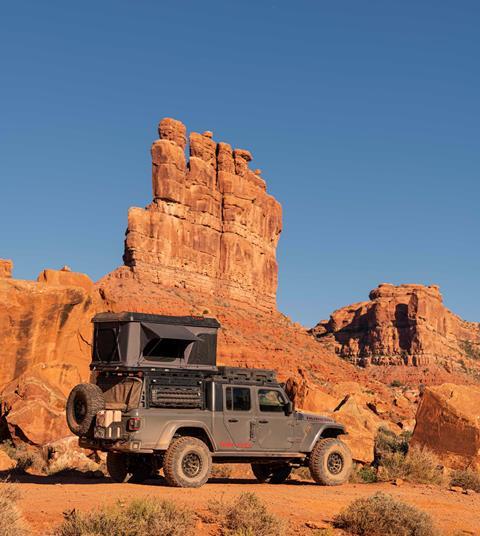 Mounted to the rear is a Kaymar America dual-swing rear bumper. The full-featured bumper comes with a left-side tire swing-out carrier that's suitable for up to a 40" tire and a right-side dual jerry can swing-out carrier. This useful bumper also has a reverse camera and backup sensor integration, a tow receiver and hitch rated at 7,700 lbs, rated recovery points, as well as trailer wiring integration, ARB hydraulic recovery jacking points, and traditional jacking points for Hi-Lift jacks.
Heading inside the cab, we find that the rear seat was deleted by using Goose Gear's second row seat delete plate system. The Jeep Gladiator rear seat delete can be chosen in passenger-side or driver-side versions. Both can be combined to create a complete second row seat delete. Insert nuts in the platforms provide points for anchors to secure gear, including dog crates, fridges, coolers and the like.
Up front, JCR Offroad's center console MOLLE panels add more places to mount items using military MOLLE-style attachment points. The system is modular, perfect for any number of configurations. We also noticed that the JT is capable of both ham radio and GMRS communications.
This Jeep was built for Hayes to explore America, and in it he plans to head to the deep snow of Alaska all the way from sunny Florida sometime this year. Ideally, he would want to take it on a two- to three-month trip and spend every day in a new spot exploring. But work gets in the way, as it always does.
As for the other trips he's already done, he says his favorite trip so far was to the backcountry of Utah's Canyonlands National Park with his buddy JJ. "It's the best trip I've had," Hayes adds. "One week, fully self-sufficient off the rig, deep into the maze we went."
Asked if there was anything else he's like to add about his JT, Hayes tells us, "It's an awesome build. I may look at a Rebel Off-Road triple-bypass coilover kit in the future, but we'll see what happens. I have plans for Alaska this summer and then hoping to do the Pan-American Highway next year." It's a great-looking rig and looks like a fun Jeep to explore in. If you want to see more of it, be sure to follow Joshua Hayes on Instagram at IG: @justanotheroverlander_.
| Base Vehicle: | 2020 Jeep Gladiator Rubicon |
| --- | --- |
| Engine: | 3.6 Pentastar V6 |
| Drivetrain: | Dana 44 axles, Nitro Gear 5:13 gears, Adams Driveshaft 1350 driveshafts |
| Suspension: | Tereflex Falcon 3.3 Adjustable Shocks, Teraflex Speed Bumps, Teraflex 4.5-Inch Plush Ride Coil Springs, Teraflex Alpine IR Adjustable Arms, Teraflex Chromoly Tie Rod Kit, Teraflex Drag Link, Teraflex Track Bar, Carbonshocks 12"x 2.5 Triple Bypass, Carbonshocks 2.0 Hydraulic Bumpstop 4", Teraflex Extended-Travel Suspension System, 4.5-inch Evo HD coils and 1-inch spacer |
| Wheels & Tires: | Fuel Covert (17x9) / Milestar Patagonia M/T (38x13.50x17) |
| Armor & Racks: | ARB Stubby Front Bumper, Kaymar America Dual Swing Rear Bumper |
| Storage: | Goose Gear Rear Seat Delete, JCR Offroad Center Console Molle Panel, Roam Adventure 83L Boxes, JCR Offroad Roof Rack, JCR Overland Bedrack, Softtopper Bed Cap |
| Lighting: | KC Hilites Gravity Pro6 LED light bar, KC Hilites Flex Era 4 Amber Floods, KC Hilites C2 LED Side Lights, KC Hilites Cyclone V2 Lights, KC Hilites Flex Era 3 Amber Chase Lights |
| Upgrades & Accessories: | Warn VR EVO 12 winch, Factor 55 FatLink, Long Range America 17 gallon Auxiliary Fuel Tank, Maxtrax, WaterPort 3.8gal, ARB Twin Air Compressor, ham and GRMS comms |