Want race truck performance from your 2022+ Toyota Tundra without the hassle of custom fabrication? TOTAL CHAOS has you covered with their bolt-on performance lift kit packages that are built for better handling on the street and in the dirt and offer 2-3 inches of lift for the ability to fit 35-inch tires.
The suspension package includes TOTAL CHAOS uniball upper control arms (UCAs) with King 2.5-inch diameter shocks. The UCAs' correct caster for lifted applications and provide one inch of additional wheel travel when paired with extended travel coilover shocks. Compression adjuster knobs on the King coilovers allow you to soften your ride for daily driving and firm up the shocks for off road trails - all with the click of a dial. Matching 2.5-inch diameter rear shocks can be added at the same time or purchased separately to fit any budget.
Want even more performance? TOTAL CHAOS offers an adjustable rear link kit for the 2022+ Tundra and 3-inch diameter King shocks with Internal Bypass (IBP) technology for those looking for the ultimate capability both on and off the road. With manufacturing based in California,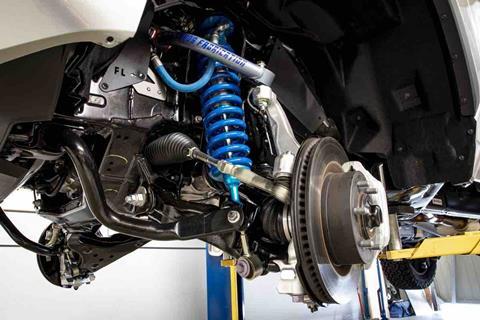 TOTAL CHAOS has all of the components you need in stock and ready to ship. Zero concerns of supply chain issues and the poor quality control that plagues overseas suspension parts.
About Total Chaos
For 25+ years, Total Chaos has been involved in off-road racing in one form or another. Their history and commitment to building quality Toyota suspension systems and accessories have allowed to grow following and loyal customer base. TC parts are currently adventuring and exploring off road trails and rally racing on every continent excluding Antarctica.