After hunkering down due to the COVID pandemic, the 2023 Chicago Auto Show is back in full force. It started over a century ago, in 1901. The Windy City's auto show is the largest in North America and has returned to Chicago's McCormick Place again—for its 115th year.
The Chicago Auto Show is open to the public and runs through February 20. The show features a wide range of Trucks, SUVs, AWDs, and other overlanding and offroading rigs as well as EVS, family sedans, luxury vehicles, and more. Nearly 1,000 vehicles are on display from 19 manufacturers. We spent the day combing through them to give you a snapshot of the latest and greatest 4x4s and AWD comparables. Here are just a few of many that stood out to us.
2024 Ram 1500 Rev BEV Concept-Turned-Production Truck
The Ram 1500 Rev BEV truck takes electrification and technology to a whole new level for the once traditionally ICE-minded manufacturer. This forward-thinking Ram 1500 Rev full-electric truck offers an extensive array of tech-enabled features to make its owner's life easier and richer.
LED lights adorn every facet of this body-on-frame vehicle while the deletion of B-pillars allow for an expansive opening into the interior cabin. Full seat adjustability offers space for multiple configurations, including a powered mid-gate that splits the cabin from a spacious cargo-hauling truck bed, allowing a pass-through from the adjustable tailgate to the frunk to fit cargo up to 18 feet long.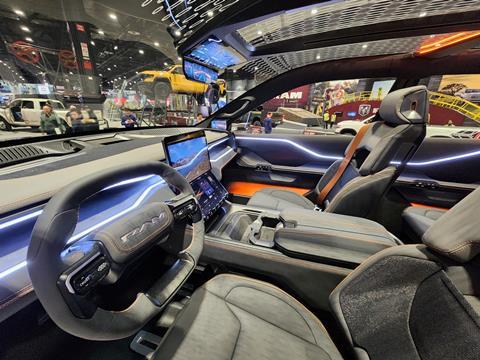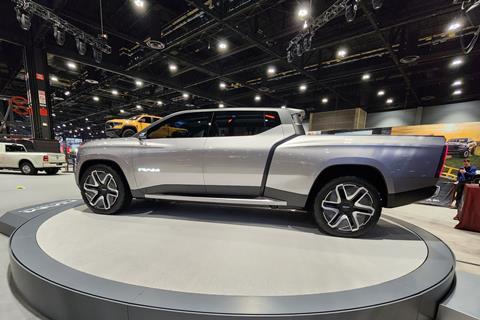 A full center-stack touchscreen offers two full-color panels totaling 28-inches of height. The lower screen has three different position potentials and can even be removed to be used in different areas of the truck. Additionally, the steering wheel can fold flat and tuck out of the way if the vehicle is in autonomous mode or if a workstation space is required.
Jeep Wrangler Rubicon 20th Anniversary 4x4s: 392 and 4xe, Plus Level II Upfit Kit by AEV
Jeep revealed a duo of 20th anniversary special edition Wrangler Rubicon 4x4s to celebrate its most capable off-roader: a high-horsepower Rubicon 392 boasting 470 HP and 470 lb. ft. of torque and a 4xe plug-in hybrid delivering 21 miles of all-electric range, 49 MPGe, and near-silent all-electric off-roading opportunities.
They also upped the surprise by offering a 20th Anniversary Level II upfit kit by American Expedition Vehicles. The AEV Level II kit includes a wide swath of the company's off-road vehicle upgrades, as well as 37-inch BFGoodrich T/A KO2 all-terrain tires and a Warn VR EVO 10-S winch—making either Rubicon choice the most capable stock-supplied Jeep ever.
2024 Toyota Grand Highlander
First revealed at Chicago, the first-ever 2024 Toyota Grand Highlander offers a spacious third row and seating for eight people, along with nearly 21 cubic feet of rear storage capacity (with all rear seats folded down).
The new Toyota SUV also boasts 362 horsepower and 400 lb. ft. of torque and has a manufacturer-estimated rating of up to 34 combined mileage (with its available Hybrid MAX engine). Offering all-wheel-drive capability as an option, the 2024 Grand Highlander can also tow up to 5,000 pounds.
2023 Nissan Ariya AWD e-4ORCE BEV SUV
The Chicago Auto Show is hosting several auto debuts, one of them being the 2023 Nissan Platinum+ e-4ORCE edition BEV SUV. Essentially the size of a Nissan Rogue, this all-electric all-wheel-drive Ariya lives larger inside due to its low battery-pack placement. Additionally, the e-4ORCE Ariya has dual motors (each powering an axle) and includes an extended 87-killowatt battery pack offering approximately 267 adventure-filled miles of range.
The Ariya e-4ORCE edition pushes up to 389 horsepower (with the larger battery pack) and has plenty of up-front torque to match. We can't wait to get behind the wheel of one, especially if it's driving it off the beaten path on dirt, gravel, snow, or ice with it.
2024 Subaru Crosstrek
The all-new third-generation 2024 Subaru Crosstrek made a splash in front of hundreds of onlookers during its official unveiling. Outfitted with new styling, the new Crosstrek features enhanced multimedia technology, upgraded performance and safety features, and a revised Subaru symmetrical all-wheel drive system standard across all trim levels. This includes faster response times, better handling, and more driver control while on the tarmac and off-road.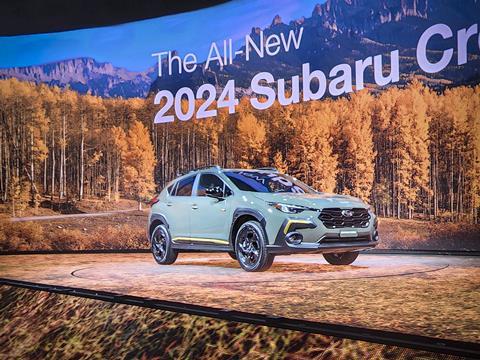 All 2024 Crosstrek vehicles showcase a CVT transmission. Sadly, the manual option has been dropped from this year's Subaru's Crosstrek lineup. Base and Premium models are equipped with a 2.0-liter 4-cylinder Boxer engine producing 152 HP and 145 lb. ft. of torque. The Sport and Limited derivatives jump to a 2.5-liter powerplant delivering 182 HP and 178 lb. ft. of torque. The popular all-wheel-drive adventure wagon starts at the same price of the outgoing 2023 variant: MSRP of $24,995 (excluding destination and deliverer charges).
2024 Volkswagen Atlas and Atlas Cross Sport
The 2024 Volkswagen Atlas and Atlas Cross Sport also debuted at the show. Available with the 4Motion all-wheel-drive system across the model lineup, the major refresh of the Atlas family showcased significant interior upgrades along with exterior enhancements. The Atlas family was the first modern Volkswagen specifically made for the U.S. market.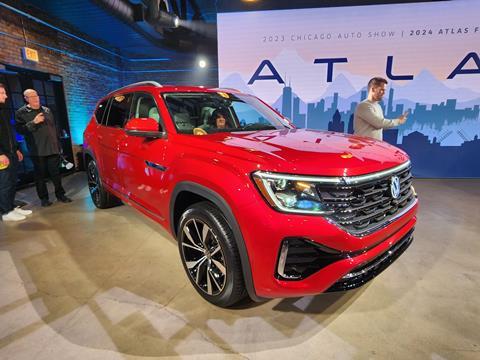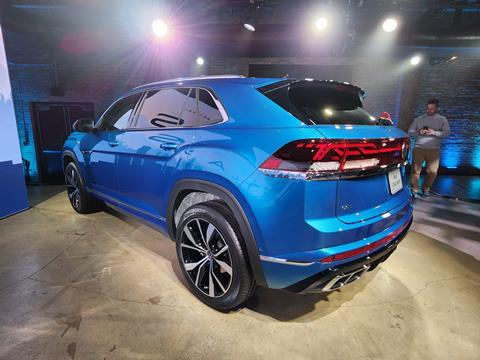 For 2024, the Atlas family will be powered by a four-cylinder turbocharged engine producing 269 horsepower and 273 lb. ft. of torque. Towing capacity remains the same at 5,000 pounds. The Atlas family is a sophisticated version of itself, allowing a wide variety of creature comforts with the option of all-wheel-drive capability for adventure-filled fun. Additional specs and pricing will be shared before its launch in early 2023.
Summing It Up
No matter your flavor, the 2023 Chicago Auto show has something for everyone. Love hiking and year-round road trips? They've got you covered. Got rocks and hardcore trails on your mind? You'll find the latest 4x4s there, too. The yearly Chicago Auto Show is set to impress with vehicle displays, indoor test tracks, interactive auto exhibits, and more. Click here to purchase tickets to the show.