Sherwood, Oregon. (October 27, 2023) — Ironman 4x4 offers a vast array of off-road parts, accessories, and equipment for many popular vehicle applications. However, the company may be best known for its suspension kits. After all, Ironman 4x4's roots lie in spring manufacturing. The Australia-based company is now excited to announce its latest suspension application, the Foam Cell 2.5" Suspension Lift Kit for 2022+ Toyota Tundra. The kit uses the Ironman 4x4's Foam Cell Technology to provide increased performance on and off road while providing 2.5" of lift for extra ground clearance and articulation. This kit is covered by Ironman 4x4's "Iron Clad" four-year, unlimited-mile warranty.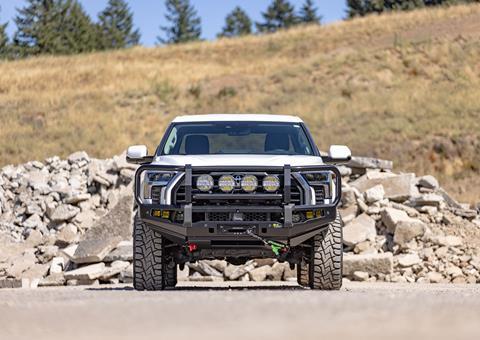 Tuned Foam Cell Pro Shocks
The Foam Cell Pro shocks feature a 2.8" twin-tube body to protect the internal components from trail damage and hard use. Their big diameter also increases oil volume for improved cooling and endurance on long stretches—especially on washboard.
The Foam Cell Technology employs a foam sleave with countless tiny nitrogen bubbles help to take advantage of premium Fuchs oil. This eliminates shock fade by increasing thermal capacity and decreasing high internal pressures. The end result is a high-performance, low-maintenance suspension solution with extended travel over the factory shock absorbers.
Unlike some shock manufacturers, the Ironman 4x4 Foam Cell Pro shocks have vehicle-specific valving. This means custom shock tuning has been done for this particular year, make, and model. (They aren't just an off-the-shelf solution.) This equates to tailored, custom performance tailor-made for the 2022+ Toyota Tundra.
If owners ever need to refurbish these units, the shocks feature a rebuildable design. Components like seals, wipers, and bushings are all replaceable. To keep these shocks performing at their peak, they come with impact-resistant stone shields. These polyethylene dust guards protect the shocks from impact from debris helping to extend shock life. The tough fusion-welded mounts add strength and increase reliability.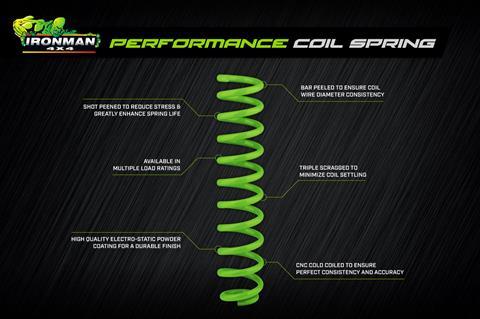 Ironman 4x4 Coil Springs: 65 Years Of Experience
Ironman 4x4s was founded on quality spring manufacturing, and that pride continues with this kit. The coils for the 2022+ Toyota Tundra are designed to provide a safe, comfortable ride with added ground clearance. The springs are matched to the Foam Cell Pro springs for optimal performance.
There are three spring choices for the front and rear springs: Buyers can select light, medium, or heavy load springs for the front, depending on the extra weight from items such as winch bumpers. The rear springs can also be had in various weights so buyer's can get the right spring for their expected payloads. These options let buyers build a custom setup for their truck's specific requirements.
About Ironman 4x4
Founded in 1958 by German immigrant, Guenter Jacob, Ironman 4x4 offers 65 years of experience in the aftermarket truck segment and is sold in over 160 countries. With global headquarters in Dandenong South, Victoria Australia and a U.S. division in Sherwood, Oregon, the company offers a wide array of products for off-roaders and outdoor enthusiasts. While the company may be best known for its springs and shocks, it offers everything from bumpers and armor to roof top tents and awnings to LED lighting and camping gear. Ironman 4x4 has a full suite of products to help its customers elevate their adventures.