PRESS RELEASE: Los Angeles, USA – September 1, 2023
Front Runner Dometic is known for its leading innovation and off-road tough overlanding and camping equipment. Dometic is proud to announce the release of the all-new Ford Bronco Slimline II Roof Rack.
Developed exclusively for the iconic Ford Bronco, this state-of-the- art rack kit is the epitome of strength and versatility, making it the perfect adventure partner for the latest Ford Bronco.
When launched in 1965, the Ford Bronco was labelled America's original SUV. Like its predecessors, the newer version perfectly blends classic American automotive engineering with an endless spirit of adventure. With the addition of the tough Slimline II Roof Rack, it's now poised to take on the most demanding trails imaginable.
Crafted with durability, utility, and style at its core, the Slimline II Roof Rack is a testament to Dometic's commitment to quality and innovation. The combination of the Ford Bronco and the new Slimline II Roof Rack represents an exciting new frontier for the outdoor enthusiast. This rack has been engineered to integrate seamlessly with the Bronco, enhancing its rugged charm and boosting functionality.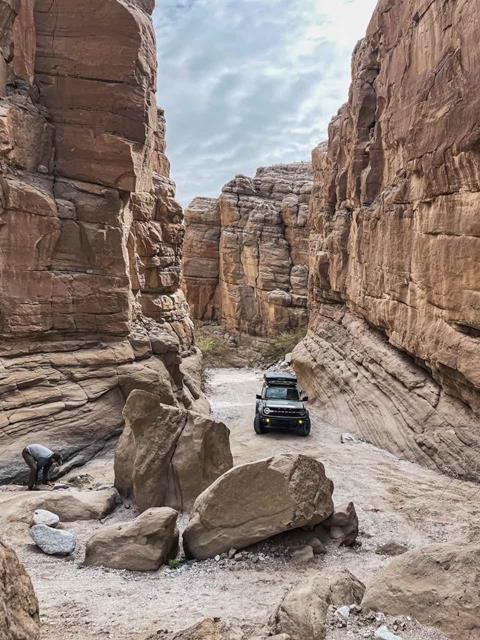 This sturdy Slimline II rack is ready to handle bulky luggage, storage boxes, camping gear, bicycles, or kayaks. Bronco owners can tailor their gear-on-rack set- up to suit the occasion, be that a beach break or hitting some off-road trails. Like the original Bronco, Front Runner Dometic's Slimline II rack has stood the test of time, and this rack kit gives Bronco owners access to over 55 rack accessories. Dometic has also launched two new Bronco-specific products: a Drawer Kit for storing and organizing gear and a Drop Down Tailgate Table which offers an instant work or food-prep surface.
Key features of the Slimline II Roof Rack include high- density aluminum construction, bolt-on installation, and a versatile design that provides flexibility for various load- carrying capabilities.
Both the Ford Bronco and the Slimline II Roof Rack truly embody a spirit of adventure. Together they offer the outdoor enthusiast and the off-road lovers the complete package. The time has come for Bronco owners to blaze new trails with the Slimline II Roof Rack Kit.
The Ford Bronco 4 Door Hard Top Slimline II Rack Kit is now available for consumers to purchase (MSRP: $1,980) directly from the online shop, through our Experience Center in Agoura Hills, CA or through a local Dometic official dealer.
About Dometic
Dometic is a global market leader in the mobile living industry. Millions of people around the world use Dometic products in outdoor, residential, and professional applications. Our motivation is to create smart, sustainable, and reliable products with outstanding design for an outdoor and mobile lifestyle in the areas of Food & Beverage, Climate, Power & Control, and Other Applications. Dometic employs approximately 8,500 people worldwide, had net sales of SEK 29.8 billion (USD 3.0 billion) in 2022 and is headquartered in Stockholm, Sweden.
For more information on Dometic, please visit: http://www.dometic.com.