Unique solar-powered trailers can recharge a Rivian and other electrical components, deep into the backcountry without the need for locating recharging stations.
OPTIMA Batteries, a leading brand of Clarios, debuted two Rivian EV Overland builds at the 2022 SEMA Show to charge the off-road enthusiast EV market in collaboration with DCE, a new EV product line by Weistec Engineering. Featuring unique solar-powered trailers that can recharge the Rivians and other electrical components, the high-end builds are capable of venturing deep into the backcountry without the need for locating recharging stations.
Building from the already-capable Rivian R1T and R1S platforms, the OPTIMA team outfitted the vehicles with overlanding necessities like 35-inch BFGoodrich All-Terrain T/A KO2 tires, custom 20-inch Alston BR005 Forged Black Rhino Wheels finished in bronze, Camp King and iKamper tents, an 84,400-lumen Baja Designs light package controlled by a Switch Pro switch panel and front-to-back Overland Ruff Rax modular racks. Both Rivians are fitted with two of OPTIMA's all-new ORANGETOP HYPERCORE Lithium QUAD 30 batteries. These modifications transform the Rivians into overlanding powerhouses while maintaining on-road drivability and comfort.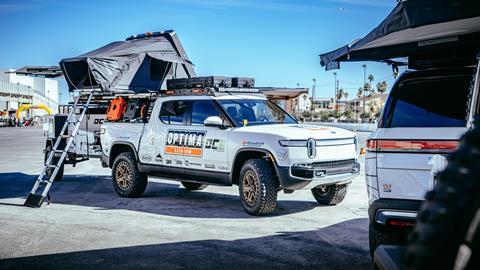 These extensive upgrades equip the R1T and R1S with all that they need to drive deep into the wilderness, but the innovation becomes even more apparent once owners need to get back home. Once they reach their off-grid destination, OPTIMA engineered a solution to ensure they have the power to get back. The Turtleback trailers that pair with the Rivian builds are outfitted with 110kW lithium-ion energy courtesy of Volta Technologies to become an OPTIMA Power Station. OPTIMA Power Stations are capable of storing enough energy to safely recharge the Rivians at Level 2 EV charging speeds from zero to 80%. Aside from recharging vehicles, OPTIMA Power Stations have 110-volt, 220-volt AC and 12-volt DC outlets for users to power other accessories when at a campsite or working remotely. DCE devoted hundreds of hours to engineering and fabricating these custom builds, including the industry-first deployable solar awning that distinguishes these builds as truly revolutionary.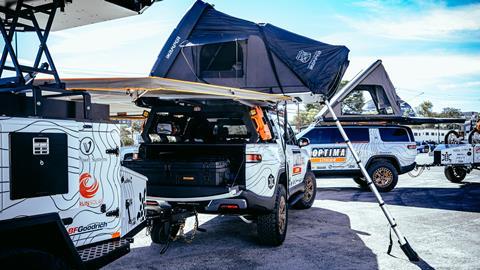 The two custom trailers from Turtleback Trailers, one Utility Turtle and one Kitchen Turtle, are both fitted with BFGoodrich All-Terrain K02 tires. The Kitchen Turtle trailer will showcase the 110kW lithium-ion battery pack and the revolutionary deployable Merlin Solar awning that will aid in recharging when camping off-grid. It will also include an overland kitchen unit with an electric stove, a sink with running hot and cold water and a 45-gallon water tank. The Utility Turtle features two CAKE Kalk OR Race electric motorcycles and storage for all the adventure gear an overlander requires.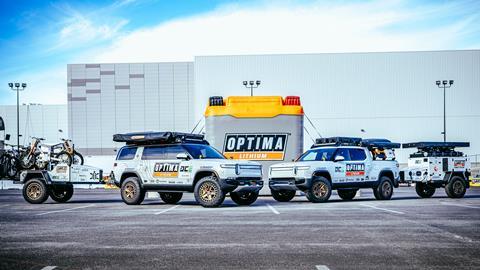 OPTIMA Batteries partnered with each of these companies to expand the increasingly popular world of overlanding to EV owners. Additionally, the suspension manufacturer Monroe Intelligent Suspensions, known for semi-active suspensions, is a major sponsor of the builds. OPTIMA hopes these Rivians will open the great outdoors not just to Rivian owners but all EV owners. OPTIMA will take these builds to various off-road and racing events in 2023, including conquering the red rocks and legendary trails of Moab, Utah, at Easter Jeep Safari, the death-defying drops and daunting desert landscape of Johnson Valley, California, for King of the Hammers, and the legendary diversity and demands of Baja, Mexico, and the Baja 1000.
About OPTIMA Batteries
OPTIMA high-performance automotive, marine, heavy-duty AGM and lithium batteries are manufactured by Clarios, LLC, the world's largest manufacturer of automotive batteries. OPTIMA REDTOP, YELLOWTOP and BLUETOP batteries feature state-of-the-art SPIRALCELL TECHNOLOGY. This patented design allows OPTIMA batteries to deliver superior performance in both starting and deep cycling applications. OPTIMA ORANGETOP batteries are the newest additions to the legendary line of reliable performance batteries with six sizes available that utilize HYPERCORE LITHIUM technology. This new offering allows for more than 95% of the powersports market to experience the power and performance of OPTIMA Batteries. The OPTIMA product family also includes a line of Digital Chargers, with advanced multi-stage charging to charge and maintain a variety of 12V vehicle batteries, maximizing battery life and performance. To learn more or to purchase OPTIMA products, please visit www.optimabatteries.com.
About Clarios
Clarios is the global leader in advanced, low-voltage battery technologies for mobility. We power progress through ever-smarter solutions for virtually every kind of vehicle. With 16,000 employees in over 140 countries, we bring deep expertise to our aftermarket and OEM partners and reliability, safety and comfort to everyday lives. We answer to the planet with a rigorous ESG focus – advancing best-in-class sustainability practices and advocating for them across our industry. We recover, recycle and reuse up to 99% of our battery materials. Clarios is a Brookfield portfolio company.