Scaler is a special section in OVR that is dedicated to scaled-down, radio-controlled (RC) overlanders and off-road vehicles. For many full-size off-roader enthusiasts, seeing a miniaturized yet realistic-looking truck is a fun curiosity.
Is that a rusted-out FJ40 out on the trail? Close, but not quite. It's a scaled-down RC off-roader whose body is made of a thin sheet of plastic. It looks amazing, doesn't it? Not only does this scale model look great, but it can crawl much like your full-size rig can.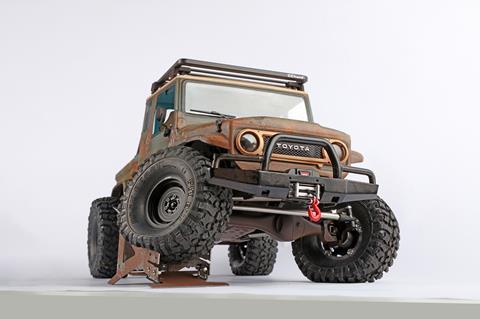 Based on a Vanquish VS4-10 Phoenix kit, this four-wheel-drive electric-powered RC crawler is fitted with a Vanquish VFD Twin Transmission and is capable of selectable overdrive and rear dig functions. What that means is that when you're on the trail or back at basecamp, you're in for some serious scale crawling. This FJ40 project was created through a collaboration of RC builders Broc LaRouche of Broc's RC and Robert "Scale Rat" Pezza. LaRouche was responsible for the mechanical side of things and Pezza took care of the aesthetics.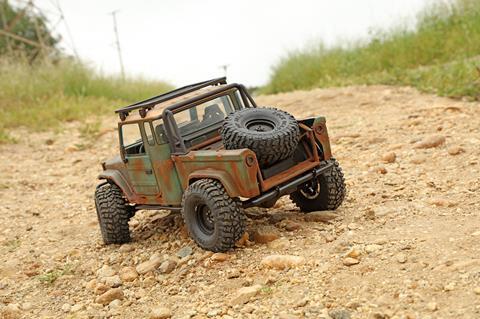 Beginning with the RC truck's chassis, LaRouche assembled the FJ40's driveline, which includes Vanquish's scaled-down Currie F10 aluminum axles in the front and rear as well as a host of other licensed and miniaturized components. You'll also find a working Warn 9.5cti-s winch mounted on a steel bumper, both manufactured by RC4WD. Yes, the winch can pull the FJ40 out of trouble if it ever gets stuck in a tricky situation. Scale recovery is a thing in the RC world.
Steering and transmission shifting are bolstered by a host of powerful Reefs RC servos. The crawler also rides on KMC Roswell beadlock wheels made by Incision (in black), while the tires are 4.45-inch-tall Pit Bull Rock Beasts.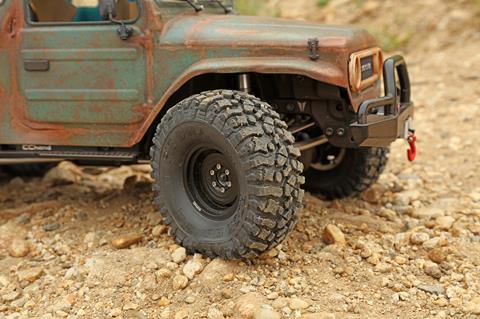 The FJ40's look was the responsibility of mister Scale Rat himself, Robert Pezza. Pezza installed an accurately reproduced FJ40 front grille and other details such as 1/10-scale door handles, side mirrors, a roof rack, rock sliders and more. Note that the tires' sidewalls are soft for an aired-down look and performance. Interestingly, the rock sliders and roof rack, also available from RC4WD, are made of aluminum and the rear bumper is made of steel for extra protection.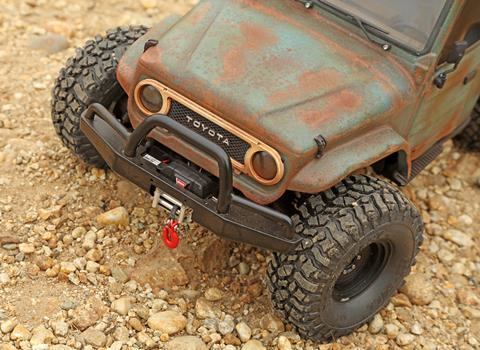 Early on, Pezza decided to give the FJ40's glossy new body the weathered and aged look. He did this by carefully heating up a few spots with a narrow heat gun, and then used the butt end of a screwdriver to make impressions in the plastic body. He also used a sharp blade to slightly cut around the door trim and then heated it to warp the cut area, making it look corroded. These imperfections would give the body a more weathered look after painting.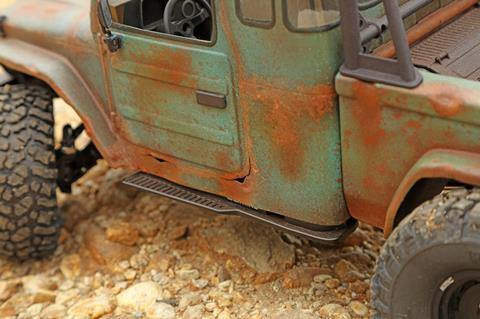 For the paint process, Pezza strategically sprayed the base colors in certain areas for the desired weathered effects. For the rust effect, he used a mixture of real rust made from steel wool, white vinegar, and coarse salt, which was then applied like a thick paint to give the body a realistic corroded look. The result is a decades-old, rusted metal patina that has been applied to brand-new plastic.
The Vanquish VS4-10 crawler is one of the most capable RC off-road vehicles that we've had the pleasure of driving. The rusty old FJ40 body on it made it even more enjoyable. We're love with taking these RC trucks on realistic off-road excursions… as well as simply playing with them in our back yards. If you haven't had the chance to build or drive one of these scaled-down off-road replicas, we encourage you to try it out. It's big fun in a small package to be sure.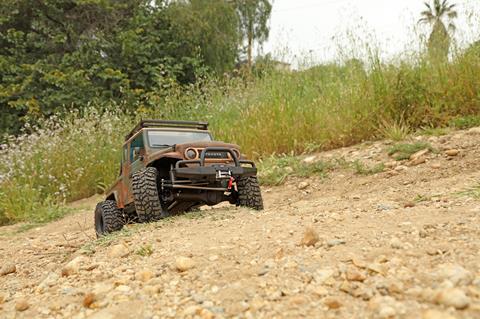 To watch behind-the-scenes footage of this RC FJ40 being constructed, have a look at the video LaRouche posted on his Broc's RC YouTube Channel. For more on Broc LaRouche and Robert "Scale Rat" Pezza, check out their social accounts at:
Broc's RC—Instagram: @brocs_rc / YouTube: @BROCSRC
Scale Rat—Instagram: @scalerat20