The combination of the pizza cutter-sized Toyo Tire Open Country A/T III's with Nomad Wheels' 501SA Convoy Salt is just the wheel and tire setup for our Land Cruiser 100 Series we were looking for in terms of looks and performance.
For avid off-roaders and 4x4 enthusiasts, aftermarket wheels and tires offer an opportunity to elevate their vehicles' performance, capabilities as well as looks. When it came time to add our first upgrades to OVR's Land Cruiser 100 (LC100) project vehicle, wheels and tires were the first items we chose to swap out.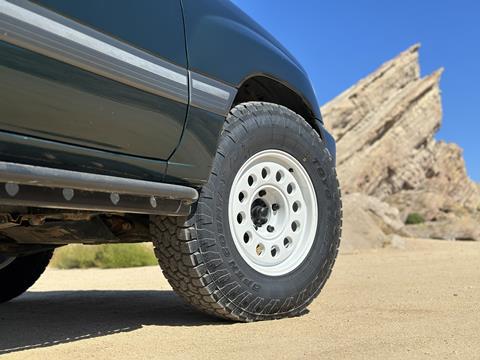 Enhanced Traction
Off-roading often takes you through challenging environments, including muddy trails, rocky paths, and sandy dunes. Aftermarket tires are specifically designed to provide improved traction and grip on such terrains. Specially designed tires feature deeper treads, aggressive patterns, and specialized rubber compounds, allowing your vehicle to maintain traction even in the most demanding conditions. The enhanced grip ensures you can power through obstacles, ascend steep inclines, and navigate tricky descents with confidence.
Improved Strength
These rugged adventures can be punishing on your vehicle's wheels and tires. Aftermarket options are often built with robust materials and reinforced construction to withstand the rigors of off-road driving. These components are designed to resist punctures, sidewall damage, and rim bending, ensuring that you can push your vehicle to its limits without worrying about wheel or tire failures. Alloy wheels are stronger than steel wheels and are often times lighter, increasing not only wheel strength but increasing your rig's range too.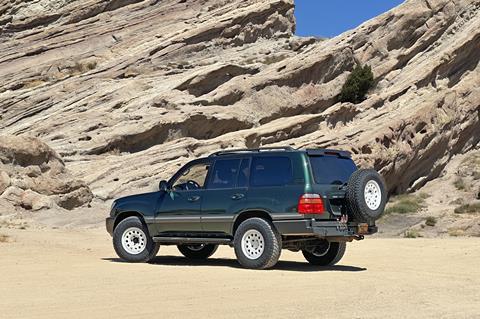 Increased Ground Clearance
Many drivers choose to go with larger than stock wheel and tire sizing to increase vehicle ground clearance and to have a larger contact patch. Increased ground clearance is crucial for off-road vehicles, as it determines the maximum obstacle size your vehicle can tackle without getting stuck. Upsized aftermarket wheels and tires can help increase your vehicle's ground clearance and overall traction, allowing you to conquer larger rocks, fallen logs, and other obstacles. Another benefit to taller tires are taller sidewalls, which allow more "meat" when tires are aired down.
Customization & Personalization
Aftermarket wheels and tires offer a wide range of options to suit your style and preferences. From sleek and aggressive designs to classic and rugged aesthetics, there is a vast selection of aftermarket products to choose from. By selecting the right combination of wheels and tires, you can transform the appearance of your vehicle and make it stand out from the crowd. We were excited to spruce up the Land Cruiser's looks by selecting a new set of wheels.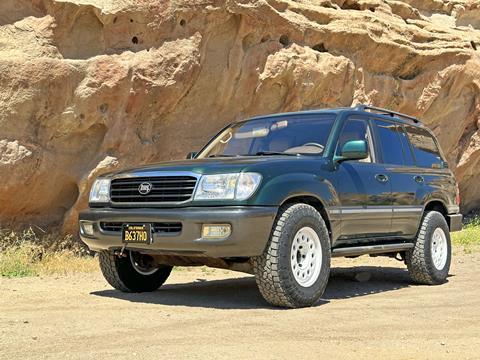 OVR LC100's Setup
Choosing which tire to go with is a difficult decision as there are many great options out there. We ultimately chose to go with Toyo Tires' Open Country A/T III tires. The Open Country A/T III all-terrain tire is one of the newer all-terrain options on the market and is designed not only to supply high amounts of traction when off-road, but also to have responsive on-road handling too. What's more, it's said to be quiet on the road too, which was an important factor for us. We were looking to avoid the head numbing droning sound that's associated with some off-road tires while cruising around town or on the long distances we drive in order to get to a trail. Another bonus is that the Open Country A/T III's sidewall and tread sports an attractive, aggressive look as well.
As for tire size, we went with a "pizza-cutter" style narrow fitment in 34x10.50R17LT sizing. Its inflated factory specs list this size at 33.5" in diameter and 10.6" in width. This is about two-and-a-half inches taller than the tires we are replacing, which is a bonus. Being a taller tire, we did worry about rubbing issues up front due to our pretty much stock vehicle height, but we'll get into that in a moment. First, let's talk wheels.
Again, there are plenty of fantastic choices for wheels on the market. We wanted a classic steel wheel look for the Land Cruiser so Nomad Wheels made it an easy choice for us to make. The company's 501 Convoy wheel features a classic look that is reminiscent of basic steel wheels but with a cleaner, much more modern aesthetic. This design makes the wheel easy to wash too, which is a bonus.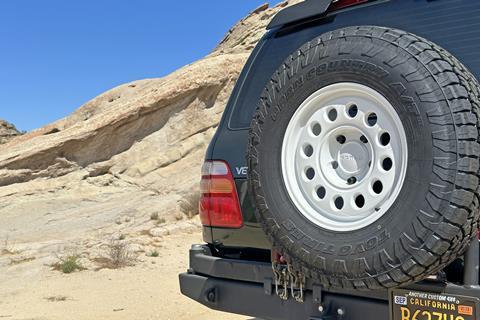 The wheels are crafted from Nomad's FormLite construction out of A356-T6 aluminum alloy, which make them light in weight and sturdy enough to easily endure the punishment of off-road driving. Our set is sized in 17x8.5" with a zero offset. Convoy's zero offset wheel fitment is "pushed out" when compared to Toyota's stock wheel, which gives the Land Cruiser a wider track. This also lends it a more aggressive wheel-well-filling stance as well. We really like the look of the Convoy and appreciate its design details such as the company's slogan, "For The Wayward Individual" that appears on the reverse side of the wheel. 501 Convoy is available in black, gray and the color which we chose, a shade of white aptly named, Salt.
Bigger wheels and tires also mean heavier overall weight. The 17" Toyota Tundra and Cooper Tire Discoverer AT3 4S's in 275/65R18 we were replacing weighed about 69 lbs., 10 oz. each, while our new upsized Nomad and Toyo setup weighs about 79 lbs., 5 oz. each. Including the spare on the back bumper, that's nearly 52 extra pounds that the vehicle is now carrying. That's just something to keep in mind if you choose to go with larger wheels and tires. For a look at the visual side-by-side size differences, take a look at the gallery below.
Installation
To better safeguard against potential trail hazards, we opted for sturdy metal valve stems in a shorter length compared to common rubber ones. This choice ensures increased strength and enhanced protection against damage caused by obstacles encountered during off-road adventures. It's also worth pointing out that the Nomad Convoys require a "tuner" style lug nut, which is slimmer than the standard lug nuts that Toyotas come with.
With the tires mounted and balanced, we excitedly installed them onto the Land Cruiser, wondering if the larger diameter front tires would clear the wheel wells. The LC100 is lifted in its rear with heavy-duty OME springs, which probably raises the truck about 2" to 2.5", so rear fitment wasn't going to be an issue. The front, however, features stock suspension components but is probably raised about an inch over stock height. One of the LC100's previous owners probably adjusted the front tension bars to get that minimal lift.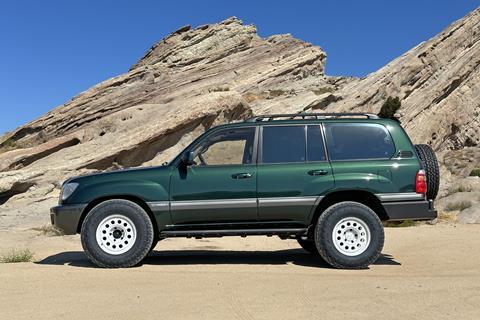 The Rub
We found that the front tires do rub a small amount, but not enough to really worry about. When the wheels are turned 90% to the left or right, the outside tread of either tire will contact the fender lining. It makes a rubber on plastic rubbing noise when in motion but it barely misses contacting any metal surface in the wheel well even under some suspension flex. That said, we will look into trimming the liner and maybe hammer back a seam weld near the potential contact point. It's something that's common to do on LC100's when large diameter tires are installed.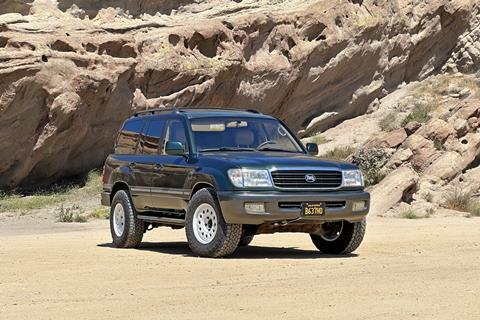 Impressions
We've taken this wheel and tire set up on several trail runs so far and we're more than thrilled with the set. Not only does it give the LC100 a whole new look, but the tires are noticeably capable and very quiet on the highway. The white Nomads are attention grabbers for sure, we've gotten a few compliments on their looks both on and off the trail.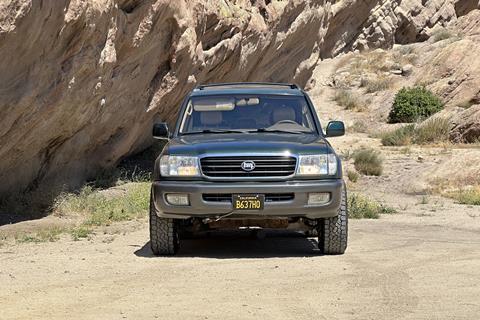 Final Thoughts
The combination of the Toyo Tire Open Country A/T III's with Nomad Wheels' 501SA Convoy Salt is just the wheel and tire setup we were looking for in terms of looks and performance. If you're an off-road enthusiast seeking to take your 4x4 vehicle to new heights, investing in aftermarket wheels and tires can be a game-changer. With improved traction, increased ground clearance, enhanced durability and the opportunity of personalization, we think this upgrade is a no-brainer.