iKamper has been holding unique community events for the past two years and the CAMPOUT series is a continuation of those concerted efforts. In addition to the California event, iKamper is already putting plans in place to hold CAMPOUT gatherings across continents, with the first international event taking place in South Korea May 19th thru 21st, expanding the opportunity for more of the global iKamper community to join in.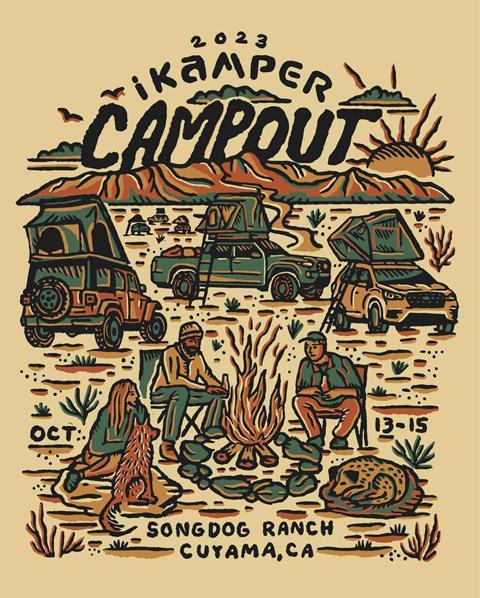 Attendees can expect the same activities–offroad trail runs, chef-prepared meals, live music, etc. For 2023, everyone will have the opportunity for a sneak peek at new products, community raffles, and a chance to connect with the growing tightknit community of owners from coast to coast.
"CAMPOUT is all about celebrating amazing people. This event embodies our 'Love People, Love Nature' motto." said Thomas Rousseve, Community Marketing Manager at iKamper. "The past 2 years have provided a great foundation that we'll continue to improve upon in California and overseas. We're can't wait to bring the iKamper family together again in 2023 to make new friends, plan new adventures, and spend a weekend in California's great outdoors."
Early bird pricing will be available from May 5th to June 8th. Prices will return to regular pricing from June 9th onwards, with the last chance to buy tickets on September 15th.
Early Bird Pricing May 5 - June 8
• Mesa Vehicle (Includes Vehicle and 1 Ticket) $219
• Valley (Non Mesa) Vehicle (Includes Vehicle and 1 Ticket) $159
• General Attendee $79
• General Attendee Youth $59
Regular Admission Pricing June 9 - September 15
• Mesa Vehicle (Includes Vehicle and 1 Ticket) $239
• Valley (Non Mesa) Vehicle (Includes Vehicle and 1 Ticket) $179
• General Attendee $99 ; General Attendee Youth $79
To learn more and purchase tickets, click CAMPOUT
About iKamper:
iKamper is a leading outdoor equipment brand that offers a range of innovative products for camping, hiking, and outdoor adventures. The company is committed to providing high-quality products that are functional, durable, and environmentally friendly. With a focus on design, innovation, and customer satisfaction, iKamper is dedicated to providing the best possible outdoor experience for its customers. Poster Artist : Rachel Jung, @racyco.design