Established as Pazzulla Plastics in Huntington Beach, California in 1952, Goose Gear has evolved into a family-owned enterprise spanning three generations. Its wealth of experience in the field of laminate manufacturing, which exceeds 60 years, is used to create custom cabinetry for your off-road vehicle.
Leveraging this expertise, Goose Gear has devoted itself to producing cabinets that are tailor-made for off-road trucks, SUVs, and campers of all varieties. These cabinets are crafted using cutting-edge CNC machinery, ensuring they are suitable for even the most demanding local or global off-road adventurers.
In this buyer's guide, we take a look at 14 Goose Gear products that we think you may want to consider for your Ford Bronco, Ford Ranger, Ford F-150, Jeep JL/JLU, Jeep Gladiator, Jeep Wrangler, Toyota 4Runner, Toyota Tundra, and the Land Rover Defender. Now without further ado, let's get into it.
FORD BRONCO and JEEP JL/JLU TAILGATE TABLE
This Tailgate Table made for the 6th Gen 2021- Present Ford Bronco and the Jeep Wrangler 2018- Present JL/JLU is durable, sleek in design, and most importantly user friendly! The micro two-stage rotary latches allow for secure closing and storage, while also allowing the user to deploy the table one handed.  The innovative new tables were designed and developed with GP Factor.
Ford Bronco: MSRP: $569.00 (includes shipping)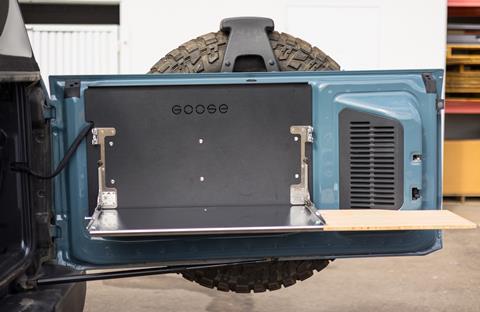 Jeep JL/JLU: MSRP: $550.00 (includes shipping)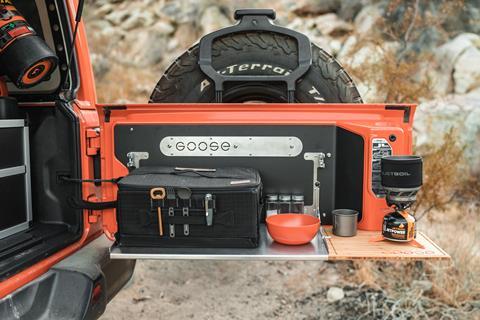 Tailgate Table Features:
No cables required to support the table due to our proprietary reinforced stainless steel hinge system.
Lightweight aluminum back plate - powder coated in a textured black for enhanced durability
Food grade stainless steel table
One handed opening and closing with our easy to use two stage rotary latches
ULTIMATE CHEF & SLEEPING PACKAGE FOR BRONCO NATION
The Ultimate Chef and Sleeping Package for the 6th Gen, 4 Door Ford Bronco, available in grey and black, uses every available cubic inch possible. The Ultimate Chef and Sleeping Package includes the Rear Plate System, the Camp Kitchen 2.31, the Single Drawer Module with Top Plate and the Second Row Seat Delete Plate System. The Goose Gear Ford Bronco 4 Door Rear Plate System is designed and built with industrial grade plywood and coating using our propriety spray methods for superior durability and wear resistance.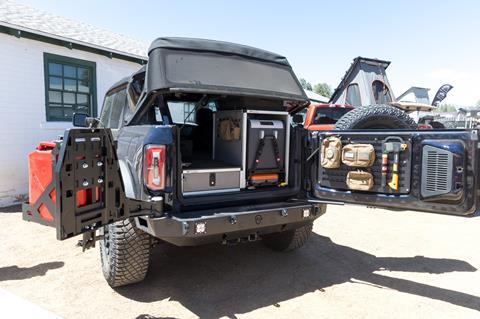 MSRP: $5,345.00 (shipping extra)
The package includes the following parts:
Ford Bronco 4 Door Rrear Plate System
CampKitchen 2.31
Single Drawer Module with Top Plate - 22-3/16"W x 8"H x 28"D
Ford Bronco 4 Door Second Row Seat Delete Plate System - Module Height
* 60% Driver Seat Delete
* 40% Passenger Seat Delete
FORD RANGER SEAT DELETE SYSTEM
The Ford Ranger 2019 – Present 4th Gen. super crew – 100% Second Row Seat Delete Plate System.  This system is designed for easy removal of the rear seats to create a flat surface to secure your gear to. It includes hatches that allow access to the storage area beneath the rear seats. Additionally, this system includes a back wall replacement that secures to the base plate which gives ample space to secure other gear, such as fire extinguishers, first aid kits, and other personal gear.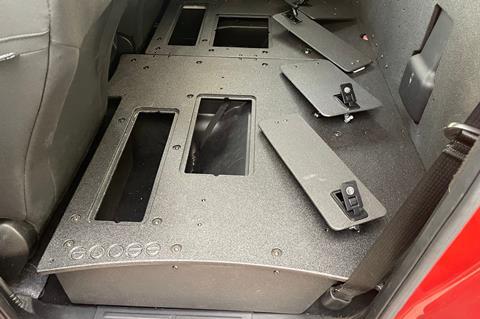 MSRP: $1,895.00 (shipping extra)
JEEP GLADIATOR SECOND ROW SEAT DELETE PLATE SYSTEM - HIGH PLATFORM
The launch of Jeep Gladiator Second Row Seat Delete High Platform for the 2019- Present JT 4-Door is available in a 40% driver side version or a 60% passenger side version. Both can be combined to create a 100% second row Seat Delete Plate System. The Seat Delete is a bolt-in replacement for the desired second-row seat that has locking storage doors providing access to an under-platform storage area. Sitting at approximately 9" high, this fully enclosed Seat Delete Plate System provides ample and secure storage behind the front row seats.
Also, the platform provides anchors (available separately) to secure your storage and gear including dog crates, fridges, coolers, and more!  Both platforms allow for the front drivers and passengers side seats to be placed in their full back position with no loss of leg room for the front seats.
MSRP: $695.00// $845.00 (shipping extra)
2 DOOR FORD BRONCO 6TH GEN STEALTH SLEEP PACKAGE
The Stealth Sleep Package for the 2 Door Bronco includes the rear Plate System as well as the complete second row Seat Delete Plate System, turning the back of the 2 Door Bronco into a flat, open, storage and sleep solution.
This system requires the removal of the rear factory slide and carpet kit but does not require cutting or drilling of any part of the vehicle. The Seat Delete Plate System provides the perfect space to mount Goose Gear Modules or your own storage system and accessories.
MSRP: $1,095.00 (shipping extra)
4RUNNER STEALTH SLEEP & STORAGE
The Stealth Sleep and Storage Package with Fitted Top Plate for the Toyota 4Runner 2010-Present 5th Gen includes the Rear Plate System, the Seat Delete Plate System - 10" Drawer Module, and the Side x Side Drawer Module - 10" Drawer Module. It is a complete solution for those wanting a minimalist approach to camping with ample storage. The storage capacity on this layout is more than expected and is available within the Side x Side Drawers as well as below the elevated second row seat delete platforms.
MSRP: $3,495.00// $3,995.00 (shipping extra)
CAMPKITCHEN 2.51
The CampKitchen 2.51 which is designed to house a fridge and a stove in one convenient module. It features a double slide operation so the fridge and stove slide can be opened together or independently. This product because it was designed with the camp chef in mind and tt opens Goose Gear up to the newer larger Dometic Fridge market. The CampKitchen fits an array of fridges and stoves. To view a complete list of accessories that are a guaranteed fit and module dimensions, click here
MSRP: $1,845.00 (shipping extra)
Specifications:
Exterior Dimensions: 22-3/16"W x 25-28" D x 27 1/2"H
Weight: 81lbs. (NOT including stove and fridge)
Refrigerator Tray: 18"W x 26.7"D x 20"H
Stove Tray: 14-1/2"W x 25-5/8"D x 4"H
SOLO FRIDGE SLIDE
The Solo Fridge Slide low profile refrigerator slides are designed to make access to your camping refrigerator a breeze!  It features a full extension refrigerator tray with Lock-In/Lock-Out capability, and an adjustable tray height to allow fitment to more vehicles.
The Solo Fridge Slide - Standard Size is designed for refrigerators up to 16" wide by 28" deep while the XL is designed for larger refrigerators up to 18" wide by 30" deep.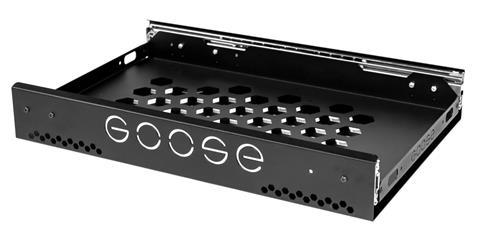 Standard MSRP: $499.00// $549.00 (shipping extra)
X-Large MSRP: $529.00// $599.00 (shipping extra)
SOLO FRIDGE SLIDE: CUTTING BOARD KIT
The optional Bamboo cutting board provides 10.5" wide by 17" long additional usable space.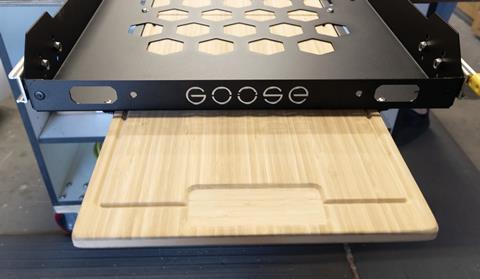 MSRP: $149.00 (shipping extra)
RAM 2500/3500 SECOND ROW SINGLE DRAWER
The RAM 2500/3500 2009-Present 4th and 5th Gen Crew Cab Second Row Single Drawer Module. This module is designed specifically to fit the matching Second Row Seat Delete Plate System, which is required for installation. It can be placed on either the 40% driver side and/or the 60% passenger side.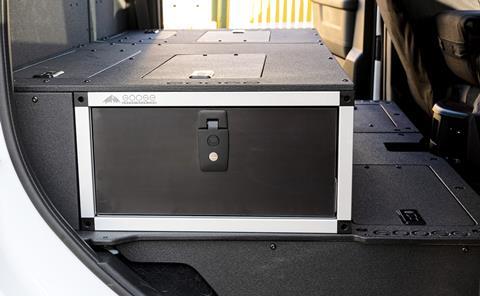 The top plate of this drawer is equipped with an access door in the top allowing you to open the drawer, remove the top access hatch and then get into the factory storage compartment that was below the second-row seat. Visit the Goose Gear Website for Drawer Height, Color and Location options.
MSRP: $1,195.00// $1,395.00 (extra for shipping and other options)
Ram Crew Cab Second Row Single Drawer Module Options:
Drawer Location:
40% Driver Side (19-3/16"W x 22"D)
60% Passenger Side (19-3/16"W x 38"D)
Drawer Height:
8" Height
10" Height
12" Height
Drawer Color
Black
Gray
LAND ROVER DEFENDER 2020-PRESENT L663 - REAR PLATE SYSTEM
The Land Rover Defender 2020- Present L663 – Rear Plate System has been designed to flatten the rear floor area and remove the rearward downslope in the factory door panel which allows the easy installation of various Goose Gear Modules, including Top Drawer 1.3, the CampKitchen 2.3, the IceBox 1.3 modules and more.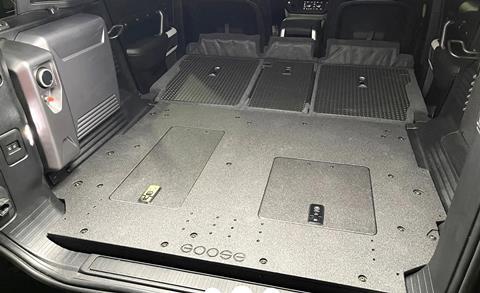 This plate sits even with the folded down second row seats to create a sleeping platform without having to remove the seats. The system has options for 2 modules: 19-3/16" wide and 16-3/16" wide. If that wasn't enough, a single drawer or double drawer module up to 28" deep will also fit into this vehicle.
MSRP: $695.00 (shipping extra)
SEAT DELETE PLATE SYSTEM
The Second Row Seat Delete Plate System for the 2.5 Gen Toyota Tundra Double Cab and the F-150 creates a flat space on the floor for securing various loads, refrigerators, coolers etc. The back wall plates provide an additional space to mount personal gear and belongings keeping them off the floor and within easy access. Below the seat delete is also a great place to store heavier items, helping to create a lower center of gravity.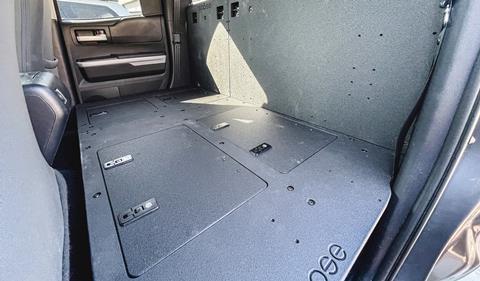 Due to the mounting brackets designed into the factory Toyota seats, a 40% only option is not available alone but can be purchased to complete the 60% Seat Delete Plate System.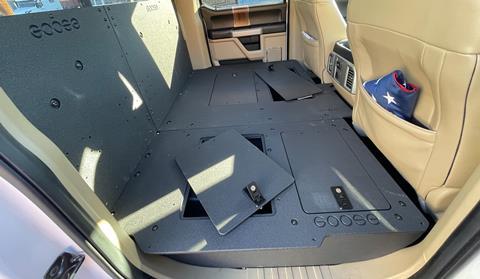 TOYOTA TUNDRA MSRP: $1,249.00// $1,995.00 (shipping extra)
F-150 MSRP: $895.00// $1,195.00 (shipping extra)
All Goose Gear cabinets are made in California and made to order so make sure you add in lead time for your next project.