NWAPA Mudfest is an annual media event that puts the latest and greatest SUVs and trucks to the (very muddy) test. Here are 2023's top dogs.
April in the Pacific Northwest means the end of the rainy season, but also heralds the annual vehicle-test gathering of the Northwest Automotive Press Association: NWAPA Mudfest. Though briefly interrupted by Covid-19, PNW automotive journalists have put the latest and greatest SUVs and trucks to the test at this muddy gauntlet for 28 years.
At this year's event, held recently at Ridge Motorsports Park in Shelton, Wa., 23 journalists flogged 22 vehicles on a track and a vast, often rain-soaked off-road course for two days before voting on which ones were the worthiest. There are seven category awards, but every manufacturer who brings vehicles to the event is vying for the top prize: Northwest Outdoor Activity Vehicle of the Year. This year's winner was the Mitsubishi Outlander PHEV.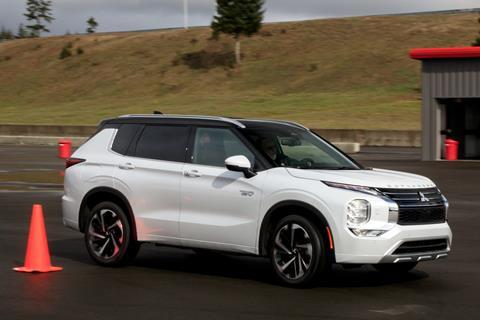 It's the second straight win for a plug-in hybrid (the Jeep Grand Cherokee 4xe won in 2022), which illustrates the off-roading benefits of vehicles that combine instant, precise, electric torque with gas engines that can take you far off the beaten path. The competition for Mudfest honors is fierce though, and the vehicles truly run the gamut. This year's entrants ranged from a Subaru Crosstrek to a Rolls-Royce Cullinan.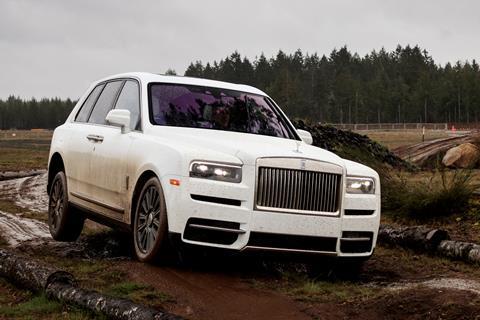 Mudding in a $452,725 Rolls-Royce is indeed a rollicking good time, but the real purpose of such events is to inform ordinary buyers about the vehicles' capabilities. There's no better to that than a rapid-fire head-to-head comparison, the logistics of which (track time, insurance, vehicles) are only made possible by a hard-working team like NWAPA. Other press associations put on similar events, but with few exceptions (like the Texas Truck Rodeo), they're on-pavement affairs.
While the paved portion of Mudfest is important, the PNW is an off-roader's paradise. It's the muddy part that really matters to would-be adventurers.
22 Vehicles in 48 Hours
Learning the ins and outs of 20-plus vehicles in two days isn't easy, and if you want to remember your observations, you've got to write them down or record voice notes. But the testing environment makes it easy to truly benchmark vehicles' strengths and weaknessess.
Day one's testing is the track day, which is a paved autocross course and a hot lap around what is usually a go-kart track designed to test each vehicle's acceleration, handling and braking capabilities. Unsurprisingly, the dominant vehicles on the track this year the BMW X7 M60i and Genesis Electrified GV70, both SUVs that prioritize on-road performance and comfort.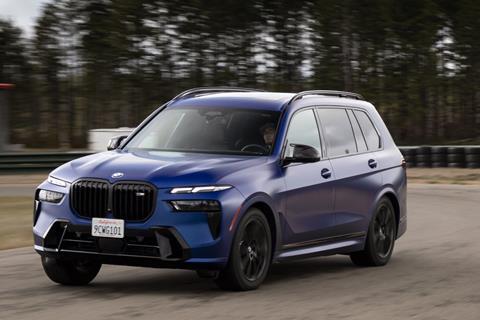 The X7 is a fantastic handler for a big and tall SUV, and a 523-horespower mild-hybrid V8, M Sport suspension and 22-inch lightweight wheels with low profile tires certainly don't hurt. It's effortlessly fast, and handles like a big 5 Series, but as most OVR readers can guess, however, the X7's on-road performance enhancements hurt it in the dirt.
Day two is the off-road course, which is actually two courses. Every vehicle goes through the standard run, with stretches of gravel, dirt and muddy but level ground. There are two steeply banked inclines to run through, a set of deep moguls, a set of loose stones and a big triangular log pile to test breakover angles.
Beyond that are the "extreme" hills, comprised of far sharper inclines and descents, deeper ruts and much looser ground. There's also a steeper breakover test hill that descends into a 18-inch-or-so deep pool of water. It's not King of the Hammers, but it does showcase obstacles most casual off-roaders will face.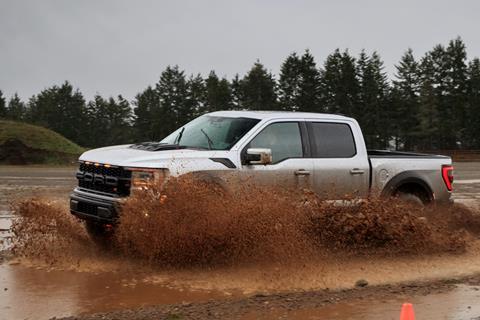 Because of their limited ground clearance, tires and other limitations, not all vehicles are permitted on the extreme hills, but monsters like the Ford F-150 Raptor R and Toyota Sequoia TRD Pro tackled them easily, as did the Crosstrek, by far the smallest and cheapest member of team extreme.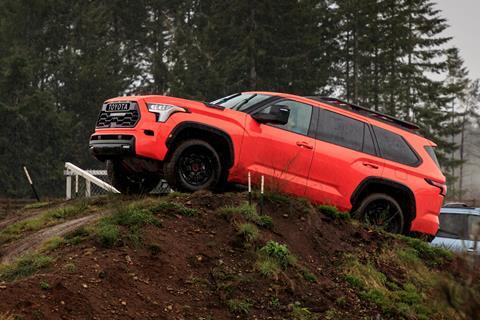 As it turns out, the vehicles most likely to be flummoxed in the dirt, the Electrified GV70 and X7, did fine. The X7 wouldn't be my choice for bumpy forest trails, but it proved it could tackle the course slowly without much fuss. The Genesis has just 6.9 inches of ground clearance, so you need to be careful with the breakover angle, but its electric motors make for extremely precise torque application and it wasn't much perturbed by the moguls, gravel or stones.
"I think people wondered why we would bring a vehicle like this to Mudfest," said Genesis senior public relations manager Jarred Pellat. "But the point of this is to prove it can do it."
Electric Power to the People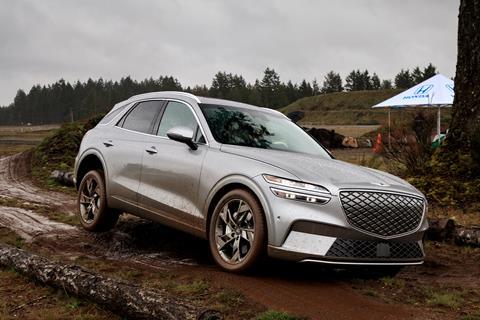 Surprisingly, the Electrified G70 was the first fully-electric Mudest competitor, but there's no question that electric power is coming to a trail near you. Following last year's all-conquering Grand Cherokee 4xe and a strong showing by the Toyota RAV4 Prime in 2021, there were two plug-ins for 2023: the Jeep Wrangler 4xe Rubicon 20th Anniversary and the Outlander.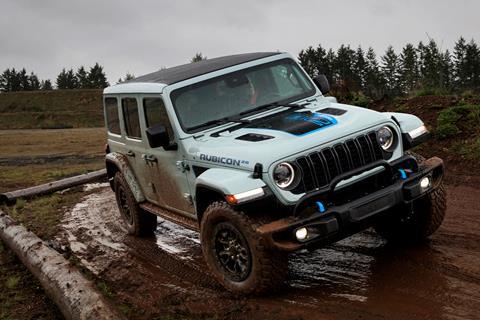 The Wrangler 4xe is America's best-selling plug-in and easily the most off-road capable, with all the talents of the Pentastar V6-powered Rubicon but with more power (375 horsepower and 470 pound-feet of torque compared to 285 and 260 in the V6), far better fuel mileage and even more precise control when crawling. The Hemi V8 Rubicon 392 is still faster, but the 4xe has just as much torque and is cheaper and easier to live with.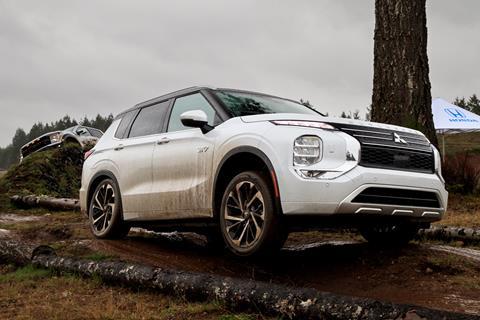 The Outlander, a family-oriented compact SUV with a tiny standard third row, is much more of a mainstream machine and the RAV4 Prime's most serious rival. With 38 miles of electric range (to the Prime's 42) and a nicer interior than the Toyota, it impresses with style and substance. Like the gas version introduced in 2021, this redesigned Outlander is also light years ahead of other recent Mitsubishis in terms of dynamics, style and luxury.
As with the Wrangler 4xe, the Outlander PHEV improves on the gas version, but it's also quite different from both its gas sister and other plug-ins. It's 248 system horsepower and 332 pound-feet of torque make it much more powerful than the gas version (181 for both figures), and it's the electric motors that do most of the driving. The gas engine can power the front wheels, but at low speeds the Outlander PHEV is functionally an electric vehicle. It also offers a nearly one-pedal regen mode (down to about 5 mph).
Mitsubishi's Super-All Wheel Control (S-AWC) all-wheel drive system is standard and there are seven different drive modes, four of them terrain control choices (Tarmac, Gravel, Deep Snow and Mud). The downsides are only 7.8 inches of clearance and default all-season tires, but the electric motors and terrain modes make short work of slippery terrain and the motor-to-motor and gas-to-electric transitions are seamless.
The Outlander PHEV proved stonkingly fast on the tarmac (if very understeery) and highly capable in the dirt, so the win is well deserved, but it wasn't the only star.
The Winners, And A Surprise
While the Outlander PHEV grabbed the overall win and "Best Three-Row Family SUV," there were six other classes.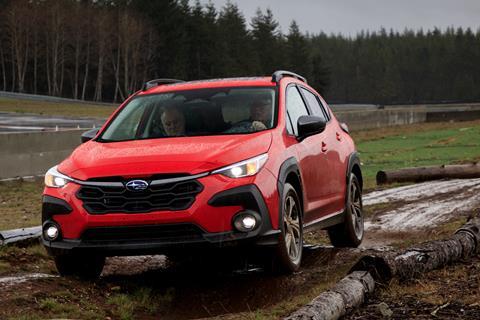 The freshly-redesigned Crosstrek earned "Best Value." A new category this year, the little Subaru was the only Mudfest entry priced under $30,000 and the only sub-$50,000 vehicle that could tackle the extreme hills. It definitely earned the win. The F-150 Raptor R, with its 700-horsepower V8 and unstoppable chassis, earned "Best Pickup" while the Genesis nabbed "Best Luxury SUV" and "Best Electrified Utility Vehicle." The Wrangler 4xe rounded out the podium by winning "Best Two-Row Family SUV."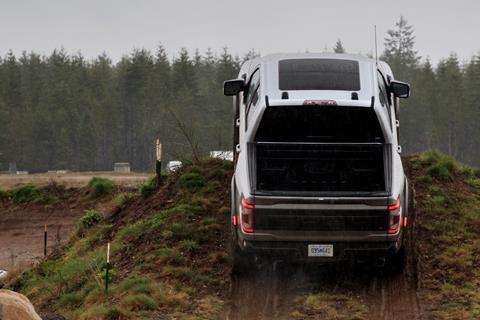 One vehicle that ended up shut out of the awards, however, pulled off a real coup. Playing against tough opposition in the three-row family SUV group, the 2023 Honda Pilot Trailsport ended up tackling the smaller, but slipperier, extreme hill with aplomb even though it was not originally intended to.
While older Trailsports were basically appearance packages, this totally redesigned 2023 Pilot Trailsport brings thick skid plates, a one-inch lift over the standard Pilot, all-terrain tires, hill descent control, trail cams and a smarter terrain management system are standard. All are truly substantive upgrades.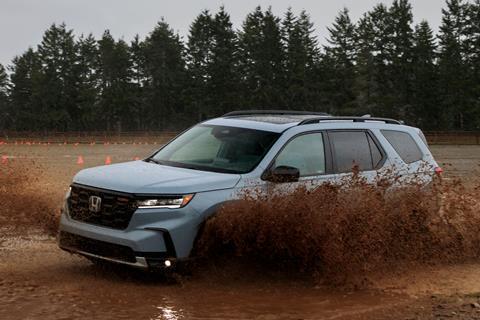 No manufacturer wants to get stuck or break a vehicle, and indeed one 2022 Mudfest entry ended up stranded like a beached whale on last year's smaller extreme hill until the rescue truck arrived. Because the Pilot Trailsport only has 8.3 inches of clearance and fairly long overhangs, Honda PR rep Jake Berg, attending the event for the first time, initially decided not to roll the dice on the extreme hills.
However, as Berg and I drove along towards the smaller extreme hill, I asked if we could try it out and he had a change of heart.
Watching another, more dedicated off-road vehicle struggle with the mud and abandon the hill, Berg paused, looked at the approach and said "I think we can do this." Moments later, with the trail cams showing us everything ahead, we were up the hill and over, drama and slip free. "Yeah, now I'm going to have to do this with everybody," Berg said, excitedly.
More Sights From NWAPA Mudfest 2023